News
Standards of industrial factory for rent in Vietnam
In recent years, building factories is one of the manufacturing activities of many businesses. Investors are paying attention to the problem of developing factories in Vietnam. Therefore, investment in an industrial factory is a significant need. For that reason, businesses require construction knowledge to conduct the process of renting a factory and warehouse in Vietnam efficiently.
What is an industrial factory?
An industrial factory is a type of factory installed with steel components according to its available drawings. Thus, these industrial factories are constructed relatively fast and are not profoundly affected by external factors during the installation process.
Critical criteria of an industrial factory for rent in Vietnam
- Construction site of industrial factory.
- Construction scale of categories. Construction design plan.
- The total surface area of the categories to be built (for the project following the route must include a specific route solution).
- The connection between the technical infrastructure in the area and other items on the construction.
- Industrial factory must build on the qualified foundation, to which structure must ensure the safety. Also, the construction and installation process must conform to the construction scale, the usage purposes, and the productivity of industrial factory.
1. Foundation standards of a industrial factory
Foundation standards of a industrial factory prescribe in Vietnamese Standard TCVN 2737:1995 to ensure impact load technology requirements, the construction's geological, hydro-geological conditions:
The foundations on the soft ground of a industrial factory must be resolved to be suitable for geology. They must abide by technology requirements and usage conditions to select the appropriate foundation structures following the type of foundation. Besides, the surface of a production factory must have a hard lining and an active drainage system to avoid water stagnation.
The foundation of a factory has a upper surface height lower than the ground with the difference is:
+ For reinforced columns: The difference is 0.2m
+ For columns with wall inserts: The difference is 0.5m
+ For reinforced concrete columns: The difference is 0.15m
Factory foundations affected by high temperatures must include a protective layer of heat-resistant materials, for which subject to corrosion must include anti-corrosion materials.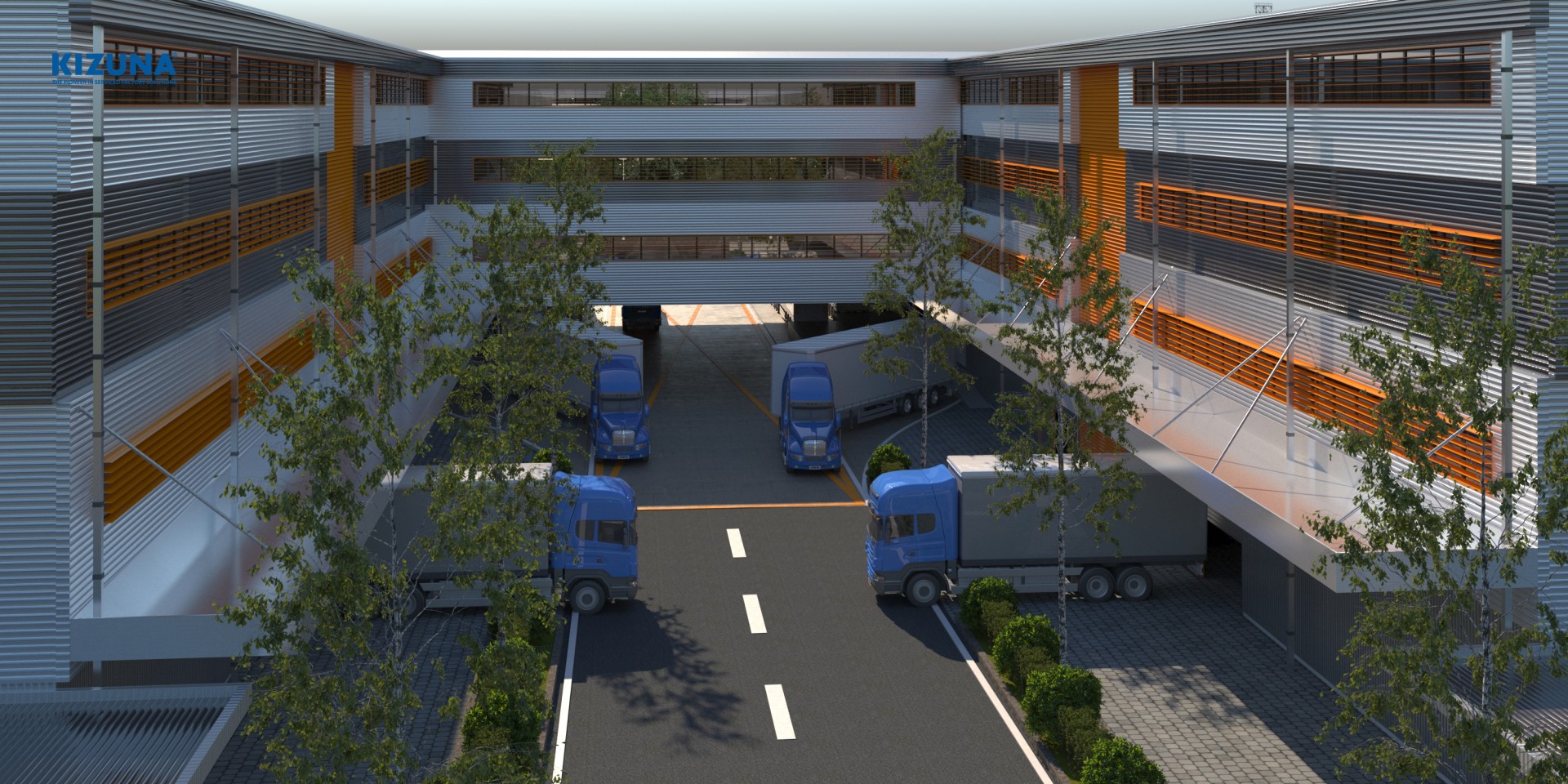 2. Standards for the roof of a industrial factory
Standard of the factory's roof slope based on the roof's material. Standards set for the slope of the workshop's roof:
+ For roof made from asbestos cement sheets: Slope is from 30% to 40%;
+ For iron roof (corrugated iron sheets): Slope of 15% to 20%;
+ For tile roof: Slope from 50% to 60%;
+ For a industrial factory with a roof made from reinforced concrete slabs: Slope from 5% to 8%.
3. Standards for the ventilation system for industrial factory
The installation of negative pressure systems should be completed and follow the principles. A satisfactory ventilation system must ensure the following criteria:
- Efficiently reducing the heat of airflow to the factory, at the same time, controlling and maintaining the heat level during operation.
- Removing toxic chemicals, polluting fumes from the outside, and pushing moisture, dust generated among the working area to the outside.
- The heat level is suitable for workers' bodies, cooled naturally by the steam and wind air from the cooling pads and industrial fans.
- Providing clean airflow and spreading throughout the space without creating drafts.
- Stable, long-term, and safe for use, not incur unnecessary maintenance costs.
- Reducing pathogenic bacteria, creating a dry, ventilated workspace.
4. Standards for doors and emergency exits
To ensure safety for workers when working in a factory where incidents occur, those exits will help a lot. The emergency exit of a industrial factory usually locates at corridors, lobbies, stairs, etc. with specific regulations:
- It must lead directly from the first floor rooms to the outside or into the hallway, lobby, and stairs.
- Having a path which leads to the next room on the same floor with the exit.
- Exits need to allow users to get out from basements, column foot floor.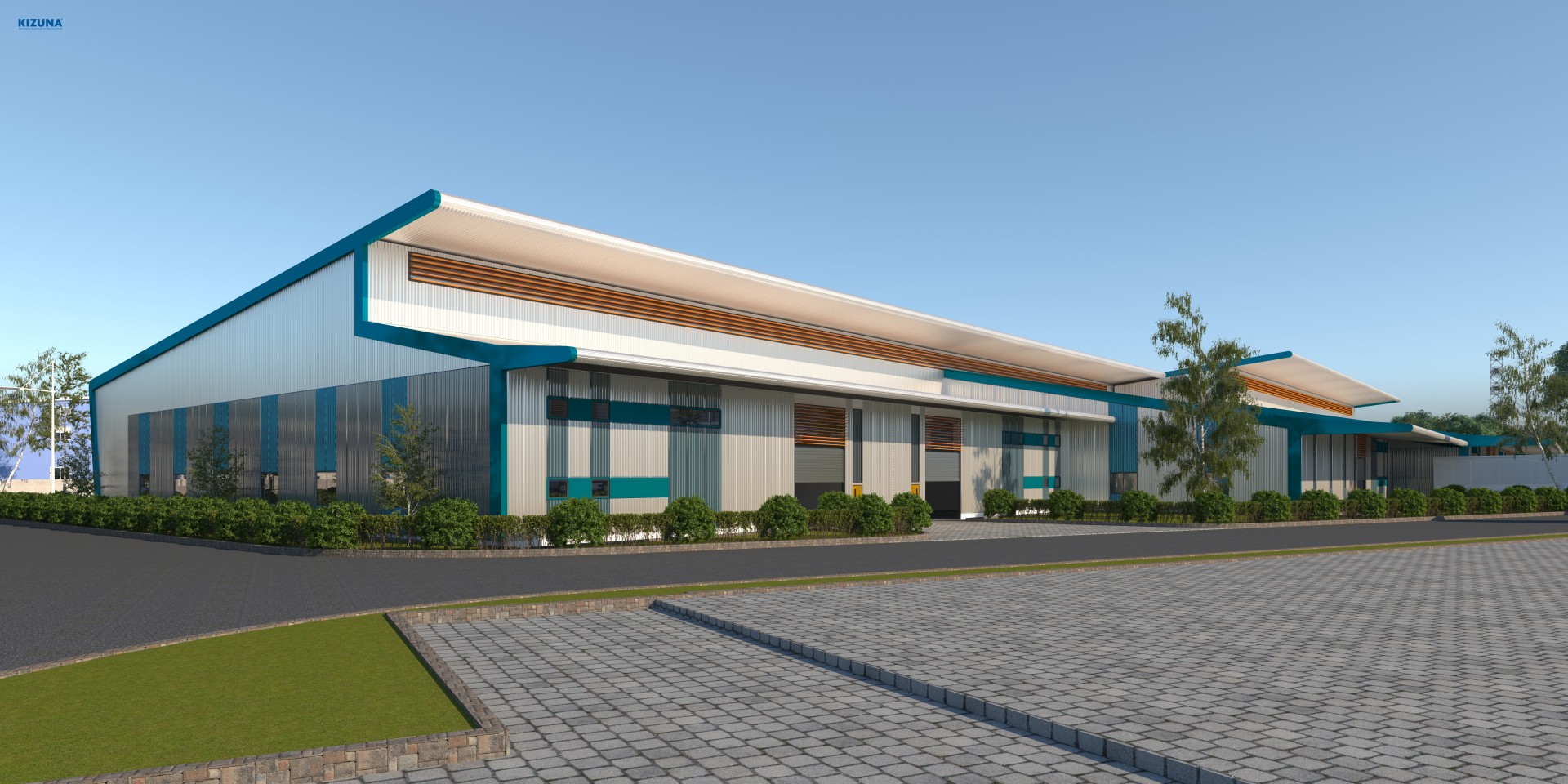 5. Standards for walls and partitions for industrial factory
If the outer wall is made of asbestos-cement sheets or light materials, the footings' design should be made of bricks, stones, or concrete and must be at least 3cm higher than the surface. If using brick walls, there must be a rain-proof, moisture-proof layer of 20-cm-thick M75 cement mortar, placed horizontally on the floor when finishing. For the factory's partition walls, its design should be easy to disassemble.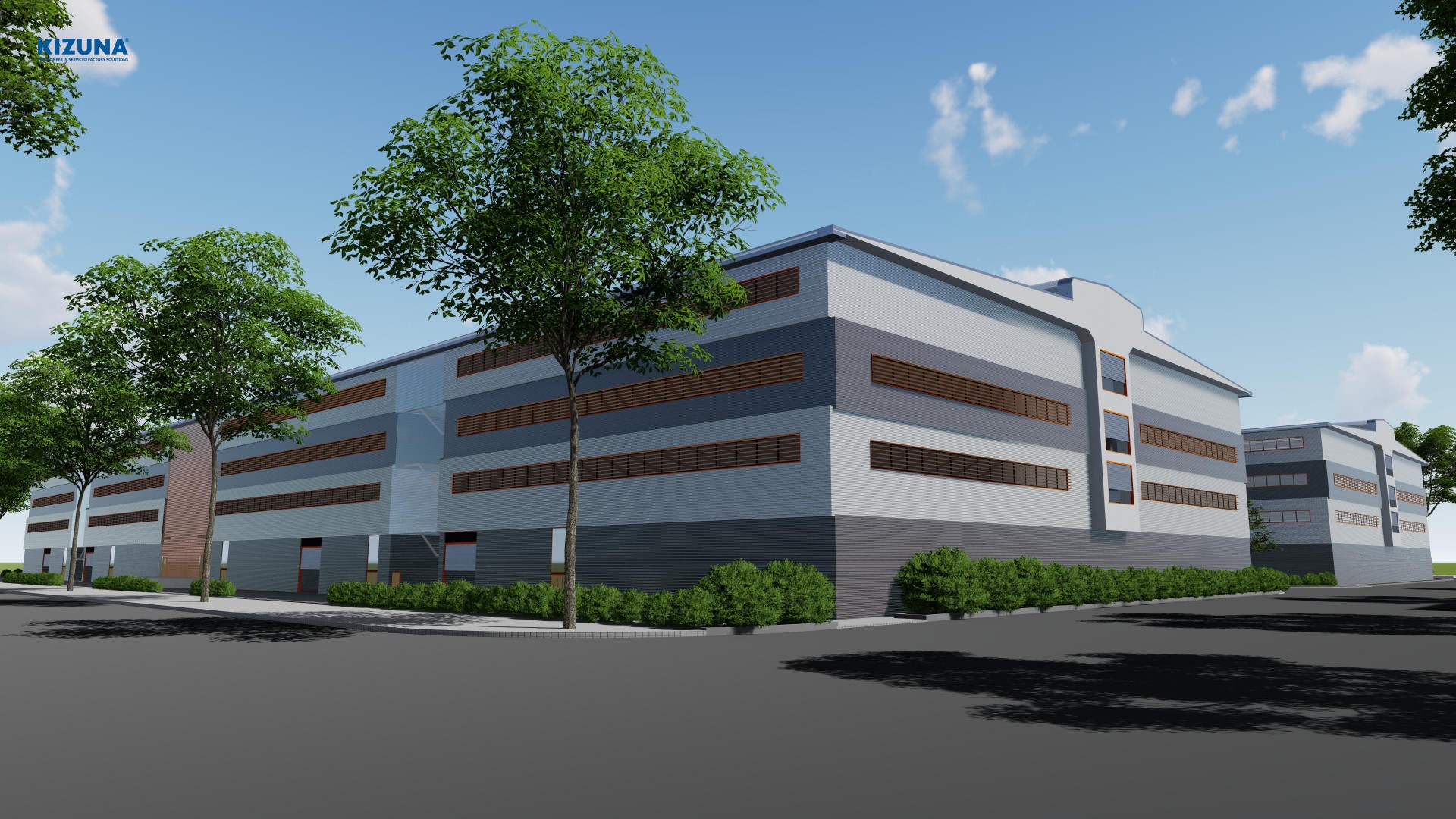 What are the popular types of industrial factory in Vietnam?
There are a lot of types of industrial factory in Vietnam. Nowadays, more and more foreign companies decide to establish their bussinesses in Vietnam, especialy companies in these fields are the most popular:
- Food and Beverage
- Textiles, Leather, and Apparel
- Chemicals and Pharmaceutical
- Fabricated metal, and Machinery
- Electrical Equipment, Appliances, and Components
- Furniture
Choose an industrial factory in Kizuna Vietnam
When starting production and business activities, it's crucial for the selection of industrial factory to meet the criteria of safety, convenient location, and the compact infrastructure. Kizuna is proud to bring to our business customers the industrial factory for rent service with optimum quality and reasonable rent.
1. Power supply, water supply, and transportation systems are ready for every factory
- Kizuna is confident to adequately meet all the highest requirements in the field of industrial factory leasing and is committed to providing customers with comprehensive factory solutions.
- Besides owning the prime location in southern Vietnam industrial zone, its site has favorable connections with key transportation hubs of the area. Kizuna's industrial factory for rent is a complete infrastructure system, committed to being equipped with the most professional and optimal auxiliary equipment. Specifically: providing two EVN power sources with 100% back-up power , solar power system, infrastructure connection system, high-speed IT broadband, etc, and many other services.
2. Quality industrial factory with triple-layer 24/7 security system
- Security is what customers care about when choosing quality industrial factory. Besides ensure the infrastructure, a good factory for rent must always assure safety, which is also the strength of an industrial factory at Kizuna when they are equipped with triple-layer security systems. The security system is modern, safe and synchronous.
- Construction of protective latch at the factory gate.
- A CCTV system is set up at each factory.
- High barriers surrounding the entire area.
- With such a protection system, the whole of the rental factory's security problems will always guarantee to be safe, which is also a plus point for the industrial factory system at Kizuna.
3. Shared utility Business Center, shared cafeteria, clean green landscape
- Ready-built industrial factory at Kizuna is built with the optimal architecture: scale of area varies from 250m2 to 10,000m2, can be used as warehouse, the ventilation architecture naturally illuminates, the roof system is favorable to make parking optimal for workers and meet the loading and unloading of goods in all weather conditions.
- Kizuna hopes that through this article, the enterprises will somewhat understand more about the model of industrial factories, the essential standards of industrial factories to plan and make decisions in the selection of an industrial factory at Kizuna.
Efficient production with Kizuna workshop rental planning!
Readmore: small factory, medium factory, factory leasing, electronic factory, manufacturing factory, fabric factory, factory for lease, factory for rent in vietnam, factory space for rent, investing vietnam, pharmaceutical factory, warehouse vietnam, cosmetics factory, industrial space for rent, production factory, vietnam apparel industry, quality factory, medical device factory, electronics manufacturing, new factory in vietnam, medical equipment factory, 1000m2 factory for rent, industrial factory design