News
What make Kizuna's quality factory impress foreign investors
At the beginning of the production process, it's crucial to choose hiring a quality factory with safety, a convenient location, and a firm infrastructure. Kizuna have had 10 years of experience in leasing high quality factory, diverse in types such as: for-rent factory, combined office & factory, crane factory, mechanical factory, industrial factory, industrial parks factory, hi-tech park factories, ready-built factories with reasonable rents. Let's find out what makes Kizuna quality factory system special!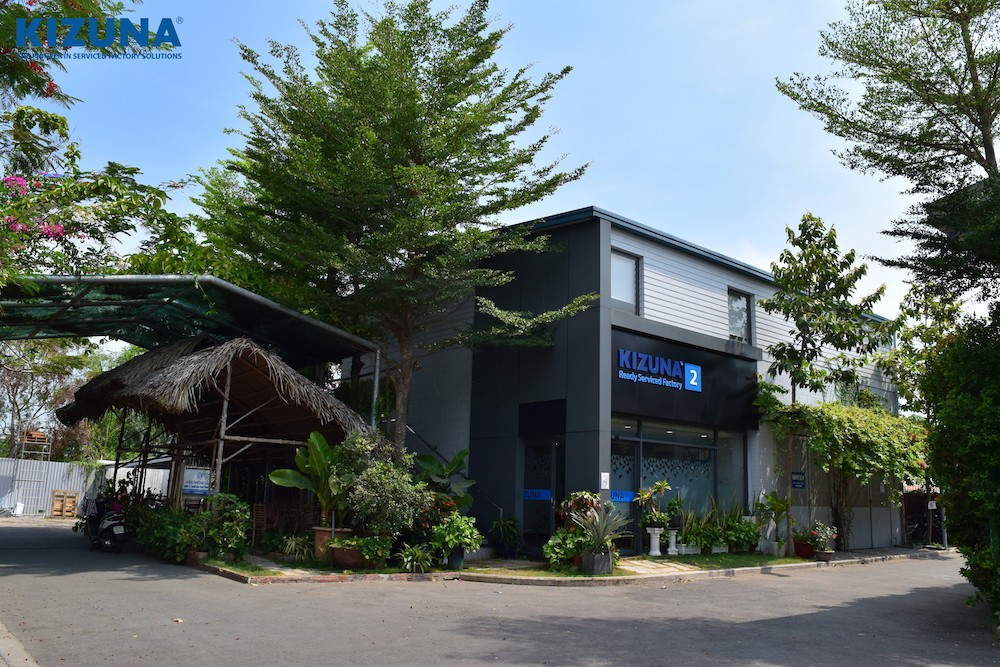 4 Advantages of Kizuna's quality factory that impress the enterprises
1. Kizuna's quality factory owns a strategic geographical location
Kizuna is located in Tan Kim industrial park, Can Giuoc district, Long An province, one of the industrial parks in Vietnam with a rapid and effective development. In large industrial zones of Vietnam, Long An is always considered and selected by many businesses.
- Located in the critical economic region of Southern Vietnam, conveniently connected with important transport hubs such as: Cat Lai port, Tan Son Nhat airport, National highway 1A, National highway 50.
- Neighboring Ho Chi Minh City and Phu My Hung urban area, abundant in technical human resources and ready-to-use urban facilities.
- Located at the Vietnam industrial zone with a complete infrastructure system and preferential incentives for industrial park in accordance with regulations.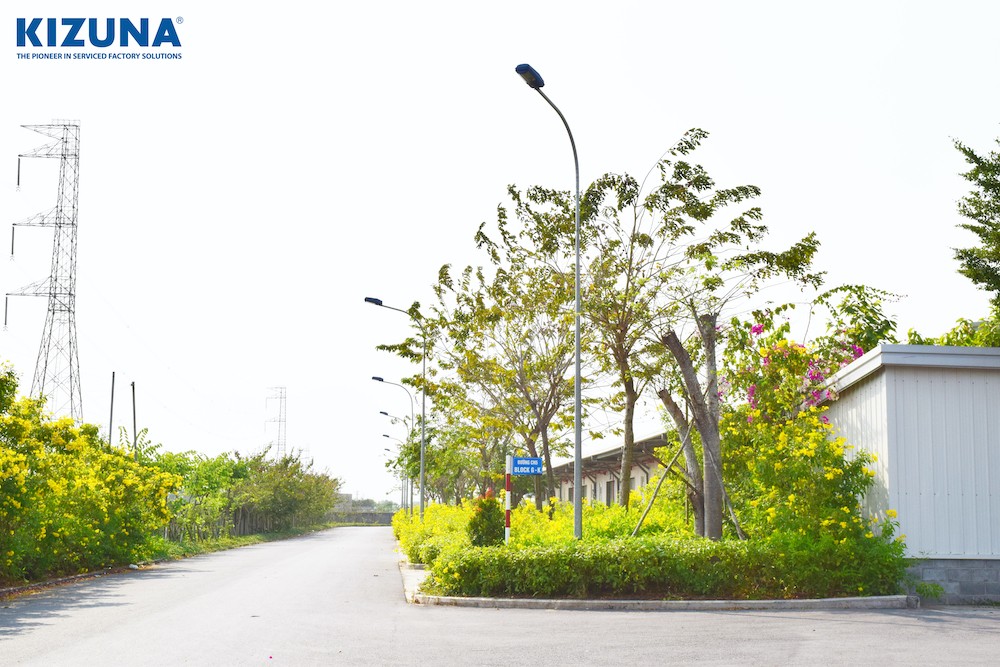 2. Kizuna's quality factory has industrial park with a synchronous infrastructure and utility system
Besides owning a prime location in the critical economic region of the South, Vietnam, its location connects well to key transportation hubs of the region.
Kizuna's quality factory is located at a complete infrastructure system. Kizuna is ready to meet all the high demands on quality factory leasing. Kizuna's comprehensive industrial infrastructure and utility system solutions for comprehensive built-in quality factory are always appreciated by many businesses:
- Optimal factory architecture: Scale of area varies from 250 to 80.000 m2, open, with convenient roof system extending up to 4 meters.
- Industrial parks with a synchronous technical infrastructure and utility system: Green, clean, fully equipped with water system, three-faces electricity power, canteen and 24/7 security.
- A diversity of foundation load, suitable for many production fields.
- Convenient internal transportation, easy for moving and turning trucks.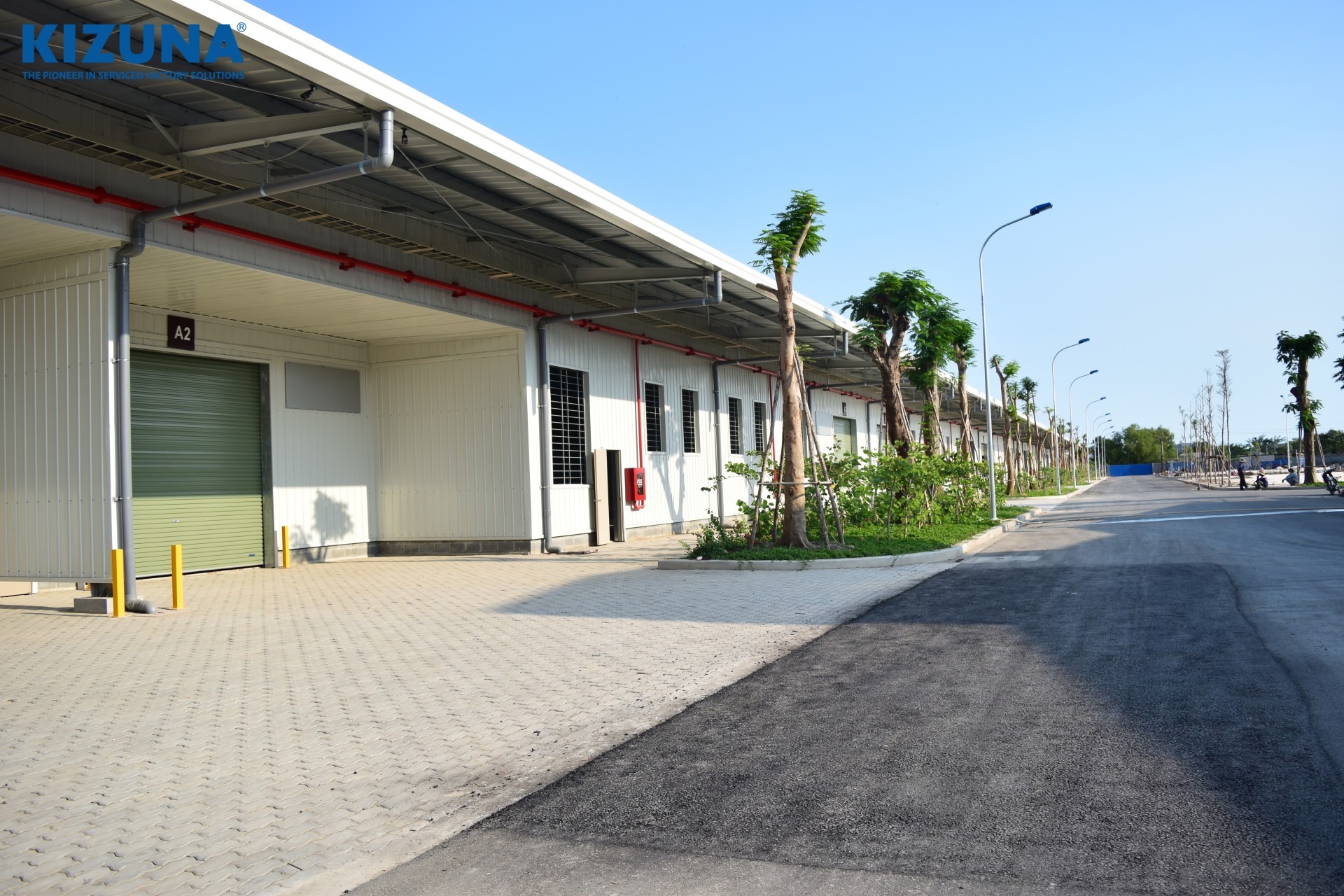 Kizuna's quality factory is fully equipped with utilities system
3. Kizuna quality factory owns an optimal architecture
The architecture of the industrial park or factory directly affects the productivity. For any businesses, this category should not be missed when planning or choosing to hire a ready-built factory.
Kizuna quality factory has an optimal architecture, diverse in scale: 300 m2 factory, 500 m2 factory, 1000 m2 factory for rent, 2000 m2 factory, 5000 m2 factory.
Kizuna quality factory is equipped with a well-ventilated design, taking advantage of natural light, factory natural ventilation, convenient roof system to make optimal parking for workers and to meet the need of loading and unloading goods under all weather conditions. Canteen is also equipped in the industrial park, making it convenient for resting and eating. Besides, the green environment also contributes to a more comfortable mind for employees, improving productivity.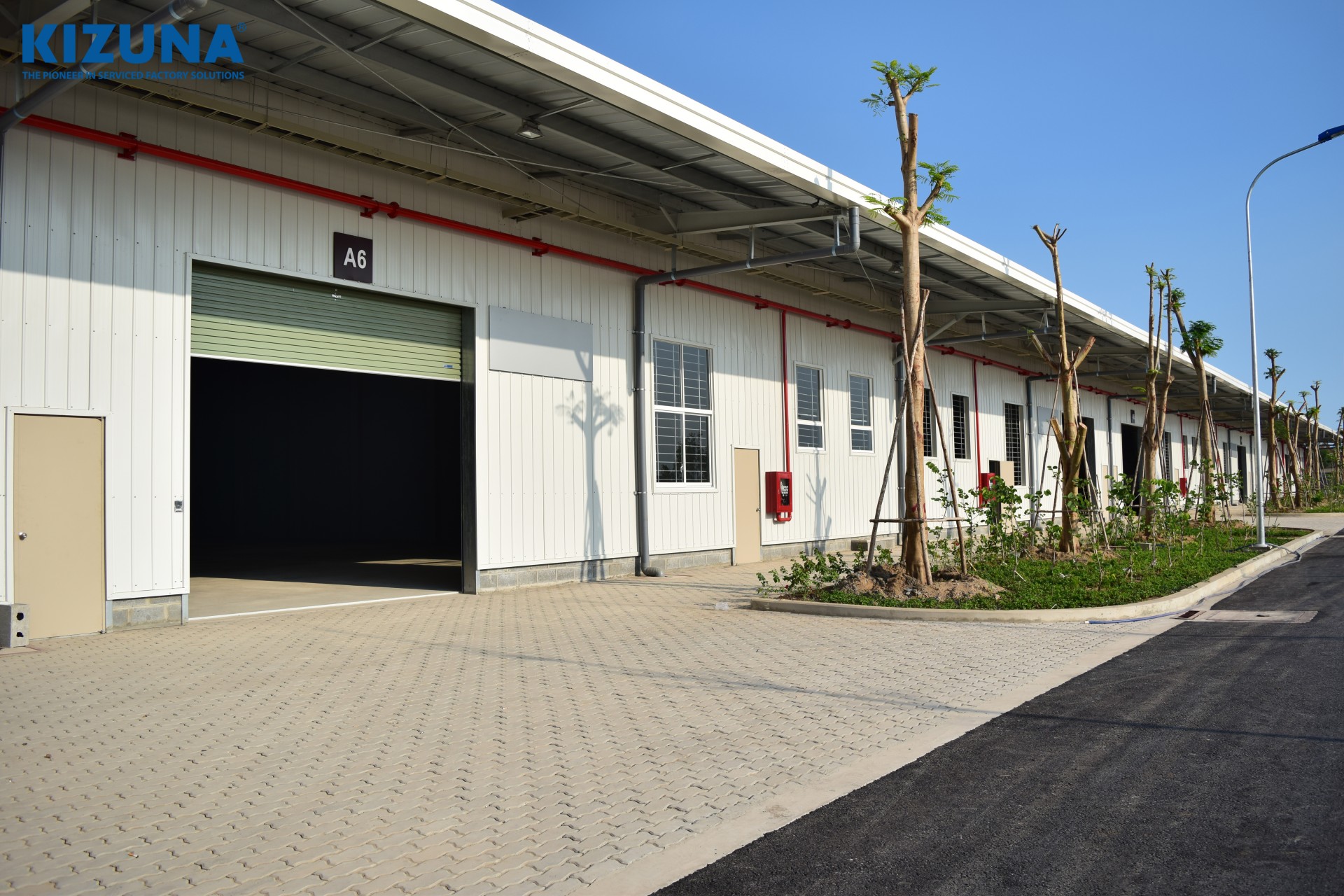 Kizuna's quality factory is equipped with an advanced security system
4. Kizuna's high quality factory has a comprehensive support service ecosystem
With more than 50 services belonging to 7 service groups, Kizuna supports real estate enterprises in initiating the production process quickly, saving time and cost for carrying out legal procedures.
Besides, the needs of personnel, administration, maintenance of machines, accounting, cleaning services, etc, are also included in the Kizuna service group to provide comprehensive support for the production stability of each enterprise in the Kizuna factory for rent.
With staffs team knowledgeable in many languages ​​and understand the needs of business owners, Kizuna always effort to support domestic and foreign customers with all the best, providing real value, to increase the value of businesses.
5 Solutions to increase the quality of a factory for enterprises
1. Improving the quality of technological level in industrial factory
Enterprises shall self-assess their science and technology level as well as their production organization, thus have solutions to boost the scientific level, bring in advanced and high-end technologies, and organize production reasonably. The reason is that labor productivity is directly proportional to the social capital of labor. In other words, social investment per worker is proportional to labor productivity, meaning that an enterprise demanding an increase in quality factory is required to invest in the production of the equipment applied with advanced science and technology.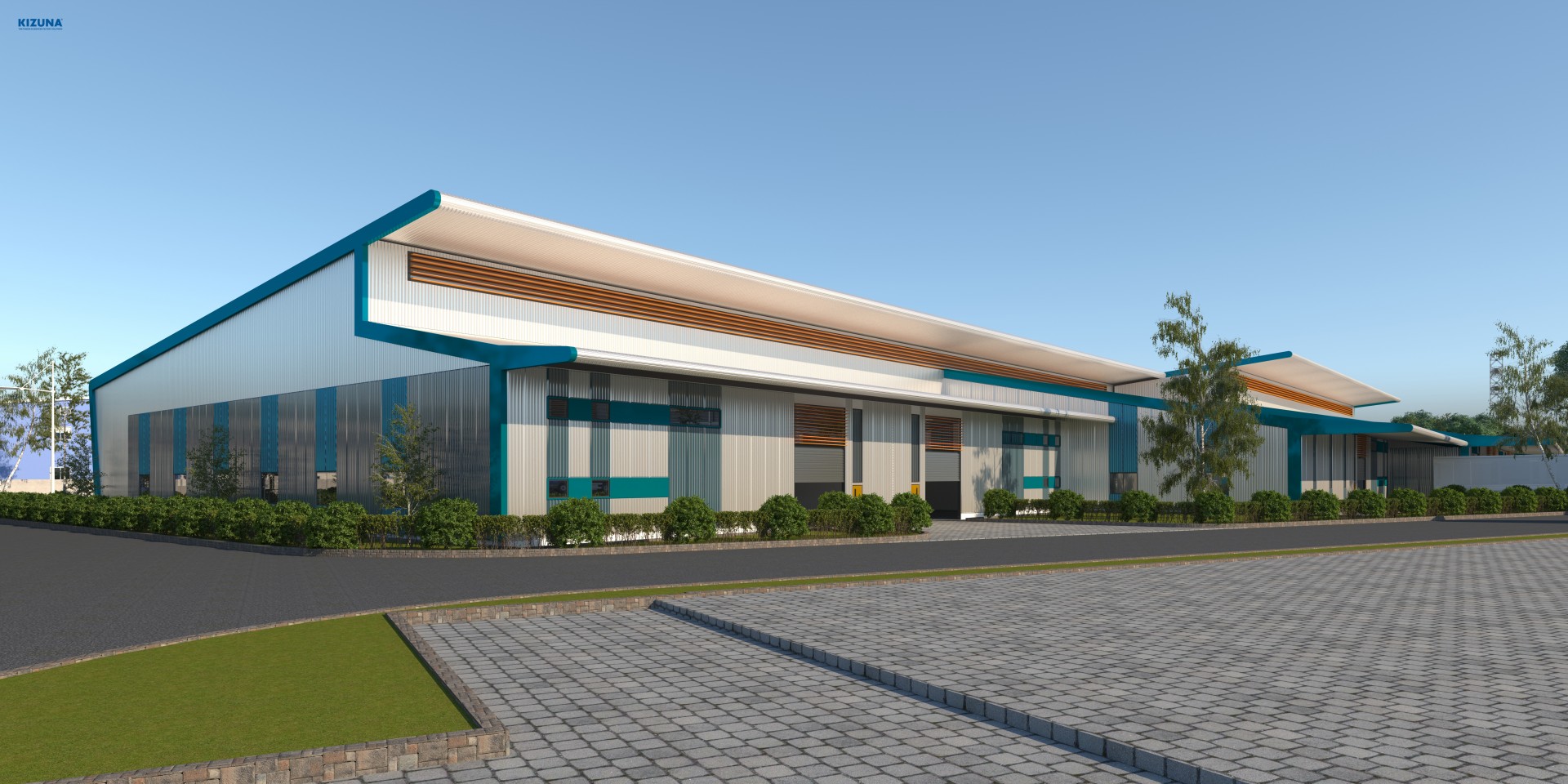 Quality factory depends on the level of production technology
For instance, an enterprise bringing in human labor to lift and lower products will receive lower efficiency than owning an industrial factory equipped with high-tech cranes that supports the lifting of heavy loads.
2. Determine the right production model for quality factory
A lagging standard quality factory model will not come along with efficiency, high labor productivity. Therefore, each enterprise must research to determine the appropriate production model. And that model must be appropriate with the market mechanism. In nowadays' agriculture, individual production households are still major, which leads to poor economic productivity. Thus, a shifted model must include collectives and cooperatives.
3. Synchronize the three-stage production
According to many experts, to boost quality factory, enterprises must synchronize the three-stage production, specifically named the production design, product consumption, and branding. Enterprises will benefit from sustainable and accelerating growth by synchronizing the three-stage production.
For enterprises, the production and production design process is the foundation for operation. However, only pressing ahead in the input of the product and failed to find the output will not achieve the effectiveness in production, no matter how good the idea is. The stagnation of the consumer market has also resulted in an "untimely death" for enterprises. Besides, enterprises must also pay attention to building and developing brands to maintain a competitive advantage and further expand the market.
4. Arranging powerful credit resources is a must to serve the need of increasing capital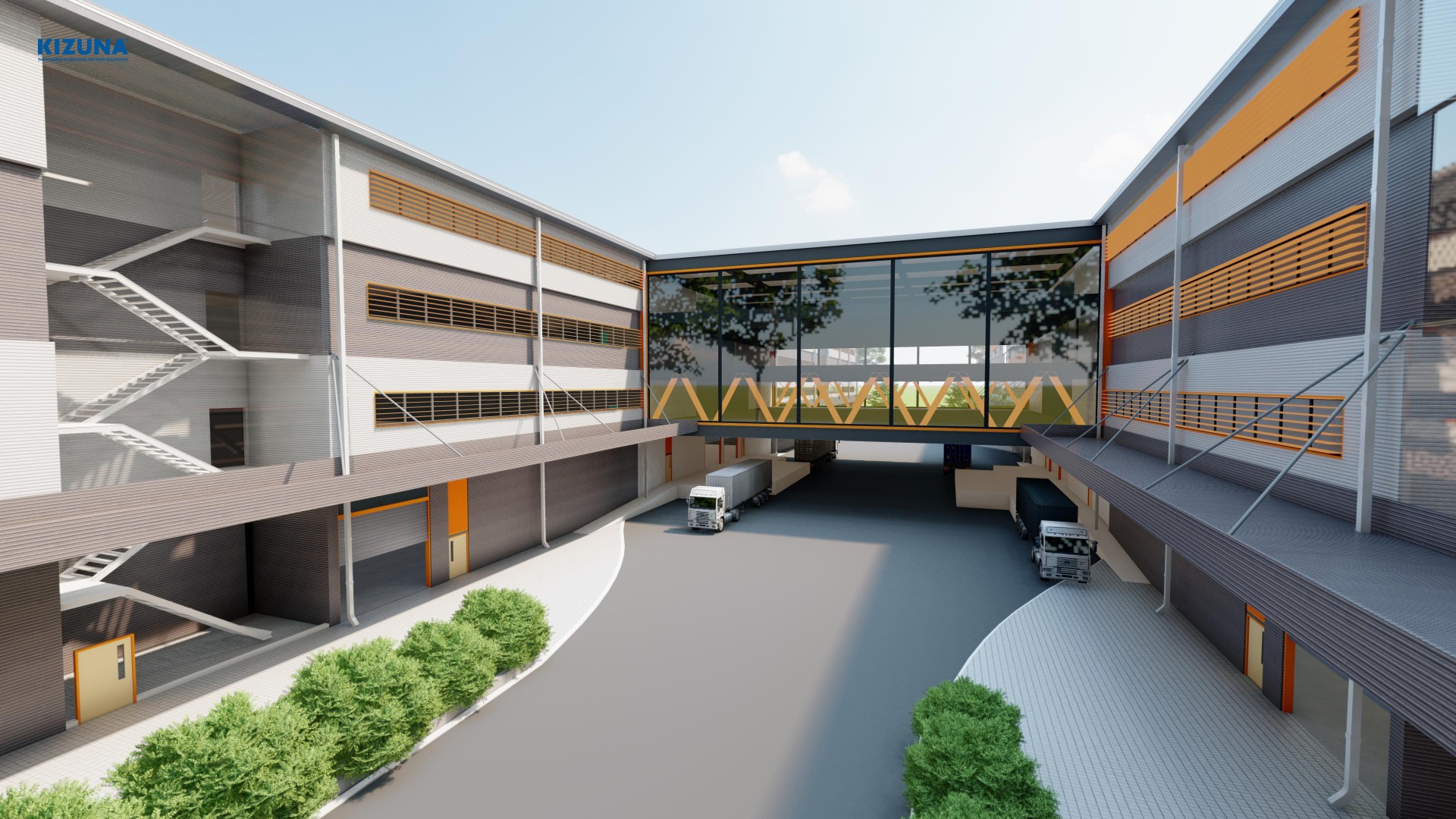 Enterprises need to gather capital sources to boost factory productivity
For each enterprise, the potential of capital and credit are the fundamental developing factors. An improvement in the scientific level and the introduction of advanced technology to the production and business process also depend on the ability of the enterprise's budget to adapt. Therefore, enterprises need to gather and mobilize maximum available credit resources, along with an allocation strategy appropriate and consistent with the development orientation. This action directly impacts productivity and brightens up new paths for development for your quality factory.
5. Enhance the level of human resources is a way to improve the quality of a standard industrial factory
Human resources in quality factory are regarded as an important factor in the enterprise. Developing a high-quality workforce is the core problem of an enterprise, as this comes as a factor deciding the productivity, quality, and cost of the products. If an enterprise lacks quality human resources, it will not achieve sustainable development. Therefore, enterprises must also include training policies to enhance the level of human resources. Both intensive training classes, skills learning programs, or social and collective activities, etc. are excellent methods to achieve this goal.
Which enterprises are choosing Kizuna's quality factory?
Enterprises such as manufacturing auto parts, packaging processing, packaging production, beer production, interior production, cosmetic production, shoe production, food production, high-class apparel, medical equipment manufacturing, electronic components manufacturing, mechanical manufacturing, mechanical industry and mechanical equipment manufacturing prioritize Kizuna as their optimal solution for selecting quality factory service near HCMC.
In particular, Kizuna's quality workshop is interested by foreign enterprises who tend to enter Vietnam market. With a full supporting service system and multilingual professional staff, Kizuna confidently supports businesses go into production quickly.
Contact +84 272 3900 191 now for advice!
Efficient production with Kizuna factory leasing planning!
Read more: small factory, small size factory, medium factory, medium size factory, large factory, large size factory, factory for lease, industrial factory, industrial area factory, smart factory, standard factory, professional factory, new built factory, factory for rent near HCMC, factory in industrial zone, 1000m2 factory for rent