News
4 Reasons why industrial space for rent is the best choice for SMEs
Recently, more and more enterprises are choosing factory space for rent as their producing space. These factories now overweight others thanks to the modern technology applied in the construction and also their impressive advantages. Read this article to find out more about this type of industrial space for lease.
What is an industrial space for rent?
Industrial space is a building with at least 3 floor, used for manufacturing, production, fabrication and assembling. An good industrial space will meet the demand of many types of manufactoring job such as textile, electrical component, chemicals,... under a roof.
For enterprises, the location of the industrial space for rent has a great influence on the business efficiency. However, it is not always simple for enterprises to find the balance between capitals and the quality of the factory, as the rent of a factory in a good location is often high. Given that a quality factory has to satisfy these three criteria: location, working space and utilities, the rental service of industrial space for lease is born to solve this question.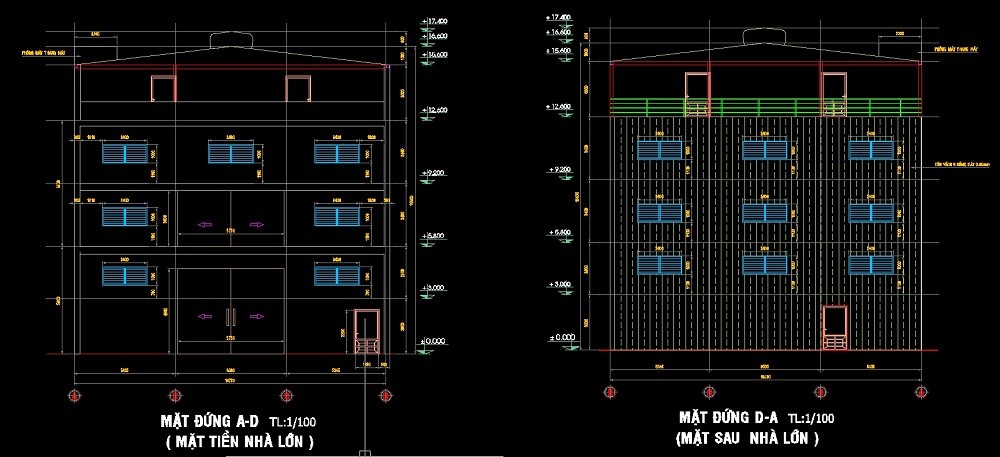 Why should choose industrial space for lease?
1. Industrial space for rent is a way to optimal usage of a limited area
As the feature of an industrial factory is big and heavy machines, enterprises often have to look for low-rise factories to insure safety. However, due to limited land funds, they cannot build many factories. Therefore, the industrial space for rent are the best option to optimize land use for construction. A industrial space for lease has a lot of floors but enterprises normally choose to rent one factory on one floor; while another option for enterprises is to rent both the first and second floor of a two-floor row-factory.
2. Operation cost and construction time will be saving effectively with industrial space for lease
In the current situation, it will take a huge amount of cost and area to build a factory. This is a considerable obstacle for the newly-established enterprises or those who are investing Vietnam. Whereas the industrial space for rent offers a number of benefits in terms of space. With a certain amount of money, enterprises can have a larger working space than using common factories.
Moreover, it is far cheaper to rent than to build a factory. This type of factory will certainly help to save cost and time spent on construction. The rent for a industrial space for lease ranges from 4.5 to 6.5 US dollars per m2 per month. Instead of spending money building a new factory, enterprises can focus on transporting machines to be able to operate. Also, by putting several working spaces in the same location, enterprises can save the cost of travelling and goods transportation between the factories and the warehouses.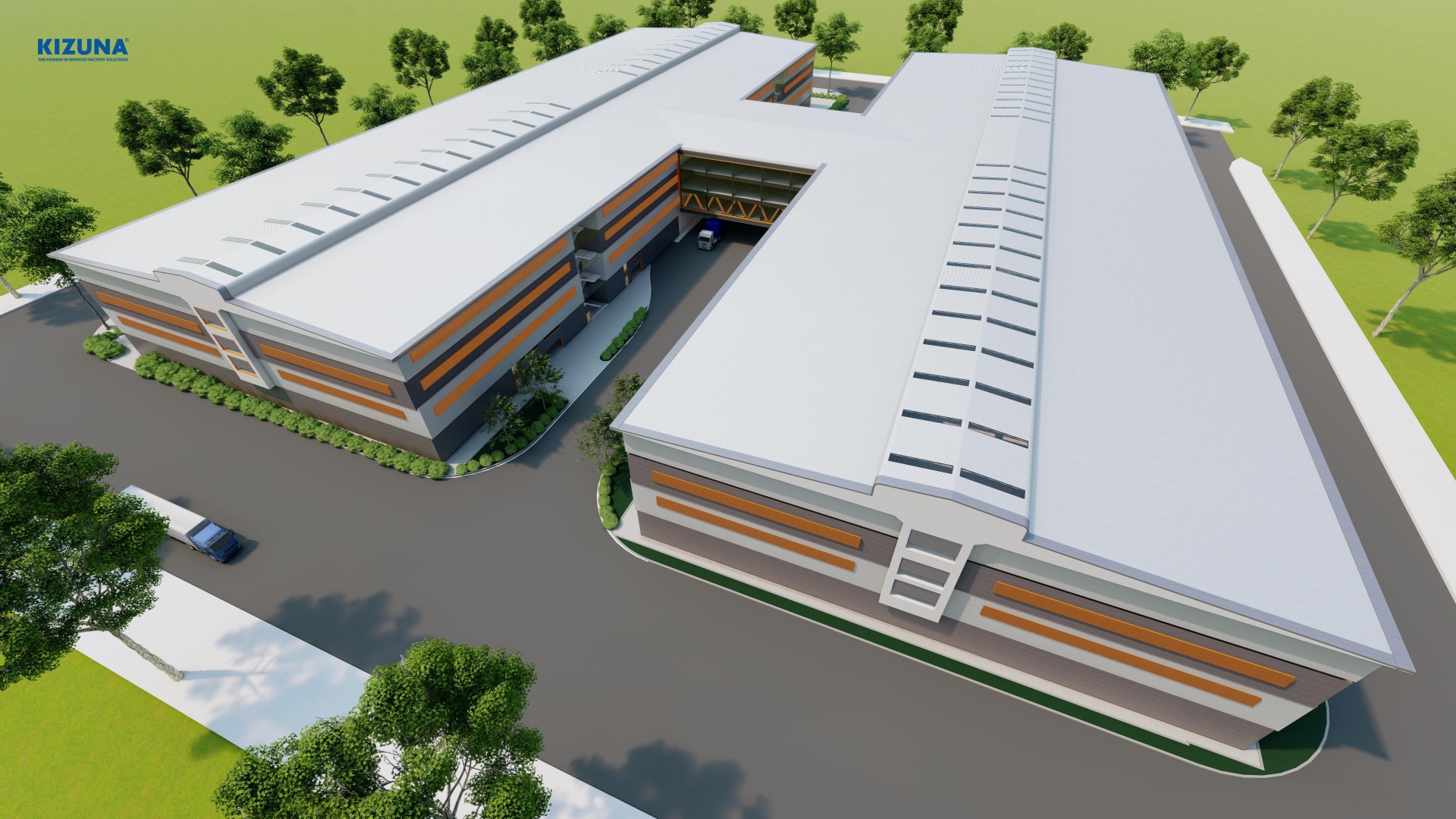 3. Industrial space for rent is modern, full-equiped and green
Industrial space is often fully equipped with high quality facilities to meet the demand of many businesses operating in a space. Materials used for construction of buildings must meet standards of manufacturing factory and have high durability. 24/7 Power system, factory ventilation system and security system are indispensable factors when establishing a industrial space. Besides, the office space and canteen are also arranged as a shared space for all employees to use comfortably.
In additions, the design of paths and stairs is also optimized for transporting goods and people to easily circulate. These are an outstanding advantage of the model of industrial space that SMEs are interested in today.
4. Industrial space for lease offers full suppporting services
Most agency providing industrial space for rent offers enterprise who signs the contract to lease a space, a professional service systems, includes: factory maintenance services, administrative services, transportation services, strategic consulting services, etc. With local experience and extensive relationships, all issues will be solved quickly and effectively.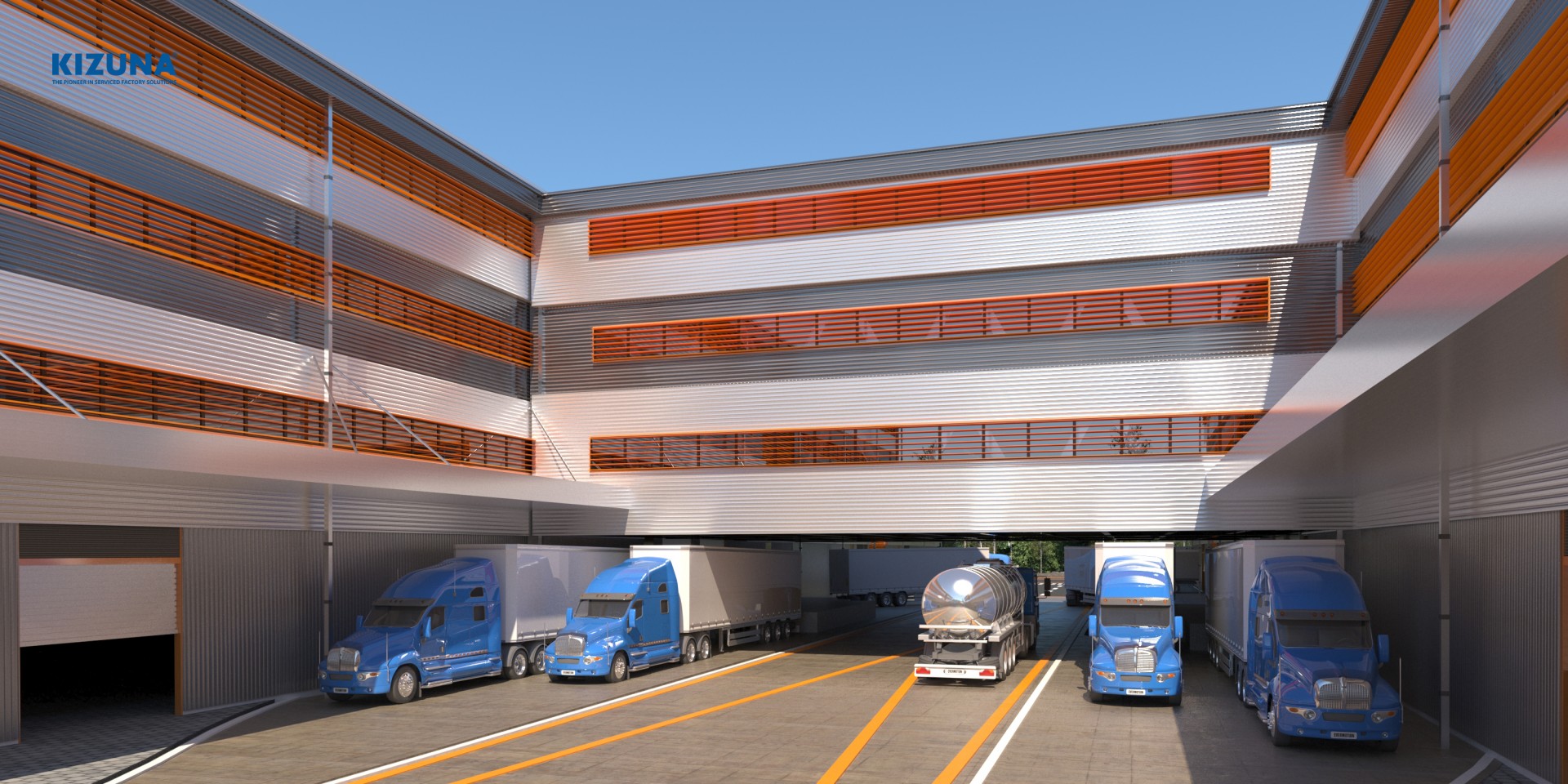 Kizuna - Ready-built industrial space for lease with high quality infrastructure and professional supporting services in Vietnam
The industrial space for rent which has totally unified equipment will enable enterprises to produce effectively. A prime example of this type is Kizuna's factory for rent. This supplier equips it three factory units with the outstanding utilities such as:
- Large and safe elevators and lifts for goods.
- Advanced main switchboard supplying electricity for business activities.
- Automatic system of fire detection and prevention
- Good telecommunications infrastructure with large bandwidths.
- Equipment of the electricity and water supplying sources and water drainage to each factory
- A-standard sewage treatment process
- Separate parking lot and modern canteen
- Highly supportive service ecosystem
- Professional staff with a good command of Japanese/Korean/English.
With the advantages that industrial space for lease bring about, enterprises can totally focus on producing. If you are looking for a quality factory, try ready-built factory by Kizuna, which will provide you with the most suitable factories for your business.
Efficient production with Kizuna workshop factory planning!
Read more: small workshop, electronic factory, industrial zone in vietnam, fabric factory, factory for lease, factory in vietnam, Industrial factory design, investing vietnam, new factory in vietnam, cosmetics factory, pharmaceutical factory, large workshop, production factory, medical equipment factory, vietnam apparel industry, warehouse vietnam, quality factory, electronics manufacturing, small factory