News
Factory in Vietnam design standard for manufacturing company
Expanding and building more factories are always the goal of many investors. However, to be able to build a standard factory to put in operation, you need to meet a lot of standards. What are those basic design standards? Let's find out with Kizuna 9 design standards for a factory in Vietnam.
What are basic design standards for a factory in Vietnam?
9 design standards of a factory in Vietnam
1/ Artificial - natural lighting in civil works of a factory in Vietnam
Natural lighting is the design of open spaces, skylights, the use of multiple windows. These designs help factories take advantage of natural light. Meanwhile, artificial lighting is the use of lighting equipment to provide light. You should combine these 2 sources to save power consumption. After many years, this source of money will help enterprises reinvest in other plans.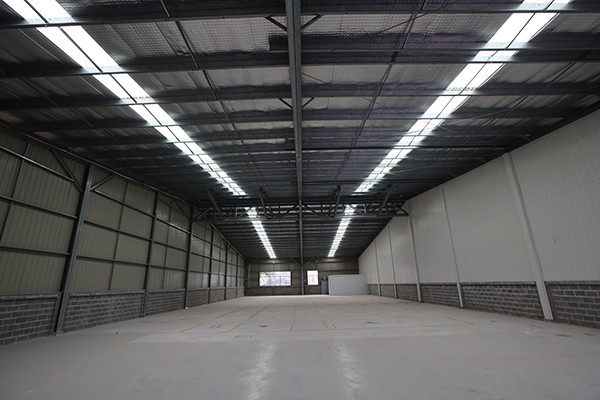 Natural and artificial lighting in a factory in Vietnam
Currently, natural and artificial lighting are combined in the models of the factory for lease in Vietnam. It can be mentioned to the factory design with various windows or roof monitors, etc. Factory in Vietnam is not only diversified in design but also with many different sizes. Depending on business form or business line, enterprises can freely select the suitable one.
2/ Water supply and drainage in the factory in Vietnam
Any factory must be equipped with quality water supply and drainage system. If this issue is not ensured, you will face many risks. Especially when the rainy season comes, the drainage system in bad condition will cause flooding. Goods, equipment and machinery in the factory are easily damaged, causing huge damage to the enterprises.
Therefore, the water supply and drainage system are one of the important parts in the factory. If the enterprises are looking for factory for lease, they should select a professional factory supplier. If the enterprises do not carefully consider and select a bad supplier, it will lead to unfortunate consequences.
3/ Insulating components, thermal engineering (flameproof) of a factory in Vietnam
Quality factory needs to be properly partitioned, especially in residential areas. Because the factory operation activities will have certain impact on the living of surrounding residents.
In addition, the items used in thermal engineering must meet the standards. This will help to reduce the fire and explosion incidents as well as reduce the damage when a fire or explosion incident occurs. Similarly, the installation of electricity wires at public works is the same.
4/ Installation of equipment in the buildings and public works of a factory in Vietnam
Electrical equipment in the factory must meet safety standards. You should consider how much damage it is when the incident happens. Does the equipment increase the damage to your factory? Flammable items should be placed in visible location with specific notices.
5/ Ventilation and air conditioning of a factory in Vietnam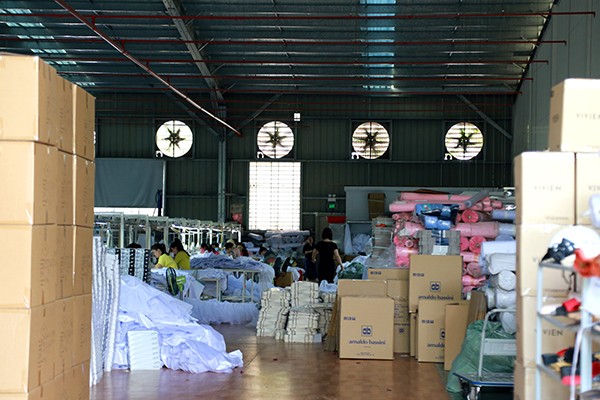 Ventilation and air conditioning in a factory in Vietnam
You need to carefully check-in and out direction of the wind. This will help you optimize the construction of a good ventilation system. The coordination between natural and industrial ventilation systems must be reasonable. The factory space will become airy and help workers work better. A well-ventilated factory also helps reduce the risk of the fire incident.
6/ Requirement of installation of fire fighting and protection system of a factory in Vietnam
This requirement is especially important and strictly required. Without this, the factory will not be licensed to operate. The purpose of this is to help enterprises protect their assets and workers working in factories. When the factory is not equipped with a good fire protection system, there will be rented by no enterprises.
7/ Requirement of technical installation - Fire alarm system of a factory in Vietnam
Not only installing fire extinguishers, but you also need good enough fire alarm systems. They will alert you where the problem is happening to be quickly resolved. Especially in case, the fire incident occurs while you are away from the site.
Technical installation of a factory in Vietnam
8/ Design standards - Concrete and reinforced concrete structures of a factory in Vietnam
This is the standard for building factory in Vietnam that you need to ensure the most. Foundation base, columns, and foundations will prop up the whole factory over the years. Make sure they are good enough and there's no mistake in the construction process.
9/ Inspection and maintenance guidance of a factory in Vietnam
For different works, different lightning protection systems will be installed. This system will protect the factory from huge damage during the rainy season. When thunder happens a lot of, this makes threat to the safety of the factory. Just a small mistake can make the enterprises pay a huge price. You should also find out information about the system after it is fully installed. If you don't ask, it is your big disadvantage when thunder happens.
10/ Factory in Vietnam offered by Kizuna
Factory in Vietnam offered by Kizuna not only serves all standards but also is diverse in choices.
10.1/ Factory in Vietnam by types
There are many types of factories for businesses that Kizuna offers such as small factory, small size factory, medium factory, medium size factory, big factory, large factory, large size factory, factory for lease, industrial factory, industrial area factory, smart factory, standard factory, professional factory, new built factory, ready built factory, cost saving factory, diverse scale factory, storage factory, quality factory, factory has crane, cheap factory rental, factory for rent near HCMC, factory in industrial zone, food factory, food producing factory for rent, furniture factory, packaging factory, factory for mechanical engineering for rent, And besides factory, Kizuna also offerers small workshop, small workshop for rent, small workshop for rent near HCMC, medium workshop, medium size workshop for rent in Long An, large workshop, ready built workshop for rent, high quality workshop for rent, serviced workshop for rent, serviced workshop for rent near HCMC, workshop for rent in industrial park, small warehouse, small size warehouse for rent, small ​​warehouse for lease in Long An, medium warehouse, large warehouse, warehouse to rent, warehouse for lease, warehouse rental, good quality warehouse for rent in Long An, warehouse for rent near HCMC, warehouse near Ho Chi Minh.
10.2/ Factory in Vietnam by sizes
In tern of size, Kizuna provides factories for rent such as: 300m2 factory, 2000m2 factory, 500m2 factory for rent, 1000m2 factory for rent, 5000m2 factory, 100m2 factory for rent in Long An, and other sizes in different forms: 100m2 warehouse rental, 1000m2 workshop for rent near HCMC for the enterprises' choice.
Above are the 9 most basic standards required for a factory in Vietnam. Factory renting suppliers - especially Kizuna always comply with the above regulations during the factory construction. Thus, when renting Kizuna factory, the enterprises will have a sustainable, safe and effective development environment.