News
How to establish a fabric factory in Vietnam with 4 basic steps
Textile is considered as one of the key industries in Vietnam, receiving numerous supports from the State and the Government in recent years. This is also an industry that contributes greatly to our country's export turnover. So, what points to consider when establishing a fabric factory?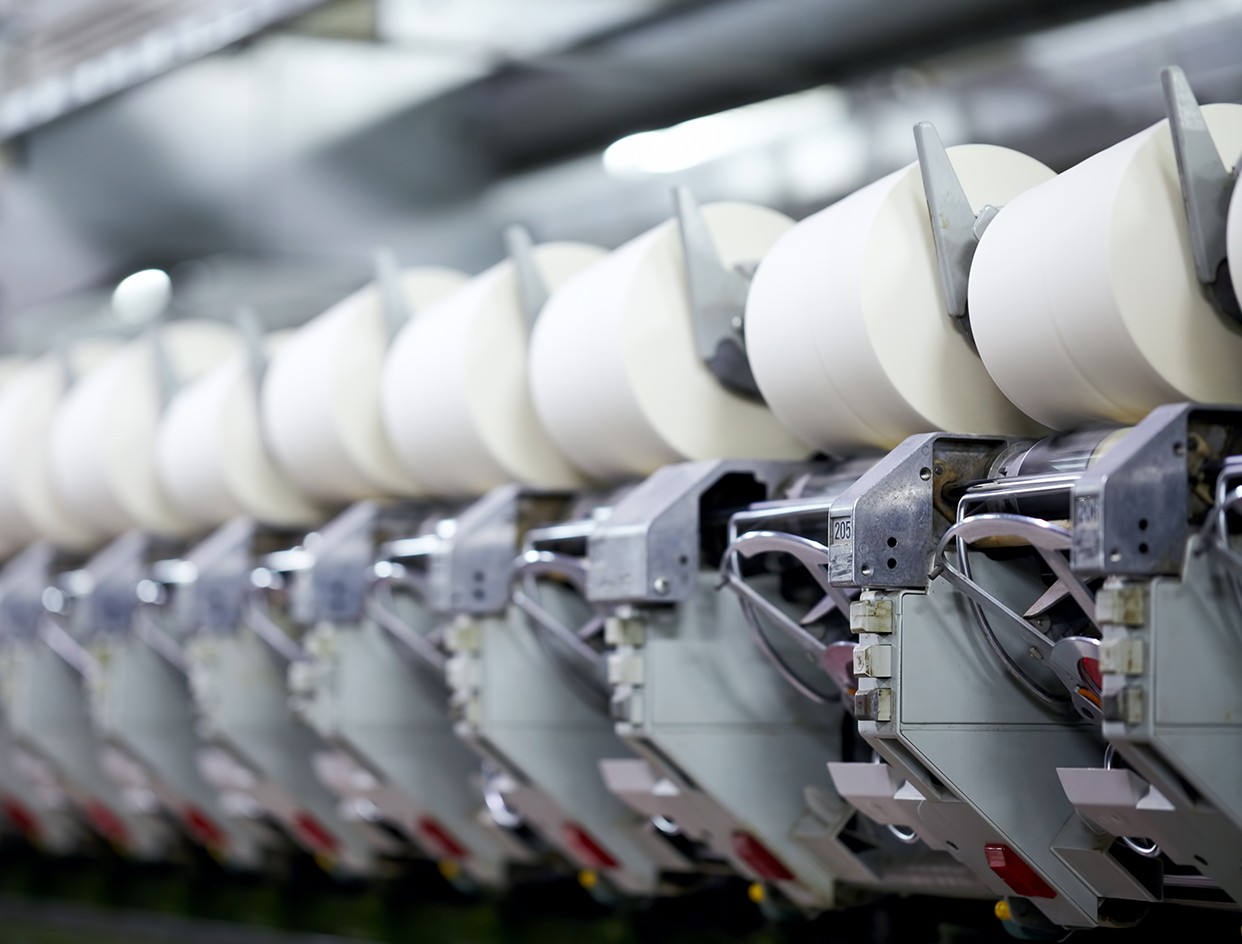 1. The basic procedure of a fabric factory
Step 1: Spinning
Cotton plants will be baled after being harvested. The raw cotton will contain many impurities such as dust, soil, etc. Therefore, the cotton will be beaten for cleaning. After cleaning, cotton has the shape of flat sheet, the cotton yarns will be roughed to increase the durability and length.
After the spinning is completed, the material will come to the sizing process, by adding some chemicals in the way of weaving to make the cotton yarn more durable, shiny, smooth, and eye-catching.
Step 2: Weaving
In fabric factory, the weaving process is relatively similar to traditional methods. However, nowadays' machines with high technology will have faster speed and release better fabrics. Weaving is the process of combining weft and warp threads to make a fabric. When the weaving process is complete, the cloth will be cooked at high pressure and temperature accompanied with a number of special substances.
This helps separate impurities, get rid of harmful substances to the skin. Afterward, the cloth continues to be improved to increase the ability to absorb moisture, catching colors to dye. The last stage in weaving is bleaching to help clean the grease, remove the natural color to dye more splendidly.
Step 3: Dyeing
Before dyeing, the cloth will be specially treated with dyes and other substances to increase its ability to stick to colors. The dyeing process is relatively time-consuming and using materials to help the fabric release a beautiful color. After dyeing, the textile facilities will wash the fabric several times to separate compounds and dirts remaining on the fabric. The final stage is cleaning which makes the fabric soften, increases its durability, and prevents it from shrinkage.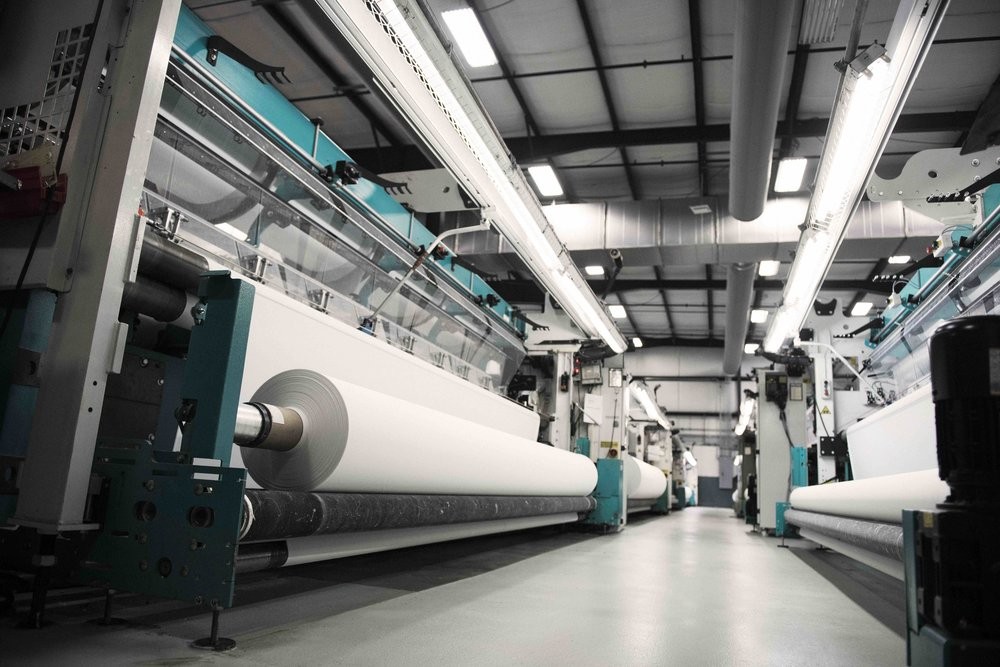 2. Estimate the capital investment for a fabric factory
Based on the procedures as well as the components of a fabric factory mentioned above, the initial capital investment for a fabric factory can be calculated as follows:
| | | | |
| --- | --- | --- | --- |
| No | Components | Area (m2) | Estimated amount (Billion Dong) |
| I | Construction of workshop factory | | |
| 1 | Warehouse | 3,000 m2 | 15 |
| 2 | Yarn workshop | 50,000 m2 | 200 |
| 3 | Textile workshop | 40,000 m2 | 200 |
| 4 | Office area | 2,000 m2 | 50 |
| 5 | Guest house/ cafeteria/ security area | 3,000 m2 | 40 |
| 6 | Electricity station/ Water tank/ Waste warehouse | 1,500 m2 | 15 |
| 7 | Transport land/ trees/ Yard | 500 m2 | 50 |
| II | Machine expenditures | | |
| 1 | Spinning and dyeing machines | | 500 |
| 2 | Textile machines, compressors | | 500 |
| 3 | Other systems of machines | | 100 |
| | Total | 100,000 m2 | 1770 |
3. Choosing the location for a fabric factory, Vietnam is an ideal destination
The impact of determining the fabric factory location is very aggregated, it is an important solution to create a competitive advantage and improve business performance by satisfying better, faster, and cheaper products and services without the need for additional investment.
Determining the right business location helps create opportunities for businesses to contact customers, improve the ability to attract customers, penetrate and occupy new markets, promote production and business development, increase sales and profit.
Locating businesses is an important measure to reduce production costs. The decision to determine the location of the business strongly affects the operating costs, especially the cost of transporting raw materials and products.
Determining a reasonable fabric factory location also creates one of the key resources of the business. It allows businesses to identify and select areas with favorable resources and business environment, and exploit the advantages of the environment in order to make the best use of their internal potential.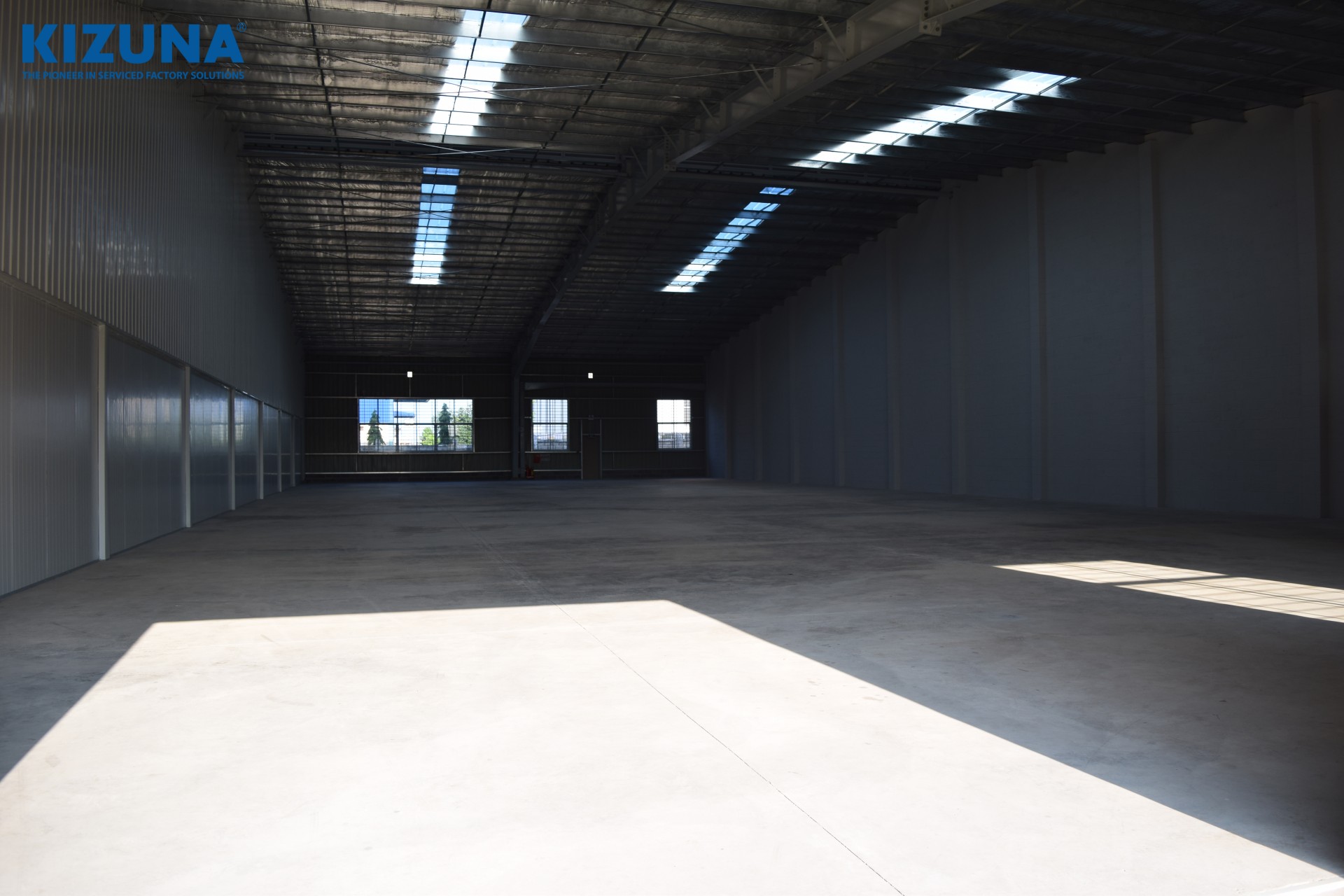 4. Should enterprise build or rent a fabric factory?
Having found a low-price renting ground, most enterprises will choose to build a fabric factory by themselves. This solution is good and suitable for businesses with high investment capital, large and stable enterprises, which helps optimize long-term costs.
Meanwhile, for foreign enterprises newly investing Vietnam, SMEs often choose to rent factories. Factory for lease provides enterprises with a wide choice of workshop types such as workshops with offices and factory with cranes at the reasonable production factory renting. Enterprises save time and costs and operate immediately faster than building by themselves.
- The location of the factory owns the convenient traffic, near the highway
- The surrounding transportation is great, easy for moving
- The design of the factory required to be optimized and ensured safety
Expenditure on buying land for building a fabric factory is not cheap. And the HCMC land prices are growing year by year. Why don't you choose a safe solution, which is to rent a factory? The expense of renting a fabric factory is definitely lower than building itself. With a factory for rent, within one week, enterprises will start the production process immediately, remarkably quickly, saving more time than constructing the factory by themselves.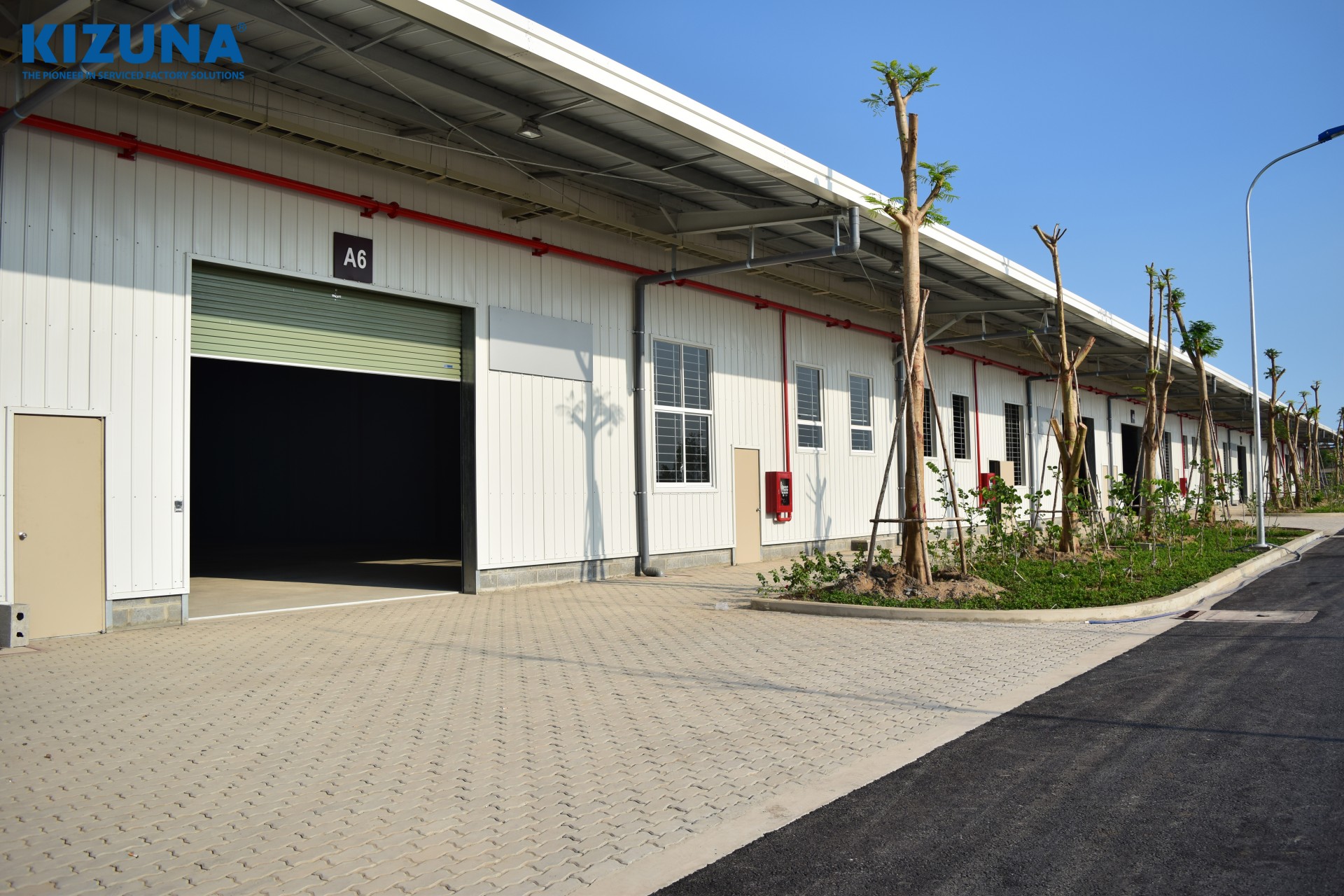 Which are well-known fabric factories located in Vietnam?
Fabric factories are growing fast in Vietnam these days thanks to a strategic location which is next to the largest source of textile materials in Asia - China. Here are 5 large fabric companies that are currently located in Vietnam:
- Sigma as a member of Chanco group, place their fabric factory in Long An
- Tsuchiya Tsco Vietnam, locate their production factory in Binh Duong
- TRAN HIEP THANH TEXTILE CORPORATION, in HCMC
- Toyobo Thailand places their fabric factory in HCMC
- Unitika Trading Vietnam in Ha Noi
Kizuna - Optimal and high quality ready-built factory for rent for fabric manufacturing
The system of high quality workshops and factories for rent at Kizuna is strongly preferred by many companies. Here are some values and benefits that the business will receive when renting a fabric factory at Kizuna.
- Strategic locations: Long An - nears HCMC, harbors, airport, Phu My Hung residential zone
- Optimal architecture: Variety scales from 250m2 to 80,000m2 with clear views and modern canopy system
- Infrastructure system and utilities of Factory Zones are all synchronized: clean, green area, water system, three-faces electricity power, canteen and 24/7 security
- Ecosystem provides more than 50 services
- Our staffs can assist in all languages
- Easy in - Easy out: fast operation, can liquidate before the end of the contract, without losing the deposit.
As a business owner, you should understand all the important and essential requirements of fabric factory. We hope with the given information above, you will have a better understanding to select the most optimal option for your business. Let's contact Kizuna for more consultancy.
Efficient production with Kizuna factory rental planning!
Read more: small factory, medium factory, electronic factory, manufacturing factory, vietnam industrial zone, factory space for rent, pharmaceutical factory, warehouse vietnam, cosmetics factory, industrial space for rent, production factory, industrial factory, vietnam apparel industry, quality factory, medical device factory, electronics manufacturing, new factory in vietnam, medical equipment factory, 1000m2 factory for rent