News
2 Common forms of warehouse Vietnam & Where to find a good warehouse for rent
Many businesses are having difficulty to find a warehouse for lease in Vietnam. The following article will help you have a better understanding of the forms of warehouse Vietnam for rent.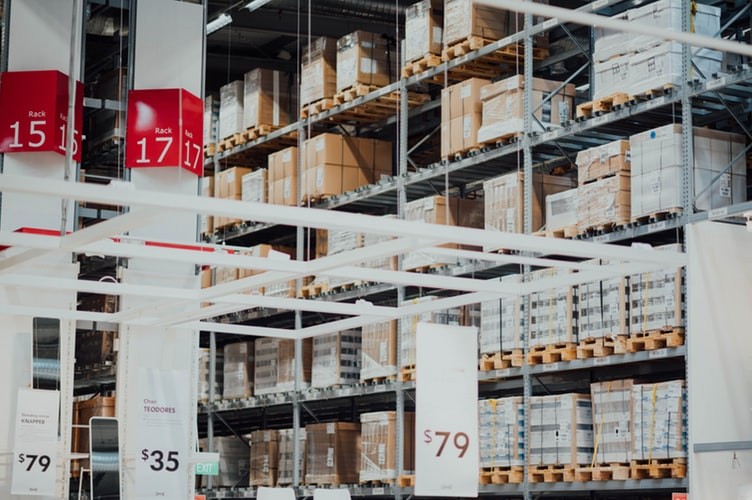 More foreign enterprises are looking for a warehouse Vietnam for rent
2 Common forms of warehouses Vietnam for rent
Depending the purpose and volume of commodities, there are numerous different forms of workshop rental. However, there are currently two main forms of leasing: a private warehouse and a public warehouse.
1. Private warehouses for rent in Vietnam
A private warehouse is used by only one enterprise. Big enterprises with abundant financial resources will prefer this way to store their goods. This is executed by renting a full package from a warehouse supplier.
Advantages of private warehouses for rent
It is easy to see that renting a private warehouse can own a high level of control and unlimited storage space in case you have to use unscheduled. Another advantage is that enterprises can fully control the warehouse management which creates a flexibility for making adjustment or improvements when needed.
A private warehouse Vietnam is built based on a specific standard focusing on the space, temperature, humidity, etc. to create a safe and convenient working environment.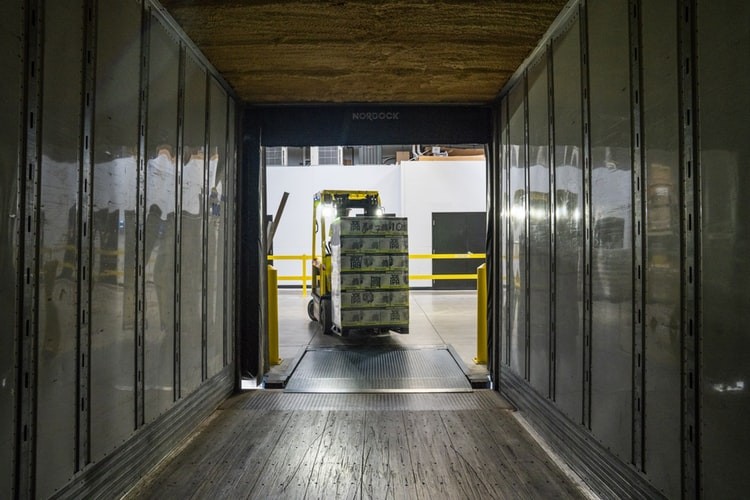 Inside of a warehouse Vietnam
Disadvantages of private warehouses for rent
However, enterprises will need a great source of financial investment to rent a private warehouse. Therefore, this form of warehouse Vietnam is only suitable for large-scale manufacturing companies. It can be considered as a long-term venture capital investment. During the process of operation, various costs can accrue like equipment procurement, staff training, etc. Besides, using a private warehouse in a short-term period is unbeneficial if cannot fully utilize the space. If the quantity of goods is reducing, it will be a waste when costs and warehouse scales are unchanged.
2. Public warehouse Vietnam for rent
Public warehousing is a type of centralized warehouse from numerous different enterprises. While the rental agency has the responsibility for managing and storing commodities, but only businesses that are registered have a right to own products. The form can be separated into two types. One is short-term rental (monthly) and the other is long-term (more than 1 year)
Advantages of public warehouses
Public warehouse Vietnam doesn't costs as much as private warehouses. On the other hand, public warehouses are not individual properties, so enterprises are not obligatory to taxation. Renting a public warehouse Vietnam in the short term will help enterprises have more flexibility in using. When an amount of goods in a month decreases, they only have to pay their used storage. As a result, they will save their renting cost.
Disadvantages of public warehouses
In contrast, when the amount of goods increases, enterprises have to spend more to rent other warehouses. In the long term, businesses cannot take initiation in changing the storage space because the contract may still valid at that time. However, the safety level will still be higher than in the short term.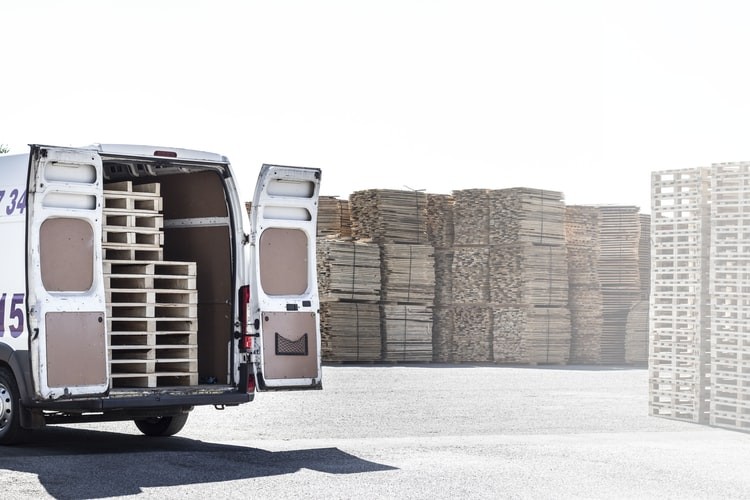 Is your enterprise looking for a warehouse to rent in Vietnam?
3 Factors affect the price of warehouse for rent in Vietnam
1. The rental price of warehouse located in each area in Vietnam is diffirent
Renting price of warehouse Vietnam in surban area is lower than urban area
The location of the warehouse is very important in the business. A prime location with many utilities always has a high price. Especially in the city center, the price of warehouse for rent near HCMC is always at an extremely high level. Because the city centers are always densely populated. Thus, the tight area of ​​land fund where "demand exceeds supply" makes the price of warehouse for rent higher.
Choose a warehouse Vietnam that matches your business type
The warehouse Vietnam does not necessarily to be placed in a large industrial park or a large downtown. Because in these areas the renting cost or buying a warehouse is very expensive. The best warehouse Vietnam is the one that matches the business orientation. That could be near the source of materials. Or factories have convenient transportation to facilitate transportation and transactions.
2. The price of warehouse Vietnam depends on each form of warehouse and the quality of equipment inside
Ready-built factories need to be designed and flexibly built as required by the enterprises. Basically, the warehouse Vietnam needs to ensure the standards and utilities used for each manufacturing industry. A professional and quality warehouse Vietnam will always have a high price
However, the quality of the warehouse Vietnam is one of the determinants of production efficiency. Quality warehouse will ensure safety for workers. Production activities are mainly heavy machinery and equipment, with strong vibration. If the warehouse is not of good quality, it will quickly degrade. In addition, the workshop designed to welcome natural light and good ventilation will create a comfortable environment for workers to work.
3. Supporting services when renting a warehouse Vietnam is an important factors
Usually, when selling a warehouse built-in reputable suppliers always provide preferential after-sales services. These models are more expensive than other warehouse products. However, in the long run, the after-sales advantages bring great benefits. After-sales services such as carrying out legal and administrative procedures, and other services at preferential prices.
One fact is that it is difficult for investors to find land to build factories because of legal procedures or locations that are not in the market of enterprises. Moreover, the land fund for building factories is more and more limited, so the land price also increases sharply. The solution of the business is to choose to buy ready-built warehouses. However, Vietnam industrial zone only have factories of a few thousand m2, which is not suitable for medium enterprises or those who want to have small factory.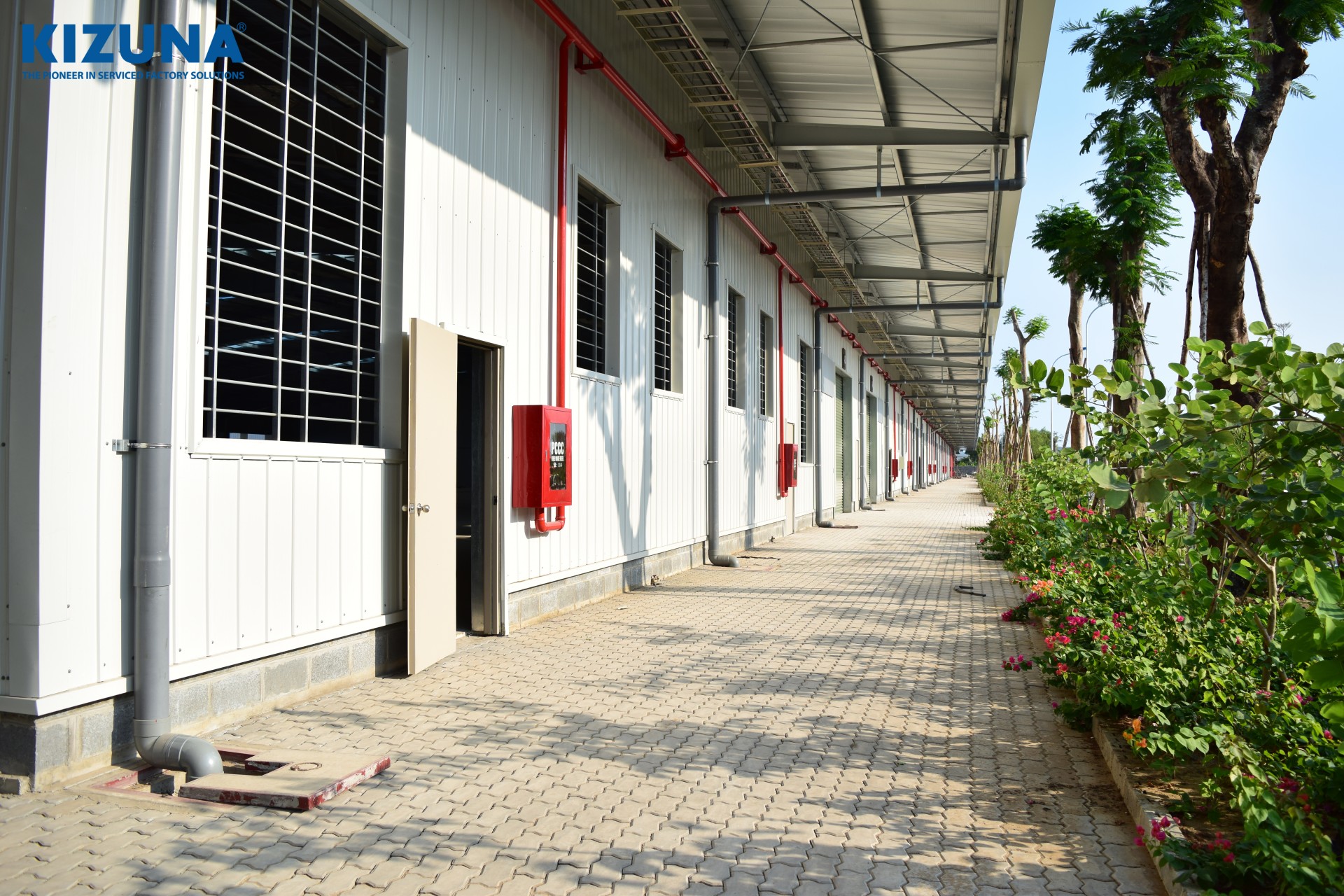 Where to find multi-scaled warehouse Vietnam?
Find a good warehouse Vietnam in Muaban.net
Muaban.net is a familiar address for many manufacturing enterprises. Information on prices, warehouse location, warehouse image is clear and updated continuously. Besides, Muaban.net provides users warehouse's owner information, so you can contact directly with the owner for detail.
Cho Tot Nha is one of the biggest real estate channels in Vietnam
With a large number of people searching for information on warehouse rental, Cho Tot Nha is one of the first real estate information channels in Vietnam. Easy-to-see interface, easy to use with many convenient filters, users can search for an agency to rent a warehouse Vietnam quickly, easily, and especially without going through any 3rd party.
Contact directly to Kizuna for consultancy about Ready Serviced Factory for rent with a small warehouse Vietnam
With Kizuna, with just one call, you can have a lot of information on the factory for lease or warehouse rental in Vietnam. As a supporting service, Kizuna also leases warehouses (add-on utilities when renting a Kizuna ready serviced factory) with reasonable rental prices, accompanied by complete utilities. Efficient production and cost optimization are the outstanding benefits that you can receive with Kizuna's factory.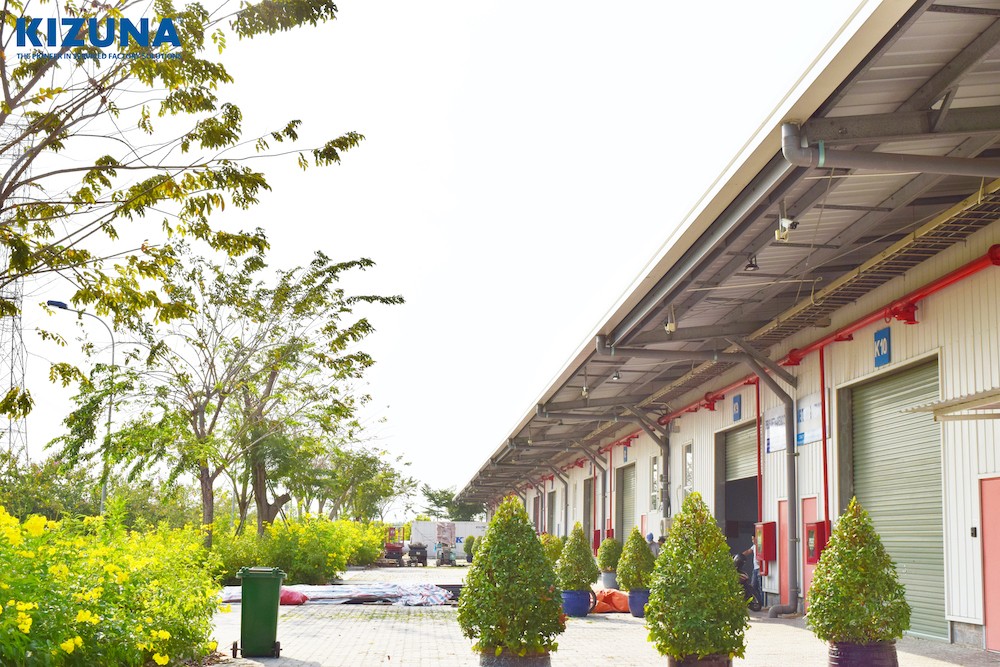 Kizuna offers high-quality factory for rent with standard warehouse service in Long An, Vietnam
The system of high quality factory for rent at Kizuna is strongly preferred by many companies. Enterprises could rent Kizuna's workshops to use as a warehouse. Here are some values and benefits that the business will receive when renting a workshop at Kizuna.
- Strategic locations: Long An - nears HCMC, harbors, airport, Phu My Hung residential zone
- Optimal architecture: Variety scales from 250m2 to 80,000m2 with clear views and modern canopy system
- Infrastructure system and utilities of Factory Zones are all synchronized: clean, green area, water system, three-faces electricity power, canteen and 24/7 security
- Ecosystem provides more than 50 services
- Our staffs can assist in all languages
- Easy in - Easy out: fast operation, can liquidate before the end of the contract, without losing the deposit.
As a business owner, you should understand all the important and essential requirements of a workshop for rent. We hope with the given information above, you will have a better understanding to select the most optimal option for your business. Let's contact Kizuna for more consultancy.
Rent factory, plus utilities to rent warehouses in Kizuna!
Readmore:
small workshop, electronic factory, manufacturing factory, industrial zone in vietnam, fabric factory, factory in vietnam, Industrial factory design, factory space for rent, investing vietnam, new factory in vietnam, cosmetics factory, pharmaceutical factory, industrial space for rent, large workshop, production factory, industrial factory, medical equipment factory, vietnam apparel industry, electronics manufacturing