News
Small workshop for rent and lease in Vietnam
In the present day, small workshop for rent are becoming the trend of investors. This brings a lot of positive impacts on enterprises. Let's find out the reasons why enterprises should select small workshops for rent for operation.
When should a small workshop for rent be selected?
Comparing between large and small factories for rent, each type of workshop has different advantages and disadvantages. Depending on the using purpose, enterprises can select the appropriate area. Investors may wonder between a small workshop or a large size workshop for operation. So what are factors that can help enterprises decide to select a small workshop?
1. What motivates enterprises to select a small workshop for rent
1.1. Flexible workspace in a small workshop for rent
A standard workspace often includes production space and warehouse. The warehouse space is used for storing and distributing products. Production space is used for producing and packaging products. The biggest problem is how to combine the two spaces into one and operate effectively. Therefore, many enterprises decide to rent many side-by-side small factories to have clear area division...
A modern small workshop for rent
1.2. Saving cost by using a small workshop for rent
Every enterprise has to spend a lot of time approaching the market. Moreover, after a period of time of operation, if enterprises want to change the production structure or narrow their production, they will encounter many troubles. Firstly, the workshop space will be redundant when not fully utilized. Secondly, enterprises must spend time searching for other partners to rent that space to avoid wastage. Therefore, new enterprises should only invest in small workshops to have time to study and balance production. Given that some production business models do not need large areas, enterprises should consider carefully. Selecting a small factory to save a lot of costs is also an advantage.
1.3. Suitable for many enterprises using a small workshop for rent
The amount of investment to own or rent large-sized factories is not modest at all. To be able to do this, enterprises must mobilize and use their cash flow in a reasonable way, especially for small enterprises with limited capital. Therefore, it will be safe to start and approach most of the business models.
1.4. Creating optimal workshop architecture using small workshops for rent
Construction of a large size and efficient workshop architecture requires high qualified staff. Thus, enterprises must spend a lot of money on the design. However, in some cases, after a period of time, the model becomes unsuitable, so the enterprises will have to spend more rebuilding. Therefore, when selecting small workshop for rent enterprises can easily expand the size of factories according to the development of the enterprises.
2. Should enterprises select new construction or small workshop for rent?
2.1. Small workshop for rent has become the current trend
Renting factories is especially beneficial for multinational corporations. In each country, enterprises can rent one or more factories for production. And the workshop system will be connected together via the Internet. Thus, it can help both to save costs and quickly implement the production.
Besides, a small workshop for rent also helps enterprises to change the production size easily. Enterprises just need to contact and look for another suitable area to rent for production. In addition, investors have a lot of time to thoroughly study the market. Then, the enterprises will make the planning orientation and develop the production size. Thus, it is the most optimal solution for enterprises.
2.2. The quality of partners providing small workshop for rent has been increasing
With the fluctuation of the real estate market, the solution to rent factories is the most preferred by enterprises. There are now many partners providing small workshop for rent throughout the country. These partners keep improving and increasing the quality of service workshops, with some following characteristics:
-External transport system is convenient for delivery and transhipment of goods.
-The systems of lighting, electricity, water, fire protection and firefighting of all factories are fully installed.
-Comprehensive included supporting services such as legal support, initial administrative procedures, forklift renting, ...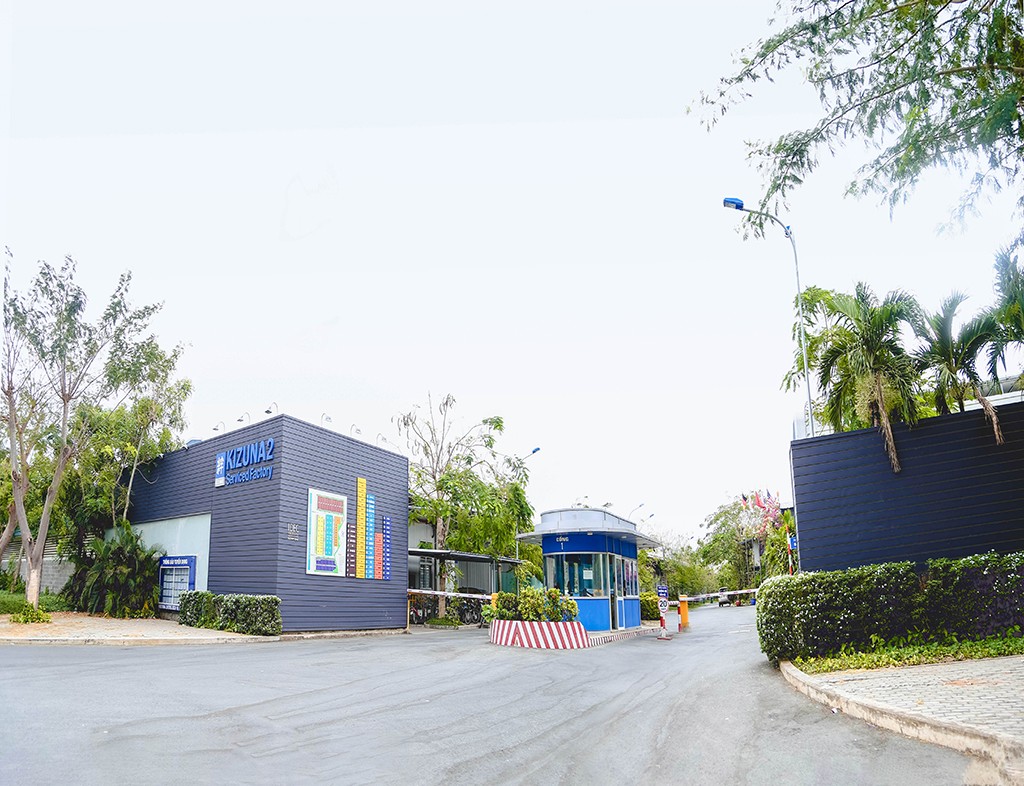 Small workshop in Kizuna is fully-equipped with many utilities
Small workshop from 250m2 for rent offered by Kizuna
The system of high quality workshops and factories for rent at Kizuna is strongly preferred by many companies. Here are some values and benefits that the business will receive when renting a workshop at Kizuna.
- Strategic locations: Long An - nears HCMC, harbors, airport, Phu My Hung residential zone
- Optimal architecture: Variety scales from 250m2 to 80,000m2 with clear views and modern canopy system
- Infrastructure system and utilities of Factory Zones are all synchronized: clean, green area, water system, three-faces electricity power, canteen and 24/7 security
- Ecosystem provides more than 50 services
- Our staffs can assist in all languages
- Easy in - Easy out: fast operation, can liquidate before the end of the contract, without losing the deposit.
As a business owner, you should understand all the important and essential requirements of a workshop for rent. We hope with the given information above, you will have a better understanding to select the most optimal option for your business. Let's contact Kizuna for more consultancy.
Efficient production with Kizuna workshop rental planning!
Read more:
small factory, small size factory, medium factory, medium size factory, big factory, large factory, large size factory, factory for lease, industrial factory, industrial area factory, smart factory, standard factory, professional factory, new built factory, ready built factory, cost saving factory, diverse scale factory, storage factory, quality factory, factory has crane, cheap factory rental, factory for rent near HCMC, factory in industrial zone, food factory, food producing factory for rent, furniture factory, packaging factory, factory for mechanical engineering for rent, 100m2 warehouse rentals, 300m2 factory, 2000m2 factory, 500m2 factory for rent, 1000m2 factory for rent, 5000m2 factory, 100m2 factory for rent in Long An, factory in Vietnam