News
Medium warehouse advantages of Kizuna model
Expanding production scale is always the aim of many enterprises today. However, the construction of medium warehouse costs a lot of money and risks. Therefore, enterprises prioritize warehouse rental. Let's find the advantages of Kizuna's medium warehouse.
Optimal advantages of Kizuna's medium warehouse model
Advantages of Kizuna's medium warehouse
1/ Prime location of Kizuna's medium warehouse
Kizuna is located in Tan Kim Industrial Park, Tan Kim commune, Can Giuoc District, Long An province, Vietnam. This is considered a key economic region of the South in particular and Vietnam in general. This location enables enterprises to easily transport goods or trade with other areas in and outside the region by road and waterway. The road system is also an important advantage of the standard location of Kizuna's medium warehouse.
Location of medium warehouse by Kizuna
All 3 Kizuna's service medium warehouse zones are located on the route connecting straight to National Highway No. 50. From this route, it is possible to connect with many other key transportation routes. Typically, these include National Highway 1A, Ben Luc - Long Thanh Expressway, etc. Thus, the process of transporting goods throughout the southern provinces becomes extremely easy.
2/ Diversified scale of Kizuna's medium warehouse
The size of Kizuna's medium warehouse is very diverse with many different areas ranging from 96m2 upwards. In addition, Kizuna also has a large medium warehouse model with an area of up to 10,000m2. This will help enterprises easily select medium warehouse suitable for production models. Furthermore, enterprises can optionally change the area of the leased medium warehouse when they want to expand production. Legal procedures for leasingmedium warehouse in Kizuna are remarkably simple. It is only required to contact the Sales Department to receive the fastest support.
3/ Medium warehouse with optimal architecture of Kizuna
Even though it is only a small medium warehouse, Kizuna still makes sure to build with high standards. The medium warehouse is well-designed with optimal infrastructure and equipment. Systems in medium warehouses include:
3.1/ Roof system of Kizuna's medium warehouse
All medium warehouse are installed with roof systems used for many different purposes. This is where enterprises choose to load and unload goods in a convenient and easy way. In addition, the wide roof structure can be made use as parking lots for employees.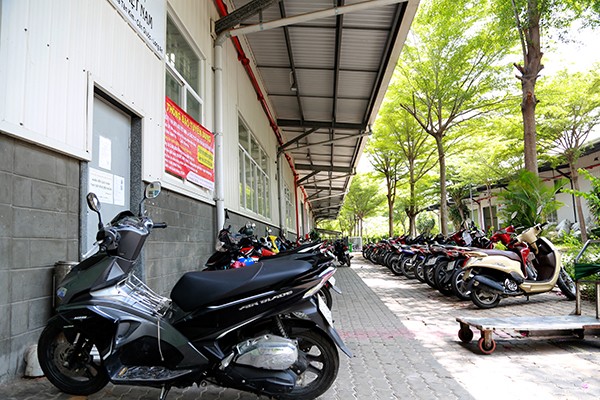 Medium warehouse by Kizuna
3.2/ Natural lighting system of Kizuna's medium warehouse
With medium warehouse Kizuna especially prefers using natural lighting systems. The production medium warehouse is designed and built to receive the most sunlight sources. This light source will not affect or interfere with the production process. On the contrary, this also creates circulation, ventilation and avoidance of mould and moisture inside the medium warehouse.
3.3/ Artificial lighting system of Kizuna's medium warehouse
Enterprises can freely design artificial lighting systems with fluorescent lamps, LEDs, ... All aims to facilitate full lighting for easy operation and production.
In particular, Kizuna has a multilingual customer service team: This is a great advantage of Kizuna that few medium warehouse rental units have. Foreign enterprises often encounter language restrictions in the host country market. This results in difficulty especially in researching market demands, laws and administrative procedures. Therefore, Kizuna's multilingual customer service team is ready to help enterprises when needed. Foreign enterprises will no longer worry about the language when conducting business in Vietnam.
4 / Medium warehouse offered by Kizuna
Medium warehouse offered by Kizuna not only serves all quality standards but also is diverse in choices.
4.1/ Medium warehouse by types
There are many types of warehouse for sale that Kizuna offers such as small warehouse, small size warehouse for rent, small ​​warehouse for lease in Long An, medium warehouse, large warehouse, warehouse to rent, warehouse for lease, warehouse rental, good quality warehouse for rent in Long An, warehouse for rent near HCMC, warehouse near Ho Chi Minh. And besides factory, Kizuna also offerers small factory, small size factory, medium factory, medium size factory, big factory, large factory, large size factory, factory for lease, industrial factory, industrial area factory, smart factory, standard factory, professional factory, new built factory, ready built factory, cost saving factory, diverse scale factory, storage factory, quality factory, factory has crane, cheap factory rental, factory for rent near HCMC, factory in industrial zone, food factory, food producing factory for rent, furniture factory, packaging factory, factory for mechanical engineering for rent, small workshop, small workshop for rent, small workshop for rent near HCMC, medium workshop, medium size workshop for rent in Long An, large workshop, ready built workshop for rent, high quality workshop for rent, serviced workshop for rent, serviced workshop for rent near HCMC, workshop for rent in industrial park,
4.2/ Medium warehouse by sizes
In tern of size, Kizuna provides warehouse such as: 100m2 warehouse rentals and other sizes in different forms: 300m2 factory, 2000m2 factory, 500m2 factory for rent, 1000m2 factory for rent, 5000m2 factory, 100m2 factory for rent in Long An, 1000m2 workshop for rent near HCMC for the enterprises' choice.
The above are the most optimal advantages that Kizuna's medium warehouse brings to enterprises. All of them aim to bring about an efficient and solid production environment for enterprises.