12/22/2019 14:00, Tin tức - Sự kiện
Searching for small ​​warehouse for lease in Long An
The demand of enterprises that need small ​​warehouse for lease in Long An is growing. As Long An locates in a convenient location that is close to roads and near the consuming market. Industrial zones for small ​​warehouse for lease in Long An are plentiful and diverse. So who is the prestigious small ​​warehouse for lease in Long An supplier here?
Prestigious industrial zone with small ​​warehouse for lease in Long An
There are a lot of investors in Vietnam need to rent small ​​warehouse for lease in Long An for production and business activities. Currently, Long An is a factory for rent market that attracts many enterprises across the country. So, finding a factory here is not so difficult. However, need to rensmall ​​warehouse for lease in Long An with good quality and reasonable price is not an easy question. In order to help investors "troubleshoot" we will update information about high-quality industrial zones with small-sized factory for rent in Long An.
Model of Kizuna serviced small ​​warehouse for lease in Long An in Tan Kim Industrial Zone, Can Giuoc
Kizuna is one of the prominent suppliers providing small ​​warehouse for lease in Long An for rent in the South of Vietnam. Kizuna factories are located in Tan Kim industrial zone in Can Giuoc District, Long An province. This is also one of the top choices of domestic and foreign enterprises as these factories are only 2km from Ho Chi Minh City and more than 10km from the international port. This helps foreign enterprises to transport goods and materials easily.
The factories for rent of Kizuna JV Joint Stock Company are always scored by the quality and prestige. The brand of ready-built service factory for rent has been trusted by foreign investors for many years. They could be mentioned such as Japanese and Korean partners. Mr. Massaki Demura, Head of Material Department of Tabuchi Corp., affirmed: "Not only near Ho Chi Minh City, but there are also staffs who can speak Japanese and services of business licensing provided."
Kizuna's small ​​warehouse for lease in Long An with many incentives
Kizuna's service factory system is located in the southern key economic region. Thus enterprises can easily transport goods to big cities like Ho Chi Minh City. Kizuna has many diverse factories ranging from 96m2 to 10,000m2. Therefore, enterprises who need small ​​warehouse for lease in Long An can easily select the area suitable to production needs. The baseload of service factory is up to 3 tons. This feature helps enterprises feel secure to put heavy machines inside the factory.
Coming to Kizuna, you will enjoy the full package of utilities such as:
- The electricity supply, water supply, transportation systems... are ready to go to each factory.
- 3-layer security system available 24/7 ensure the safety for the workers.
- Sharing Utility Business Center, public canteen, meeting room
- Clean and green landscape outside the factory
- Providing natural lighting system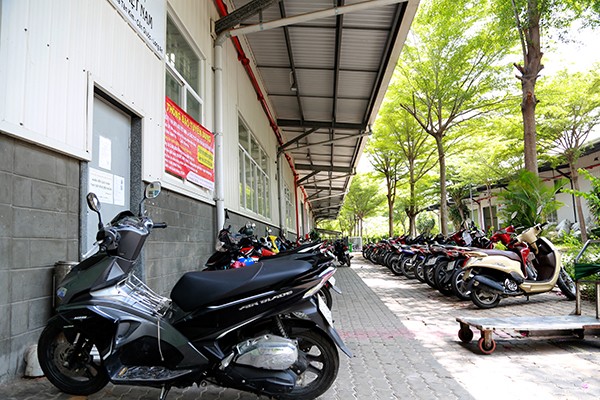 - The roof system is widely covered, high and ventilated
- Supporting team with multi-languages of Japanese, Korean, English that is convenient for foreign enterprises.
- Quickly support with the legal procedure
- Provide accounting, administrative, personnel, maintenance services
Kizuna would like to provide enterprises with the most prestigious and quality production sites. All potential problems are carefully calculated by the company. Thus, the fastest reparation will be done to not affect the production activities of enterprises. With reasonable prices, the enterprises who rent small ​​warehouse for lease in Long An in Kizuna also receive more incentives. With the best service quality and high-quality infrastructure system, effective and stable production environment will be brought to the enterprises.