News
The market of furniture factory in Vietnam
Currently, the economy of Vietnam has many opportunities for development. Many economic sectors have become a "good piece" for foreign enterprises. And also, many domestic enterprises find their way to international markets. This is also the reason for the "treating guests in the home market" phenomenon in the market of furniture factory. In fact, the furniture factory currently belongs to foreign enterprises. The furniture factory has a lot of from small factory, big factory to ready-built workshop for rent for the enterprises' choice.
The market of furniture factory in Vietnam
1/ The development of furniture factory in Vietnam
According to the Handicraft and Wood Industry Association of Ho Chi Minh City (Hawa), the total value of Vietnam's consumption of products of furniture factory is about 4 billion USD in 2018. According to the General Department of Customs, the export turnover has reached a record 8.9 billion USD. This number increased by 15.6% compared to 2017.
Whereby, foreign enterprises contribute up to 44% of the total export turnover of timber and products. And the remaining 55% is of domestic enterprises. Mr. Huynh Van Hanh, Vice President of Hawa, said that the export of wood products of furniture factory contributed 47% of the total export value of the wood industry, with an annual growth of 10%.
Meanwhile, wood export turnover to almost all key markets of Vietnam has achieved good growth. This growth has a strong contribution to the overall growth of the industry. This is an evidence to the strong development of the furniture factory. And it is also an opportunity for domestic furniture factory to take stronger steps.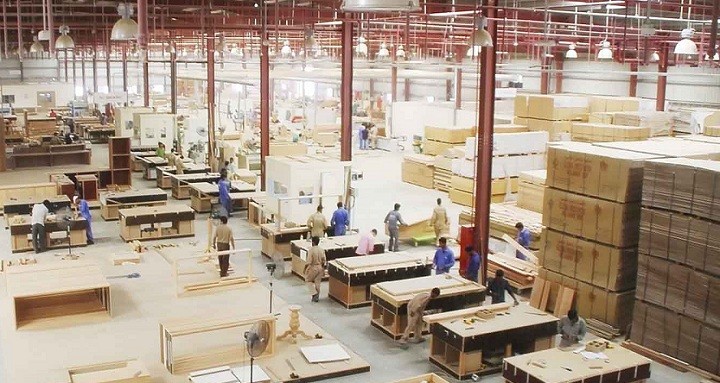 The furniture factory of wood interior
2/ Foreign enterprises dominate the market of furniture factory
Wood products and products of furniture factory of Vietnam has developed strongly, achieved impressive growth. However, Vietnamese's enterprises of furniture factory seem to be neglecting their home market for foreign enterprises. While, this is a potential and thrived market in recent years.
Vietnam is currently the world's leading exporter of wood products and products of furniture factory. But Vietnam's domestic market belongs to the foreign "big players". They include Germany, France, Japan, China, Malaysia and Thailand.
Taiwan, China, South Korea and Japan are the countries with the largest number of investment projects in wood industry. The number of FDI enterprises from these 4 countries accounted for 63% of the total wood industry. Furniture imported to Vietnam is dominated by Chinese products, accounting for 63%. Korean furniture accounts for 11%, and it is followed by Italian furniture.
With an average demand of wooden products of more than US $ 21 / person / year, Vietnam's the market of furniture factory is very attractive to international brands. Many brands from Denmark, Germany, Sweden ect,. are planning to enter the Vietnam market. Even IKEA, a major European's furniture factory brand has also established a branch in Vietnam.
3/ New direction for domestic enterprises of furniture factory
The enterprises of furniture factory should have technological innovation
For all enterprises, technological innovation, focusing on design and trade, is the top goal. As a result, enterprises will create unique and high-value products to take advantage of opportunities to occupy fastidious markets like the US.
The enterprises of furniture factory should adjust price and design appropriate model
In addition, domestic enterprises want to be proactive in the market, they, first of all, have to adjust product prices, improve designs to match the market. Regarding cooperation, it is possible to go in the form of investment groups.
The enterprises of furniture factory should focus on product advertising and product PR
This is an important step for any retailer. In order to create a bolder direction, the advertising strategy must be stronger. At the same time, enterprises should develop more preferential policies. In addition, expanding the business system, developing the domestic market is also a method to bring products to consumers.
The market of furniture factory: Cooperating with foreign partners
To expand opportunities, Vietnamese's the enterprises of furniture factory need to quickly cooperate with professional distributors to gain market share. The cooperation with foreign enterprises will help Vietnamese enterprises improve the quality of products. And it helps to meet the tastes and needs of Vietnamese consumers.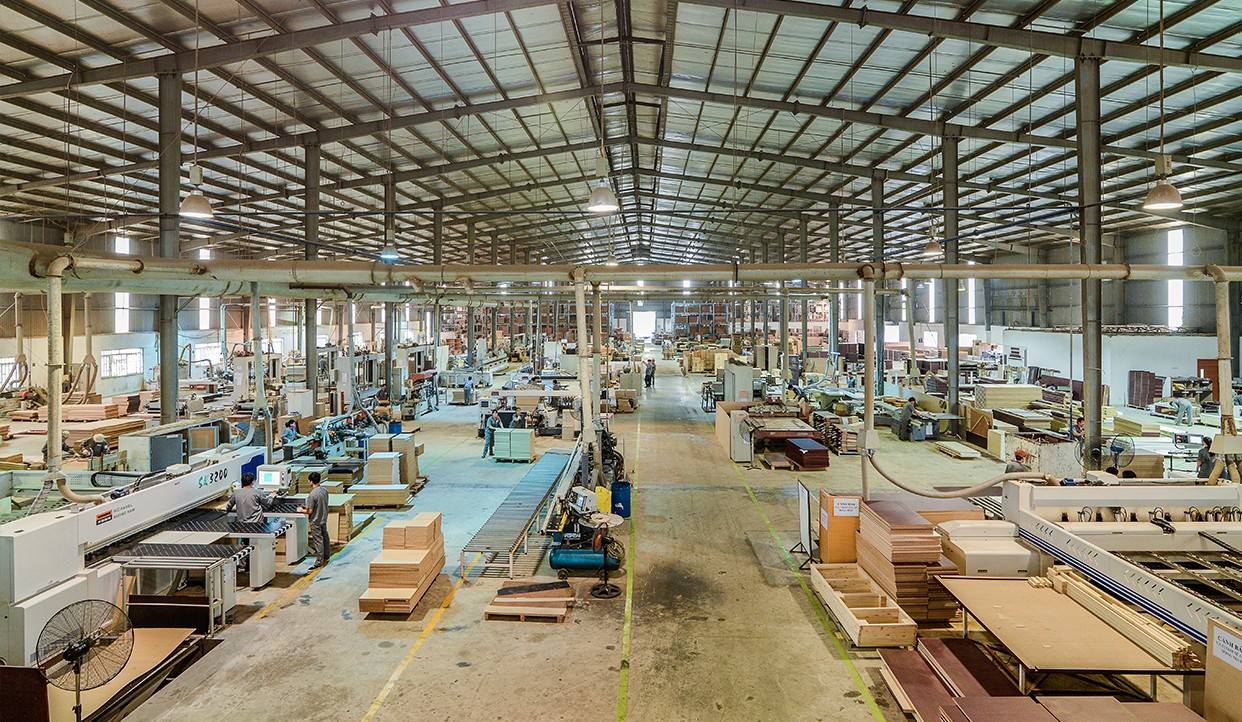 The system of furniture factory
Although the Vietnamese's the market of furniture factory is like a big piece of cake, it must be divided for many people. Therefore, the owners of furniture factory must be proactive in all situations. This has important meaning in attracting customers and balancing the economy.
Kizuna's ready-built factory for rent is an ideal choice for furniture manufacturer
Kizuna offers a wide range of quality ready-built factories which meet the standards of "clean and green" working environment and are chosen by more and more enterprises. When choosing a manufacturing factory for rent of Kizuna, enterprises are offered many benefits, such as:
- Strategic location: The factories are located in Long An province, which shares borders with HCMC and is near Cat Lai Port (26 km), Tan Son Nhat International Airport (24 km), Phu My Hung residential area (16 km). Besides, factories for rent offered by Kizuna are also located by the important national roads such as: 1A, 50 and Long Thanh - Ben Tre highway.
- Optimal factory architecture: Kizuna offers factories for rent with a wide range of areas: from 250 m2 factory for rent and 1000 m2 factory for rent to 80.000m2 factory for rent.
- Service factory with good ventilation and convenient 4-meter long roofs.
- Uniform technical infrastructure which is green, clean and fully equipped with water, electricity (3 sources of electricity), canteen and 24/7 security.
- A highly supportive service ecosystem with staff who are fluent in Japanese/ Korean/ English.
- Convenient, quick and safe Easy in - Easy out policy
- Highly supportive service ecosystem with 50 various services.
Besides the chains of factories, at Kizuna we focus on developing a uniform system of factories with stable architecture, many doors for transporting goods by trucks, separate elevators for goods and staff, and a modern fire detection system, especially for factory space for rent models.
Start your efficient production by planning factory rental with Kizuna
Read more: small factory, medium factory, medium size factory, large factory, factory for lease, industrial factory, electronics manufacturing, professional factory, new built factory, diverse scale factory, electronic factory, quality factory, industrial space for rent, medical device factory, cosmetics factory, fabric factory, pharmaceutical factory