News
Expanding Production Scale's Opportunity in Kizuna 1 - Saving 50% Warehouse Rental - Limited time and quantity
Is your enterprise in a need of renting warehouse in Vietnam to stock materials, goods in order to expand the production scale?
Is your enterprise in a need of renting a short-term warehouse?
Is your enterprise worrying about the security or about the far distance when renting others outside warehouse?
Is warehouse rental the thing that makes your enterprise consider most?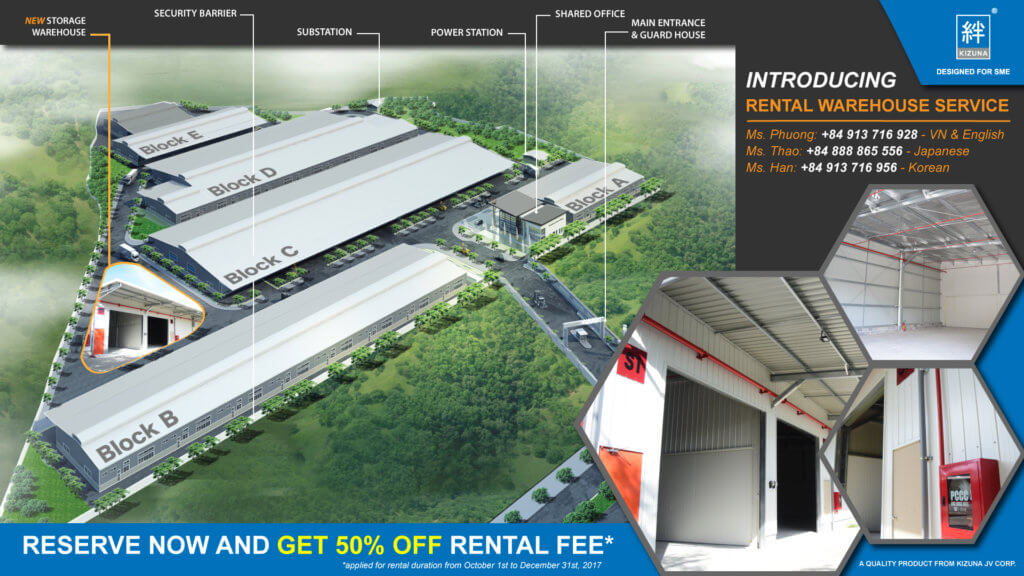 New warehouse product in Kizuna 1 Serviced Factory will definitely cease all your previous worries.
On September 25th 2017, Kizuna officially launched 3 brand new warehouses name S1, S2 (216 m2 for each one) and S3 (288 m2) in Kizuna 1. This is the Self-Storage Warehouse that tenants will be able to manage their own goods. These warehouses have ideal height up to 6.50m with concrete ground floor load weight is 1.5ton/m2 accompany with modern roller shutter door.
*Note: Warehouses For Rent service is only applied for current tenants in Kizuna 1 Serviced Factory.
Especially, tenants who rent warehouse for usage from October 01st 2017 to December 31th 2017 will receive DISCOUNT FOR 50% of rental.
What an interesting promotion, valued tenants please take no more hesitation but CALL IMMEDIATELYto the HOTLINE below for visiting and pre-ordering this service from this moment.
Nguyen Dang Hien Phuong (+84 913 716 928): Vietnamese, English
Huynh Minh Thao (+84 888 865 556): Japanese
Nguyen Quynh Han (+84 913 716 956): Korean