News
Workshop Lease Contract Signing Ceremony of "Foods Manufacturing And Services Division – Branch Of Go Go Entertainment Co., Ltd."
On 6th July, 2017, Workshop Lease Contract signing ceremony was held between Foods Manufacturing And Services Division and Kizuna JV Corporation for workshop D4 of Kizuna 2 (314m2).
Long An Branch Of Foods Manufacturing And Services is invested by Go Go Entertainment Co., Ltd. (Headquarter: Da Nang City, Vietnam).
Parent company is the first character operating company in Vietnam with the business of planning, manufacturing, exporting and importing of character toys, novelties and sale of TV animation, movie contents. They also provide consistent services such as developing, manufacturing, importing – exporting of the related goods and using the character license mainly on "Pokemon" which is very famous character in Vietnam. Long An Branch which was established in Kizuna 2 this time will do food processing business using Characters to provide to convenience stores and super markets as a new challenge.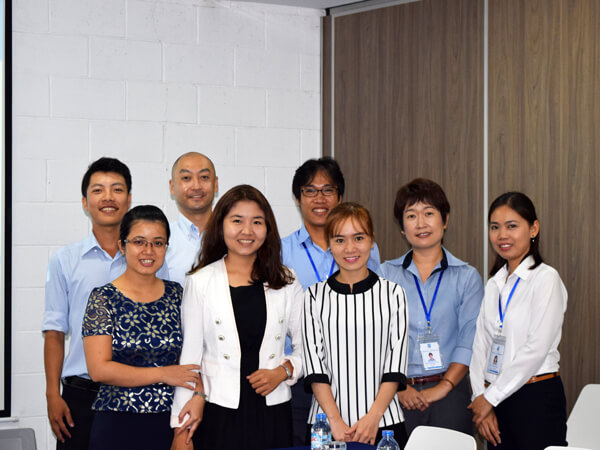 On behalf of Kizuna JV, Mr. Tran Duy Vu expressed sincere thanks to the investor for choosing Kizuna as the place to start their new business in Vietnam.
The General Director of Go Go Entertainment Co., Ltd. said the reasons why they chose Kizuna includes(1) Suitable for Chilled Transport due to the best location just 1 hour away from HCM City Center (2) Available for small sized workshop and flexible for future expansion (3) Beautiful landscape and working environment with greeneries (4) Well managed facility and equipment (5) Strong and Professional Support from Kizuna Staffs helped them to solve many issues such as support for License, Environmental Approval and Introduction of general constructors etc. faster.
Go Go Entertainment Co., Ltd. will install machines in September, 2017 and officially start their business from October, 2017. They have a plan to provide not only safe and secure food using their food manufacturing skill in Japan, but also high valued food which entertain local Vietnamese by taking advantage of their planning and development skills and marketing skills with the target of annual sales of 3 million USD.
Kizuna JV Corporation wish Go Go Entertainment Co., Ltd. will achieve the soonest success and continue to support the company with the aim of Japanese community expansion and attracting more and more Japanese small and medium-sized enterprises into Kizuna.
By Marketing Department – Kizuna JV Corporation