News
Vietnam International Furniture And Home Accessories Fair (VIFA EXPO) 2017
Co-hosted by the HCMC Department of Industry and Trade, the Handicraft and Wood Industry Association of HCMC (HAWA), and Lien Minh Wood Handicrafts Joint Stock Co, the 10th Vietnam International Furniture and Home Accessories Fair (VIFA EXPO) 2017 took place from March 8-11 at the Saigon Exhibition and Convention Center (SECC) in HCMC. The four-day exhibition attracted more than 1,500 booths of 313 domestic and international exhibitors, which is 23% higher than last year. This figure shows that the demand for trade promotion, seeking opportunities and increasing the export market of the wood processing industry is still rising.
Excellent opportunity for both visitors and exhibitors
VIFA EXPO enables trade visitors, professionals and end-consumers to see everything for furniture industry in one place – from machinery and equipment for furniture production, plus material and accessories, up to finished products. The exhibition creates a variety of opportunities helping the customer find answers or make a choice among the selection of leading Vietnamese producers and representatives of foreign brands.
On the other hand, exhibitors can reach targeted customers, exploring new potential markets and build new strategic relationships with traders globally. All enterprises at this year's event are inclined to showcase their brand-new designs based on global trends and demand. The number of foreign exhibitors this year increases 72% compared to 2016. Exhibitors comes from countries and territories with large woodworking potentials and supporting industries such as Singapore, Taiwan, the U.S., Australia, Canada, China, Denmark, Hong Kong, Ireland, Italy, South Korea, Luxembourg, Malaysia, and New Zealand.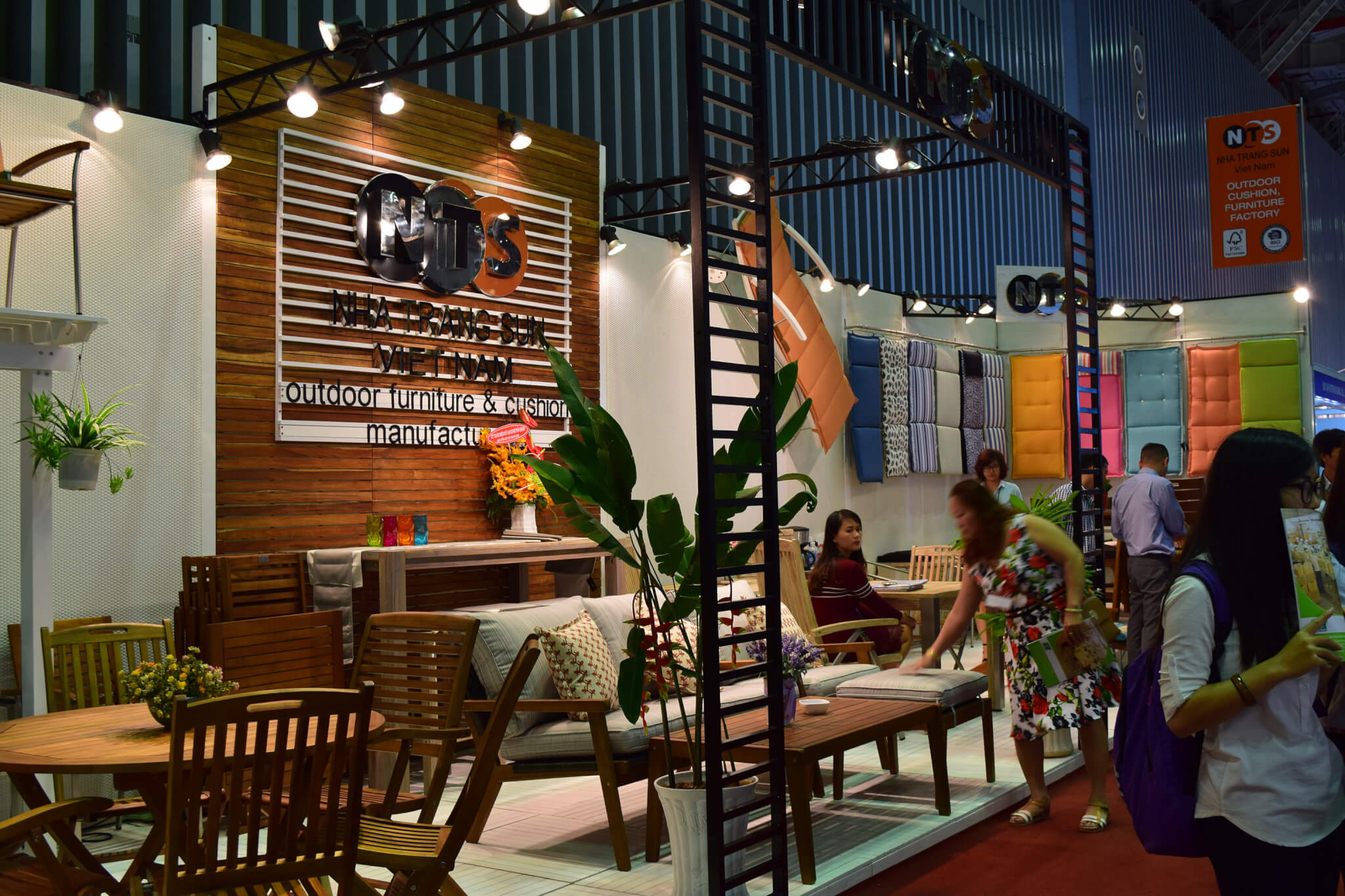 Vietnam wood processing industry
Vietnam is also well-known for its wood processing industry, especially production and exports of high-end wood products like furniture. With exports valued at $4.38 billion in 2013, whereas the exports of primary timber products are valued at 769.8 million US dollars in 2014 (ITTO, 2015), Vietnam is one of the world's largest exporting countries of wooden furniture. Mr. Huynh Van Hanh, vice chairman of HAWA, predicted export turnover of wooden products would rise to US$8 billion this year.
Viet Nam has about 3,000 wood processing enterprises and most of them are small and medium in size (Forest Trends, 2011). The relatively low cost labour force and a favourable environment for foreign investment are the main competitive advantages of the Vietnamese industry. Additionally, shipments of wooden products are projected to go up this year owing to new opportunities from more free trade agreements signed by Vietnam.
Donata Company Limited – A typical enterprise at the exhibition
VIFA EXPO 2017 also feature the participation of Donata Co., Ltd, a foreign investor in Kizuna Rental Serviced Factory, specializing in manufacturing and distributing high quality wooden furniture with European style. In addition to its head office in Hong Kong, they have offices in China and Vietnam, most of their products are exported to Western Europe, Canada, the United Kingdom and North America. With the founder who has more than 25 years of experience in the field of manufacturing and business and a team of multinational experts, DONATA believes that they can offer a unique and premium product at affordable prices to customers and build long-lasting relationship with its partners.
By Marketing Department-Kizuna JV Corporation