News
Vietfood & Beverage - Propack 2017 – The 21st international exhibition on Food, Drink and Packaging Technology
The 21st VietFood, Beverage and Professional Packing Machines was taken place at the Saigon Exhibitions and Conventions Center from 9th to 12th August 2017. The 1st exhibition was held in 1996 and up to now, it has brought in huge commercial values and has been ongoing with impressive participations of well-known brands including 500 businesses from 20 countries and territories. The exhibition was organized by Vinexad in collaborations with local Ministry of Trade and Industry, Ministry of Agriculture and Rural Development, Food Standards Committee (CODEX Vietnam) as well as other local and overseas associations.
Local and international exhibitors
The Vietfood & Beverage – Propack 2017 was enlarged by the scale participation of annual players such as Korea, Thailand, Poland, Taiwan and the first time participants Czech, UAE, Brazil, France, Arab whose innovative products will be attractive to visitors, proving that Vietnam has been an emerging market and changing itself to adapt to rising needs. Among all participants, local companies took half of them with potential products such as tea, coffee, beverage, processed agricultural products, fruits and dried fruits. Poland Pavilion delivered green agriculture solution, fresh fruit, milk, cheese, biscuit and cereals. Korean Pavilion with 70 booths of seaweed, ganoderma, red ginseng and canned food. Thailand Pavilion presented juice, energy drinks which had been popular with local consumers.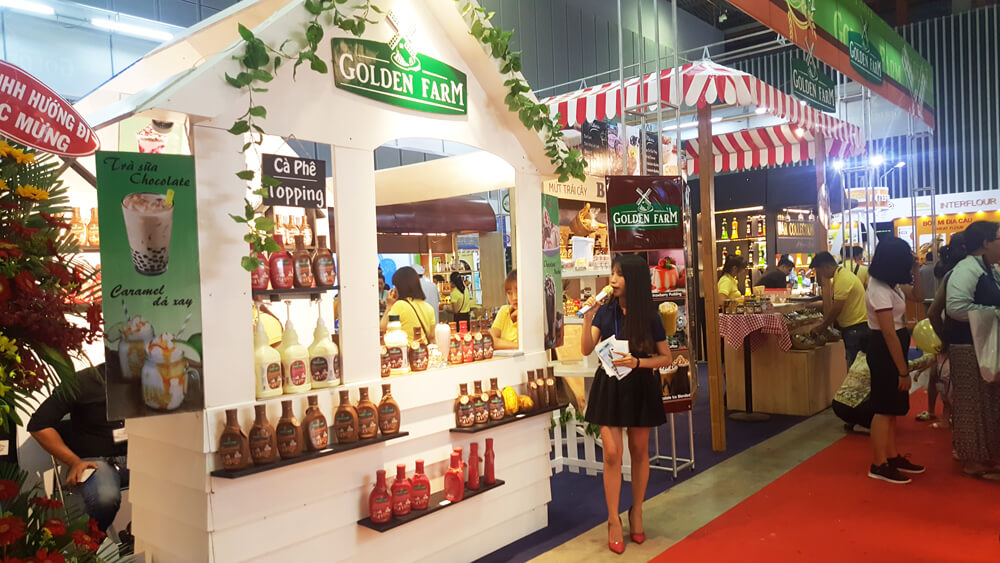 Highlights of the exhibition
The exhibition was a gathering place for new and well-known enterprises from all around the world. The core purpose was to promote trade and bring about values to both suppliers and consumers. While small-sized enterprises enjoyed the chance to introduce their latest products, seek potential customers and analyzed responses from customers, giants in the Food and Beverage industry, such as could take this opportunity to continue building trust and consolidating their positions in the business and consumer communities. Additionally, sideline events like conferences were held with two themes: "Food and beverage retails in Vietnam: different angles and challenges" and "Retails Trends in countries and suggests to Vietnam"; Introduction of products (inclusive corporate management solution to the food and beverage).
"As far as I am concerned, the market in Vietnam has been constantly developing and having great demands on food packaging equipment. As a result, our corporation has rapidly developed at the market in Vietnam, especially at the Vietfood & Beverage – ProPack Vietnam Exhibition. We have approached as many as potential customers. Moreover, we have participated in this exhibition for many continuous and successful periods, and we even have gained much more than we expected. I strongly believe that the scale of this exhibition is getting bigger and bigger, becoming more and more professional and it always satisfy its customers", said Mr. Vong Kuong, Director of SOLUTIONPACK from Malaysia.
By Marketing Department – Kizuna JV Corporation
Source: http://hcm.foodexvietnam.com/en/d/overview