News
Tri-wall Vina Pack Co., Ltd shares the key to success in packaging market
A few years ago, many enterprises had to import foreign packaging because of the demand for high quality materials as well as printing techniques. However, nowadays, in response to increasingly diverse needs, many package manufacturing companies are established. Their products have high quality and are more affordable than imported ones. This has shown the improvement of the package manufacturing companies in Vietnam and Tri-wall Vina Pack Co., Ltd. is a vivid proof for that.
Tri-wall Vina Pack Co., Ltd., with headquarters located in Hung Yen province, was established in 2012 with the cooperation of Tri-wall SEA Group Holding Limited with headquarters in Hong Kong and Mr. Kubokawa Yoshimichi – a Japanese investor. This is an enterprise specializing in the sector of packaging production. After years of development and market research, Tri-wall Vina has decided to expand its manufacturing business in Long An Branch, which was established in May 2016, located in Kizuna 2 serviced factory. Today, we are honored to have an interview with Mr. Samphan Prabnarong, the representative of Tri-wall Vina Pack Co., Ltd., Long An Branch, to learn more about this enterprise as well as the disadvantages and advantages they met when investing in Vietnam.
First of all, please introduce generally about Tri-wall Vina Pack Co., Ltd.
Tri-wall Vina is a subsidiary of the Tri-wall Group, including 79 branches worldwide. So Tri-wall is not a small corporate, it actually has been operated in the world market about 40-50 years ago.
Tri-wall Vina Pack Co., Ltd was established at the end of 2012 and focuses on Japanese customers with the needs for packing and exporting goods abroad. Tri-wall products are designed specifically to accommodate for such needs thus our products are well-trusted and accepted by our customers
Firstly, the company focused more on the Japanese market while still trying to expand into other export markets. For customers who need product packaging for export, our services are suitable.
Has the company exported products to other countries and where is the main export market?
The company has exported mainly to Japanese market. Beside, we have also exported to US, Europe and ASEAN (Southeast Asia)
Nowadays there are many package manufacturing companies on the market. In your opinion, what makes the differences between your company and others?
The main differences come from technology, design, and raw materials. Our raw materials are manufactured using American technology, and then combined with research by Japan, bringing the paper roll to our factories in Thailand for assembling before being distributed to Southeast Asia, India, Japan.
Tri-wall Group divides the world market into 4 economic-regions
Southeast Asia
Korea – Japan – Taiwan
China
Europe
Can you give some examples of your main customers?
Among our main customers are Nikkiso Vietnam Ltd., which manufactures parts of aircraft to export to the US, HAL Vietnam Co., Ltd., Hiroshima Aluminum Industry Co., Ltd.
These are the typical customers that we have succeeded in safely packaging their goods before delivering to their customers
The company's headquarter is in Hung Yen, so what makes you chose Long An as the location for expansion?
We are interested in two main markets: Northern and Southern Vietnam. From the end of 2012 until now, we have successfully established our operation in the Northern market. For our next step, we want to expand to the southern market, mainly in HCM City or surrounding areas.
Kizuna's location is very convenient for our business as it allows easy delivery of our products to customers. . That is the main reason for us to chose Kizuna as the investment location.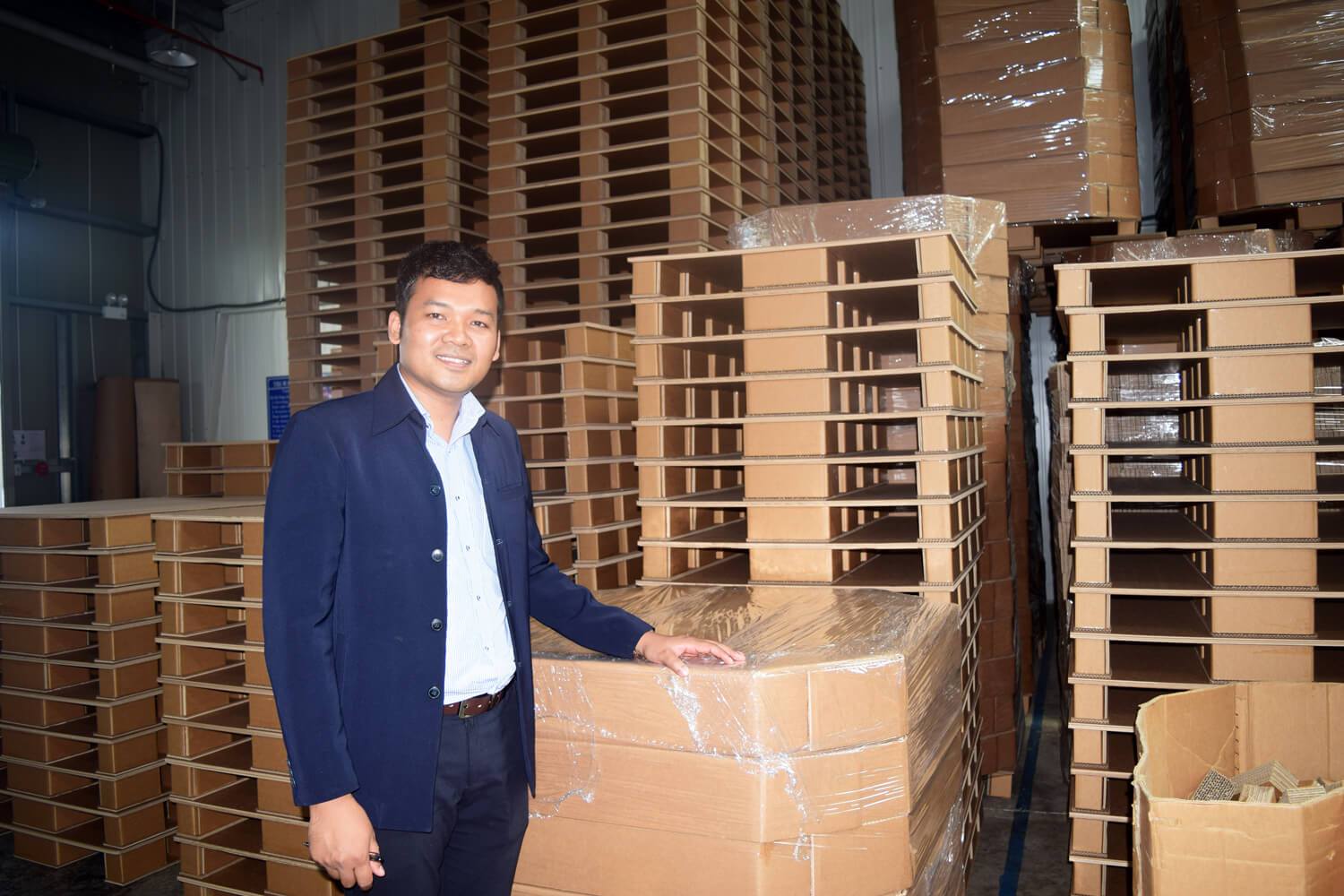 Before deciding to choose Kizuna, did you survey any other industrial parks?
We did, I was the person directly in charge of surveying and choosing the suitable location Through our survey, we found that either the location and design of other factories arenot suitable or the services provided there are not beneficial for our enterprises. Kizuna, on the other hand, meets our requirements, thus we chose Kizuna.
How long did this survey take before you made your investment decision?
We spent a total of two months, in the first month we conducted the survey, in the second month we research our collected data. At the end of the second month, we made the decision.
Would you please share the problems you have experienced or are experiencing when doing business in Vietnam?
The climate of Northern Vietnam changes rapidly and randomly, , which poses a great challenge for normal packaging technology as humidity has a great impact on the material's bearing capacity., To counter this problem, we must select materials with higher quality. The additional cost of using higher quality materials and redesigning the product to adapt to the climate change is a problem that we have not faced in other countries like Thailand, Singapore and Malaysia, only in Vietnam. Therefore, we have to specially design and select higher quality materials to ensure that it is suitable with Vietnamese climate.
Can you share about the development of Long An branch in nearly 1 year?
We continue to expand into Japan and other countries because our company's products quality is designed and made of special materials, suitable for the packaging of high value goods and exports rather than domestic consumption. Our main export markets are Japan, Europe and USA
So can you share about the percentage of finished products that the company is exporting?
Currently, more than 90% are exported, only 10% are supplied to the domestic market.
What is the key to success of your company when operating in the Vietnamese market?
Our key to success relies on the unique material design which is competitive and tailor-made to suit the needs of every customer. This will ensures the satisfaction from each customer. Especially when they want to save on transportation costs by narrowing the area of containerized goods, we offer them the the suitable design.
For production management, we focus on QCDS.
Quality: product quality must always meet the expectation of the customer
Cost: product price must stay competitive, and improve annually
Delivery: delivery must always be on-time, to reach the customers according to their schedule
Service: always try toresponse the customer quickly. For example, we will send out quotation and free productsamples to customers before they make All of the above have made Tri-wall Vina a prestige & trusted brand in the market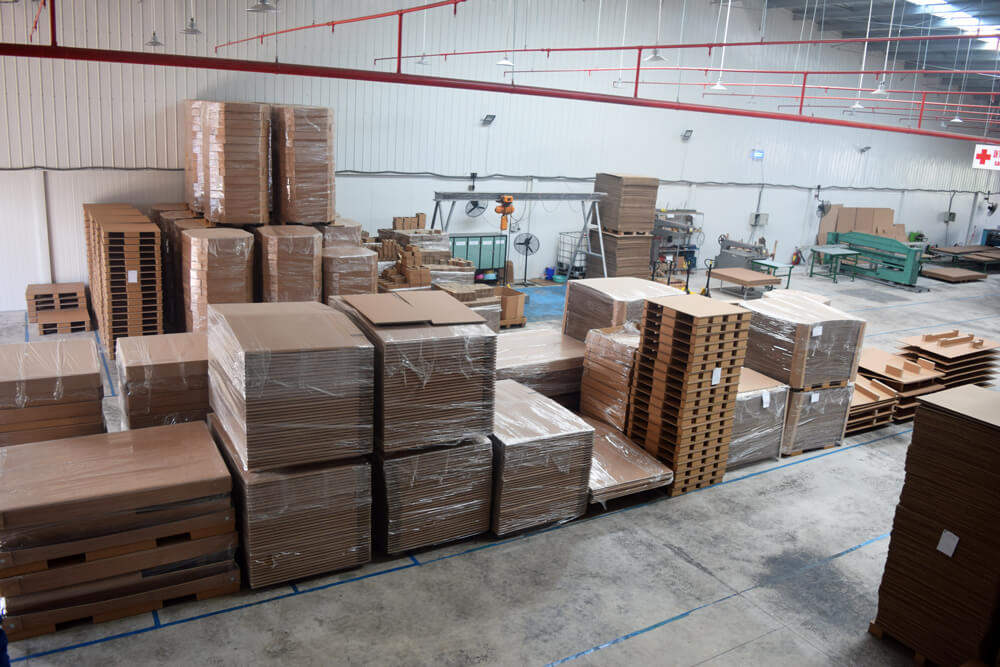 Please tell us your impression of Kizuna after nearly 1 year of operation here.
Kizuna is very different because it maintains the balance between the design of the factory and the greenery environment. Whenever we have inquiries regarding legal procedures between businesses and the authority, we always receive support from Kizuna.
Thank you for sharing strengths of Kizuna, so are there anything makes you dissatisfied about Kizuna?
Kizuna has planted lots of trees, therefore Kizuna should paid more attention to care and nourish the trees here as they will provide cool and comfortable working environment and make Kizuna more and more excellent.
Business activities for representative of tenants in Kizuna should be held more frequently so that we can establish a inter-connection and help out each other. This will make the Kizuna community stronger.Could you share with us about the plan for development of company in the next 5 years? (Expanding factories, exporting to other countries…)
We have been operating since end of 2012 and at the beginning of year 2015, we successfully established a new factory. In the next 2-3 years, we have plans to open another factory located adjacent to Ho Chi Minh City. We are expecting an annual market expansion and development of 30%.
Will company be still orientated to packaging industry?
Our main business line will still be packaging service with paper and cardboard packaging; additionally, we have plans to develop plastic packaging.
Thank you Mr. Samphan for taking time out of your busy schedule to attend the interview with Kizuna. We hope that TriwallVinaPack Co.,Ltd will more and more develop and succeed in the future.
By Marketing Department – Kizuna JV Corporation
Find more interesting sharing from other tenants in Kizuna: Alkemia, Vietnam Seoul