News
The BBQ Party for English speaking and Vietnamese companies in KIZUNA Serviced Factory
For the purpose of cohesion and connection among businesses in KIZUNA Serviced Factory Area as well as to build the business community here, KIZUNA usually hold different kinds of events and parties for them to meet each other. Following the parties for Korean and Japanese business community earlier this year, on June 29th, 2018, KIZUNA held a BBQ party for English speaking and Vietnamese tenants.
While the parties for Korean and Japanese community brought the feeling of warm family gathering, the BBQ party this time was liked a fun friend get-together in summer. This time, there were 26 customers from 11 companies in KIZUNA attended the party. They came from many countries including UK, Australia, US, Singapore, etc. and Vietnam. They got grilling, enjoyed delicious recipes, drank a glass of beer and talked with other tenants as well as KIZUNA staffs. It was Friday evening, also the end of a month, so it was a perfect time to hold a party to relieve stress and relax after a hard working day. It was also a good chance for tenants to meet, networking and know more about the businesses of their neighbors.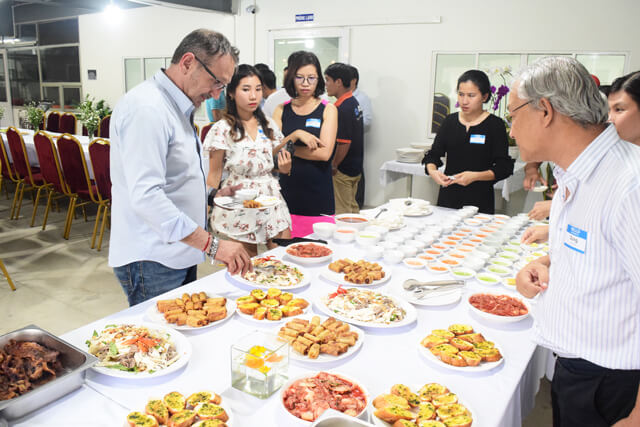 The English speaking and Vietnamese enterprises were really happy attending the party. Mr. Robin Tan – Cam International Co., Ltd said that he was thankful for the party and was glad to meet other tenants of KIZUNA there. He was also looking forward to the next event of KIZUNA.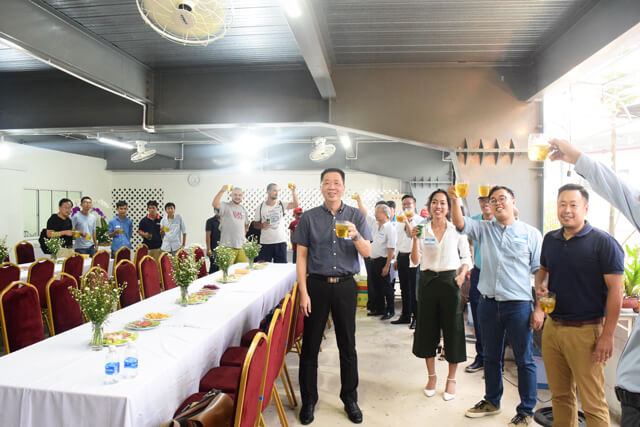 KIZUNA does not only offer serviced factory, but our mission is to build a business community where all tenants can cooperate and growth together. For the first 6 months of 2018, KIZUNA held 3 parties for each business communities. However, in August 2018, on the occasion of company establishment anniversary, KIZUNA is going to make a party where all tenants can get together as one community. And it is sure that KIZUNA will continuously to organize more events to support and go toward success together with KIZUNA's tenants.
By Marketing Department – Kizuna JV Corporation