News
Support up to 3 months rent when investing in Kizuna Serviced Factory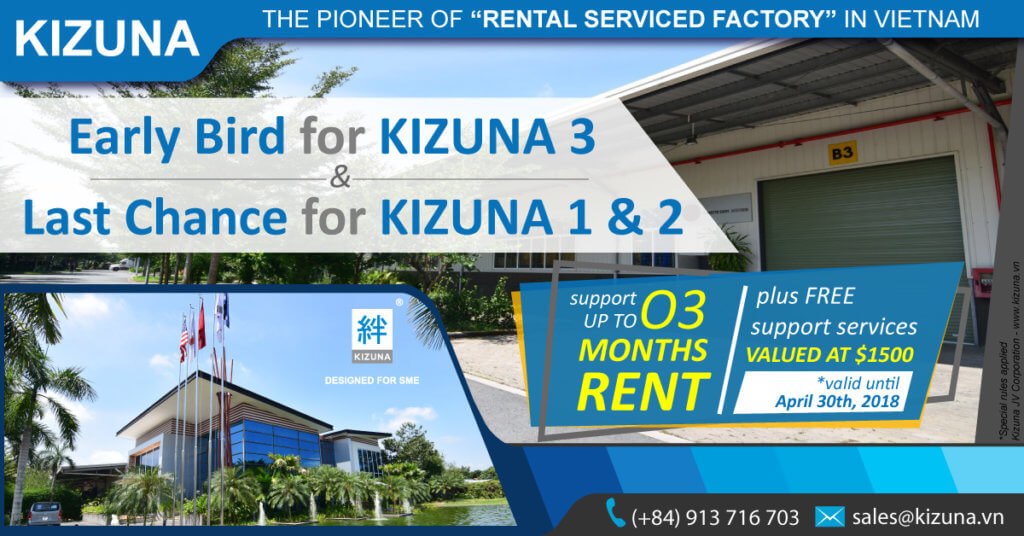 Are you ready to invest and start operation in Vietnam as soon as possible?
Are you in a need of a rental factory but still considering between many places?
Now, it's time to make a decision. Kizuna Serviced Factory will definitely cease all your worries.
Let's take a look at Kizuna's attractive incentives that helps businesses quickly put into operation.
LAST CHANCE for KIZUNA 1 & 2 (Applied for specific workshops at Kizuna 1 & 2)
Support up to 3 months rent
Free services valued up to 36 million VND
EARLY BIRD for KIZUNA 3 (Applied for first 5 tenants of Kizuna 3)
Support 1 month rent
Free services valued up to 36 million VND
The incentives above are applied for businesses that sign Workshop Reservation Agreement or Workshop Lease Contract from March 15th, 2018 to April 30th, 2018.
Moreover, when investing in Kizuna Serviced Factory, businesses can also enjoy:
Cooperate Tax exemption for the first two years and 50% reduction for the next 4 years
Free Investment Certificate & Business License support
Free labor recruitment support
Limited quantity, limited time!
*Terms & Conditions Apply, so CALL our HOTLINE (+84) 913 716 703, or email to sales@kizuna.vn now to find out more and enjoy your special offers.
—————————-
Kizuna – The pioneer of 'Rental Serviced Factory' in Vietnam
Address: Lot K, Tan Kim IP, Tan Kim Commune, Can Giuoc District, Long An Province, Vietnam
Rental workshop area varies from 240m2 to 7,400m2
Consistent with the industries which requires green, clean and beautiful production environment such as food processing, cosmetics, precision engineering, etc.
Can establish export processing enterprises (EPE) and accept some industries which are difficult to get extra licenses such as producing of beer.
Keep up to date with our latest news on:
Website: www.kizuna.vn
LinkedIn: https://goo.gl/4FXatY
Facebook: https://goo.gl/3BSoLf
Youtube: https://goo.gl/32oKwu
Google+: https://goo.gl/eeryks