News
Students of Hankuk University of Foreign Studies visited Kizuna Serviced Factory
On April 13th, 2018, the Hankuk University of Foreign Studies cooperated with Korea Economic Daily TV and K-Vina Biz Center to host a visit to Kizuna Serviced Factory. The participants were Korean company representatives who were also Vietnamese specialist curriculum students wanting to learn more about Vietnam. They came from 20 Korean companies with different businesses, some of them were considering of entering Vietnam market in the future.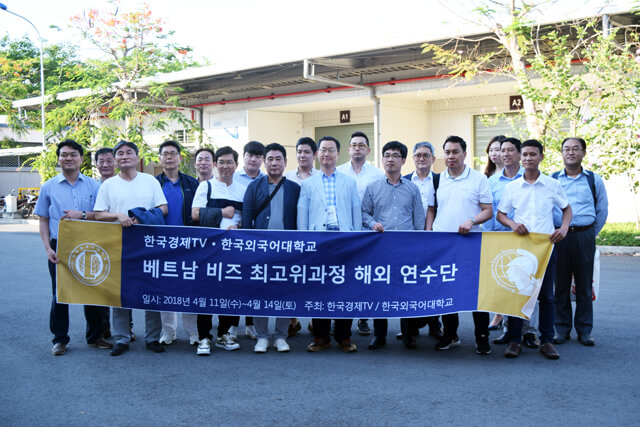 After hearing the introduction about Kizuna, they were quite curious and wanted to know more about the rent price and the types of services Kizuna provided. They also had a chance to visit Sangshin Elecom Vietnam Co., Ltd – a Korean investor in Kizuna 2 Serviced Factory specializes in manufacturing electronic components. The group were impressed by the good, clean environment here, and the friendly staffs of Kizuna.
In recent years, the number of Korean company interested in investing in Vietnam is increasing. In the first quarter of 2018, Korean ranked first in FDI investment in Vietnam with the total investment of USD 1.84 billion. The reasons include the abundant and cheap work force here, the favorable policies like FTA, and the similar culture between Korean and Vietnam, etc. Therefore, to help them understand more about their future investment place, Korea Economic Daily TV and K-Vina Biz Center usually cooperated with many companies to hold these visits to Vietnam, especially to Kizuna Serviced Factory. Similarly, Kizuna are more than happy to welcome any groups, so that they can hear more actual voices from Korean tenants operating here before making their decisions on investment. There are 18 Korean companies operating in Kizuna, so this can be considered as a reliable source of information for them.
By Marketing Department – Kizuna JV Corporation