News
Limitations in paper industry of our country
Being regarded as one of the potential industries in the comprehensive development process in our country, paper industry is being increasingly focused and invested by the State as well as many enterprises in order to not only meet the domestic demand but also export to the world market. However, in addition to the advantages, paper industry is still facing many difficulties and limitations while suitable solutions have not been found.
1. Outdated technology and equipment
The first difficulty of the paper industry in our country lies in the backward technology level. In other countries in the same region such as Thailand, Indonesia, Japan, etc. paper industry has been optimized in many stages and workers only take responsibility for monitoring and solving possible problems while most of the stages are done manually in Vietnam. Workers in the production areas have to directly operate equipment, resulting in low productivity which is at low average level in comparison with that of other countries in the same region.
This also results in lack of diversity in paper designs produced in our country. Paper products are mainly printing paper and packaging while other products have to be imported from other countries. This is considered as one of the reasons why it is hard for paper industry of our country to compete with other countries in Southeast Asia in particular.
Therefore, investment in improvement of technology, equipment and machinery is extremely important for enterprises in the field of paper production.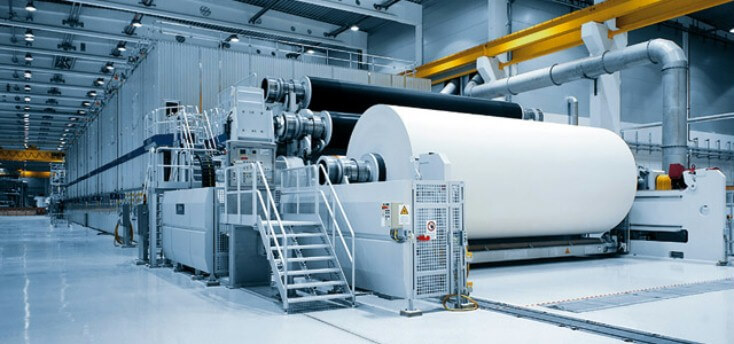 2. Imbalance of imported-exported goods
According to statistics of the General Department of Vietnam Customs, in the first 15 days of August 2016, the total import value of paper and paper products reached nearly USD 95 million, while the total export value was USD 19 million only. This is a huge difference that requires timely solutions to limit the increase of trade deficit. Moreover, many enterprises in paper industry also states that the difference will be more and more clear when the Free Trade Agreements are signed because at that time the import tax from other countries will be 0%.
Therefore, in order to solve the above problems, the State should issue support policies to encourage more enterprises to invest in this industry. In addition, improving the quality of products to compete with other countries in the region and increase the export value are also an urgent tasks of enterprises.
3. Shortage of raw materials for paper production
Speaking in his latest report, Mr. Vu Ngoc Bao, Vice President and General Secretary of the Vietnam Pulp and Paper Association (VPPA), said that 70% of materials for paper production comes from waste paper (used paper). However, nearly 50% of these materials must be imported directly from foreign countries and the remaining 50% comes from the collection and recycling of used paper from small collecting facilities as there is no enterprise taking up this work. Thus, it is clear that paper industry is still heavily dependent on imported pulp.
On the other hand, there has been a paradox in paper industry of our country that the export value of wood chip is quite high while the pulp supply capacity has not reached half of the demand of domestic paper production. As a result, the dependence of raw materials imported from foreign countries is unavoidable.
Given the foregoing, many enterprises in paper industry have recommended that the State should promulgate policies to encourage collection and recycling of used paper by applying tax reduction, tax exemption to the organizations and units performing this work to increase distribution and production capacity of waste paper which is the main source of materials for paper industry.
4. Low management level
In our country, not only paper industry but most industries have rather cumbersome and irrational labor distribution, resulting in low labor efficiency. Looking back on other countries in the same region, such as a factory with a capacity of 500,000 tons of pulp per year in Indonesia or a factory with a capacity of 160,000 tons of pulp per year in Thailand employs several hundred workers only. However in our country, typically in Bai Bang Paper Company with a capacity of 50,000 tons per year, several thousands of workers are required to perform the production. A huge difference compared to other countries has proven poor management level of our country. This leads to the fact that the domestic paper production enterprises must pay a considerable amount of salaries and management costs which significantly increases the production costs. This is a concern as paper industry of our country is competing with many countries in the region.
The optimal solution to this problem is that each enterprise should renovate its management to achieve the best efficiency, thereby improving work productivity and reducing unexpected costs.
It is hoped that in the near future, the potential paper industry of our country will achieve more desirable results so as to contribute to the strong and comprehensive development of Vietnam's economy.
By Marketing Department – Kizuna JV Corporation