News
Lễ khánh thành Công ty TNHH MTV Marigold Global Resources Co., Ltd tại Kizuna 2
On September 08, 2017, Marigold Global Resources Co., Ltd. was officially inaugurated and put into operation its first essential oil factory at Kizuna 2 Serviced Factory. Marigold was established in April 2016 and was invested by Cherry Blossom Resources Limited headquartered in Hong Kong.
Marigold is the company specializing in producing essential oil from sandalwood and it is one of the first Export Processing Enterprises (EPE) in KZN2, Marigold has imported raw materials from Australia, Vanuatu, Hong Kong, New Caledonia and India. Sandalwood is one of the most precious and rarest species in the world; it is the super aroma with high economic value commonly used in premium cosmetics. Sandalwood essential oil has a warm aroma that can help the body to relax, to reduce stress and to provide moisture to the skin. All finished essential oils at Marigold are exported to foreign countries with high value.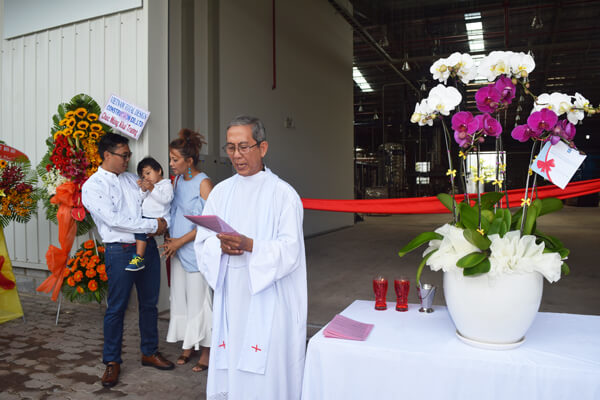 At the ceremony, Marigold invited the Reverend Father to chair the blessing ceremony and inaugurate its new factory. Representative of Marigold – Mr. Joseph Percy Ling (Factory Manager) and Representative of Kizuna – Mr. Doan Hong Dung (Chairman cum CEO) jointly carried out the ribbon cutting ceremony symbolizing the permanent cooperation and development between the two companies.
Kizuna JV Corporation wishes Marigold Global Resources to more and more development, prosperity, constant outreach and great success in your business. We commit to continue make our best efforts to support and create an effective manufacturing environment for your company.
By Marketing Department – Kizuna JV Corporation