News
Kobayashi-Ohta label Vietnam contract signing ceremony
On 07 Jul 2015, at the business center of Kizuna JV Corporation, the Workshop Lease Contract on factory for rent C7 with the area of 1,160m2 at Kizuna rental serviced factory was signed by Kobayashi-Ohta Label Vietnam Co., Ltd. and Kizuna JV Corporation.

In the ceremony, Ms Lam Dieu Tam Hieu – General Director of Kizuna JV Corporation expressed sincere appreciation to the client who chose Kizuna rental serviced factory as their new business location.
Representative of Kobayashi-Ohta Label Vietnam Co., Ltd. , Mr. Doi Kanta said that the reason they chose Kizuna is "this is the best place for apparel production shift, the development status of the traffic and infrastructure and is suitable to our demand."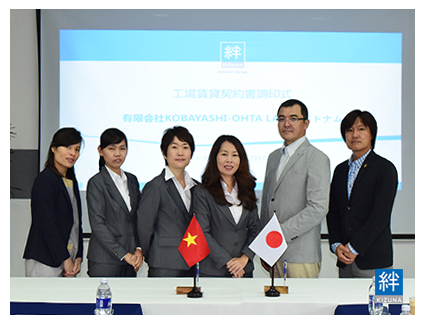 The company is established by 2 company owners. Representative of one parent company – Kobayashi Woven Labels Co., Ltd. – said "this is the first time two companies in the same industry cooperate to invest in overseas and this cooperation will lead to good result" while the representative of another parent company – Ohta Woven Labels Co., Ltd. shared his opinion "both companies join together to improve the cooperation and increase sales".
Kobayashi-Ohta Label Vietnam Co., Ltd. plans to provide clothing auxiliary materials to Vietnamese domestic market at the beginning of October.
Kizuna JV would like to wish Kobayashi-Ohta Label Vietnam Co., Ltd. will start stable operation soon and is always ready to support Kobayashi-Ohta Label Vietnam.