News
Kizuna JV lectured at Hiroshima University (08 Jan 2016)
On behalf Kizuna JV Corporation, Shirakawa Satoko – PIC of sales and marketing Department – participated in the 13thtraining course about "Investment in Vietnam of Japanese enterprises" as a lecturer. This is one of 15 training courses which were organized by 2 Universities are Hiroshima Bunka Gakuen University and Prefectural University of Hiroshima as the University cooperation project of Hiroshima Prefecture about "Human Resource development for corresponding with China – Plus – One to understand modern Asia".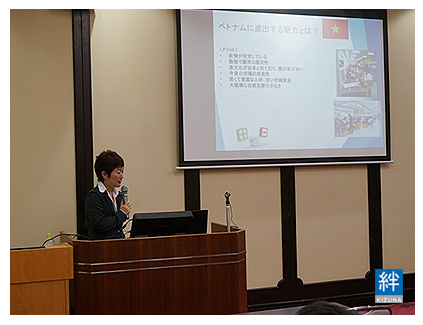 At the course, Ms Shirakawa made a speech about overseas expansion of Japanese companies, investment trend into Vietnam, expansion status, and about the rental factory. She had an interesting discussion with many individuals, overseas students and students of 2 universities. From the standpoint of supporting expansion into Vietnam of Japanese enterprises as a bridge between Japan and Vietnam, the lecture of Ms Shirakawa also includes the content about what Kizuna JV Corporation can support to solve the problems that Japanese enterprises must face when investing in Vietnam.
We hope that thanks to the contents of the lecture, the participants who are interested in Vietnam and meet with problems relating to Vietnam will consider Kizuna as one of their choice. We would like to express our sincere thanks to professors of Hiroshima Bunka Gakuen University to give us the opportunity this time.