News
Kizuna got ISO 9001:2015 Certification - International quality standards for quality management
On February 2, 2017, Kizuna JV Corporation was honored to receive the ISO 9001:2015 Certificate of Quality Management System issued by TÜV Rheinland Vietnam and validated globally. TÜV Rheinland Group is a leading global provider of solutions and services established in Germany in 1872 and officially opened its office in Vietnam in 2001.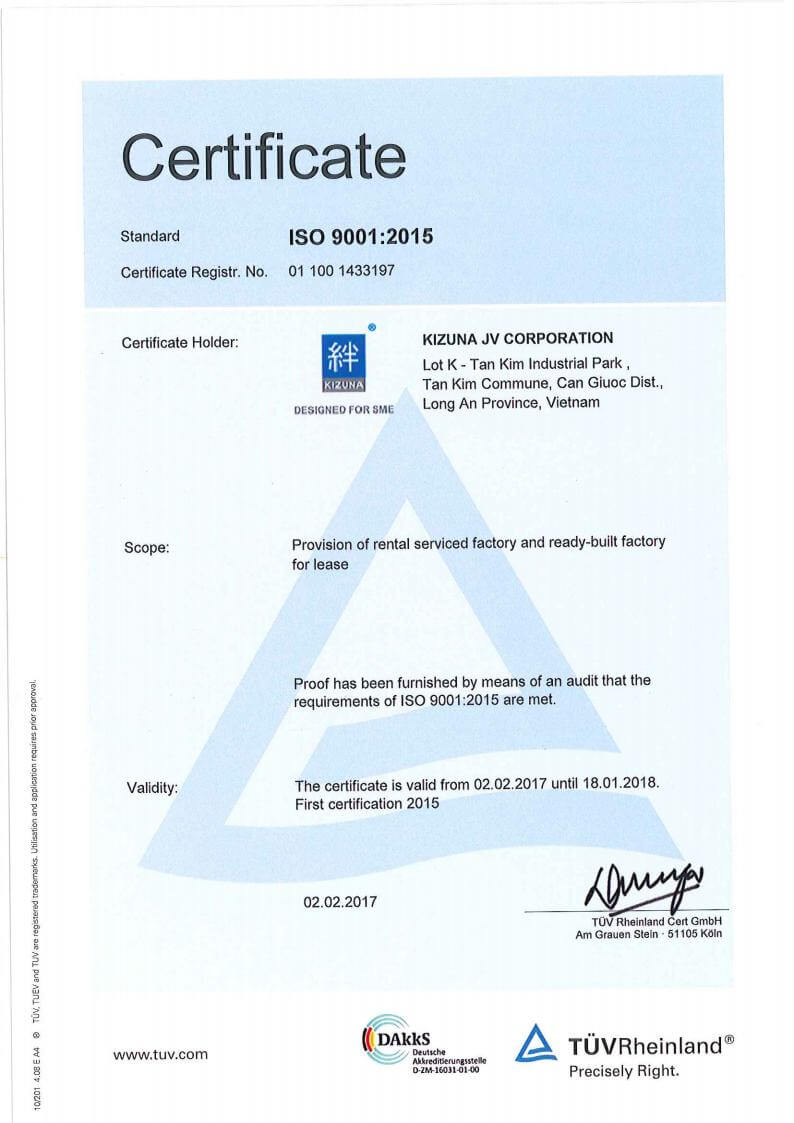 ISO 9001:2015
ISO 9001:2015 is issued by the International Organization for Standardization and is being used in over 1 million organizations around the world. ISO 9001 enables organizations to demonstrate to their customers the ability to provide quality and stable services and products. This standard is also a tool to connect processes and make them work better. In addition, the standard also enhances customer satisfaction of organizations and is the basis for sustainable development and success.
ISO 9001:2015 is the latest version that has been officially launched and applied since September 15, 2015 (replacing ISO 9001:2008) with breakthrough changes to help businesses go into substantive management in the context of growing global competition. In order to achieve ISO 9001:2015 certification, the organization must not only meet the requirements and expectations of its customers, but also meet the requirements of the related parties.
Kizuna JV Corporation – One of the first company that lease factory to achieve ISO 9001:2015
Kizuna JV Corporation is one of the earliest companies that got ISO 9001: 2015 in the field of leasing factory in Vietnam. To achieve the above results, the Board of management and all Kizuna employees put all efforts to fulfill the statutory requirements as well as the orientation to get customer satisfaction. Customer satisfaction with Kizuna has been proven by the practical achievements. In 2016, both Kizuna 1 and 2 Rental Service Factory was chosen by many clients as a place for business investment and production expansion.
Maintaining our four core values including "Effective", "Cooperative", "Committed" and "Customer-oriented", in the development plan of 2017, Kizuna JV Corporaiton will develop wider range of advisory services to help investors manage their business effectively by approaching and developing ISO standards to enhance competitiveness, expand markets and stabilize product quality. This is one of Kizuna's long-term strategic goals, always accompanying customers and investors in Kizuna Rental Serviced Factory to develop an effective business.
By Marketing Department-Kizuna JV Corporation