News
[Kizuna] Contract signing ceremony with Naniwa
On 27 Jan 2015, at the business center of Kizuna JV Corporation, the Workshop Lease Contract on factory for rent D1 with the area of 1,760m2 at Kizuna rental serviced factory was signed by Naniwa Abrasive Vietnam Co., Ltd. and Kizuna JV Cooperation.
Naniwa Abrasive is an SME in Vietnam with 100% foreign investment capital from Japan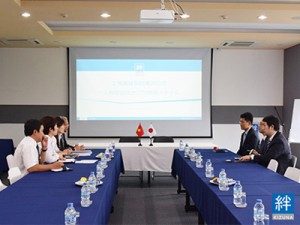 Naniwa Abrasive Vietnam Company specializes in production and processing of abrasives, grinding stones. The company is invested by a big investor from Osaka – Naniwa Abrasive MFG Co., Ltd. which was established in 1941. Attending the ceremony was Mr. Sadakane Nobuhiro – the General Director of Naniwa Abrasive Co., Ltd. and some representatives from the parent company. Representative of Kizuna JV Corporation are Mr Doan Hong Dung and the Directors of the company. The ceremony was held successfully with the satisfaction from the tenants.
Factory for rent in Vietnam is the best choice for foreign investors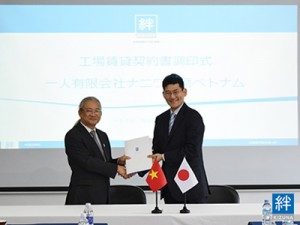 At the ceremony, Mr Sadakane shared his worries about the difficult economic situation before making the decision to invest in factory for rent of Kizuna because of the depreciation of the Yen currency. However, the Board of Directors of the parent company still keeps their plan to invest in Vietnam as this is a very promising market with plentiful raw material and cheap labour price.
Mr Sadakane said that they finally decided to choose Kizuna after visiting and considering many industrial parks because Kizuna rental serviced factory supported them a lot at the early stage of activity process. Kizuna with professional Japanese and English speaking staffs and complete infrastructure system makes this investor feel safe when investing here.
The Contract ceremony ends successfully and this creates the opportunity for foreign investment from overseas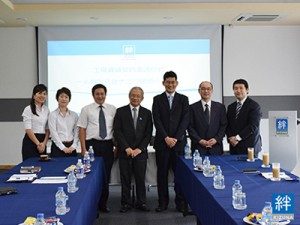 At the ceremony, Mr. Dung – the representative of Kizuna JV – answered a few questions from the representatives of Naniwa Abrasive Vietnam and wished the investor to be soon successful in the market. Mr. Sadakane on behalf of Naniwa Abrasive Vietnam Co., Ltd. sent the sincere appreciation to Kizuna and wished Kizuna can attract more and more foreign investors into Kizuna rental serviced factory.