News
Japanese Inspection group "ASEAN Business Infrastructure Survey Inspection Group" visited Kizuna 2
On 26th July, 2017, 5 members of "ASEAN Business Infrastructure Survey Inspection Group" from Japan visited Kizuna 2 Rental Serviced Factory. This inspection group was organized by JEITA (Japan Electronics and Information Technology Industries Association) with introduction from one existing Japanese tenant of Kizuna 2 – Emuden Vietnam Co., Ltd. (Head Office: Kanagawa pref) – the Japanese company specializing in assembling electric connectors. JEITA held this inspection tour both in Vietnam and Philippine which is the most attracting countries in ASEAN Area as "China Plus One" among association of IT and Electronics.
Directors and Executives of 5 Japanese electronic component manufacturers who have interests in investment in Vietnam participated in this inspection tour to exchange information about Business Environment and Investment Infrastructure in Vietnam Market which they can expect the potential growth in the future, method to start business using rental factory and investment trend of Japanese Companies in Vietnam.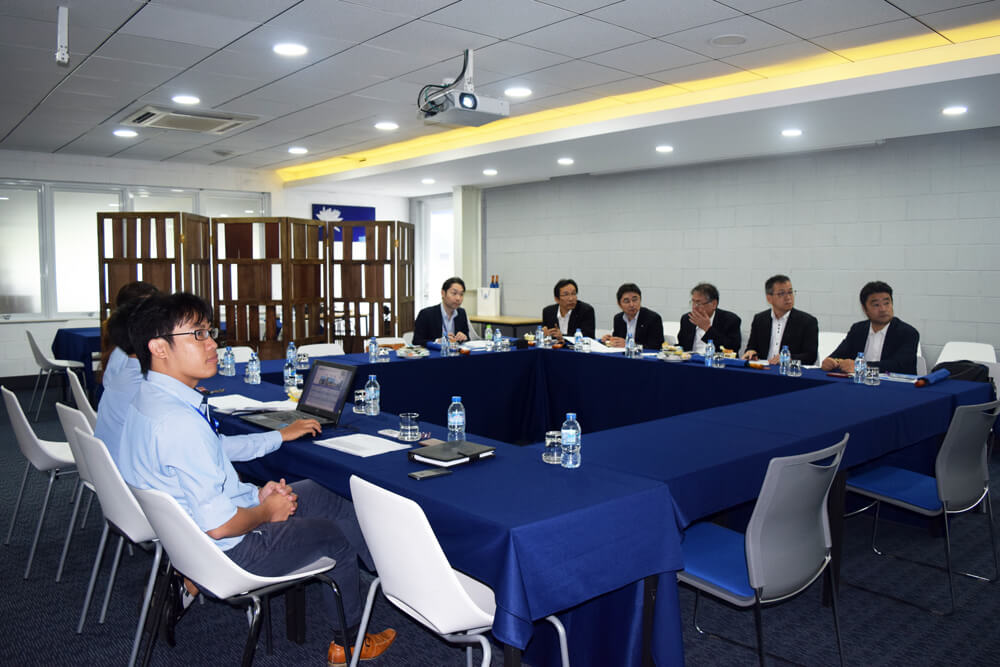 After short presentation about 3 projects of Kizuna JV Corporation and Q&A at the meeting room of Kizuna 2 Rental Serviced Factory, the inspection group had an opportunity to visit the workshop C5b of the Japanese investor IBS Manufacturing Vietnam Co., Ltd. (Head Office: Osaka). Through the Q&A with Japanese staff – Mr.Nishiyama Toshinori, participants could exchange useful information and get clear image after investment in Vietnam by seeing the actual operation in the workshop.
After that, the inspection group visited workshop E4 of Emuden Vietnam Company Limited. Mr. Ono Jiro on behalf of Emuden Vietnam Company Limited introduced about their company and products and shared that the reasons why they chose Kizuna Rental Serviced Factory as the investment place was safe working environment, support from Japanese staff and vibrant Vietnamese workers.
Kizuna JV Corporation will actively welcome inspection groups like this time to exchange and update the useful information.
By Marketing Department – Kizuna JV Corporation
Read more about inspections of Eastern Japan Care Label Association, KOSEA to Kizuna.