News
[Interview 4] Technopack Viet Nam: "We "are satisfied with supporting services of Kizuna"
The actual voice from the tenants is very useful and valuable infromation for the companies under consideration of investing in Vietnam. Kizuna will focus on the tenants of Kizuna and introduce their actual voice through interviews.
For our 4th interview, we would like to introduce our 6th Japanese client "Technopack Vietnam Co., Ltd" who leased B8 workshop (500m2). The local company in Vietnam was established by 3 Japanese investors: Technopack Corporation, Sogo Printing and Packinging Co. Ltd and Meibundo Industry Co., Ltd in March 2014 and started operation in September 2014. We are lucky to have chance of meeting Mr Tamaki Yasumasa – the representative of Technopack Vietnam – for interview about the his business after operation.
KZN: Please tell me about your business in Vietnam
Mr Tamaki: We are manufaturing and selling shrink film for cosmetics and pharmaceuticals-related, production of packaging materials. We plan to make processing using the special technology for shrink film and supply to the order of our clients starting from cosmestics and container manufacturer.
Our company is mainly manufacturing and selling the shrink film and packaging materials for cosmetic and pharmaceutical products. In Vietnam we will make final processing with special technique on the shrink film which was printed by the outsourcing companies. We're planning to provide them to the cosmetic manufacturers and container manufactureres.
We're confident to say that we can provide the Japanese quality products which are required in the world with our manufacturing environment which can mee the strict quality demand for the cosmetics and pharmaceutical products, completed facilities and well organized internal training system.
KZN: Is it the first time for you to invest in overseas? Why did you choose Vietnam?
Mr Tamaki: This is the first time we have invested in overseas.Our favoured clients in Japan are the motive for us to invest in Vietnam.
We considered the market of China, Thai and Myanmar for 10 years but we didn't proceed to invest considering of the country risks and incomplete infrastructure. Our favoured clients started investing in Vietnam to manufacture the products for Japanese consumers and we think that was our last chance.
KZN: How long did it take for you to make decision since you started the first consideration including the number of times of inspection visit?
Mr Tamaki: We visited Ho Chi Minh City in May 2013 at the first time and made the decision after 2 times of inspection.
KZN: Why did you choose Kizuna?
Mr Tamaki: There are 3 reasons。
Kizuna is the intermediate place between Amata industrial park where our favoured clients are garthering and the printing companies which we are having the technical cooperation with.
Kizuna rental serviced factory is the new and beautiful place and has our expected size.
Besides, Kizuna has a community of Japanese companies, which is also a reason for our choice
KZN: Please tell me your impression about Kizuna's service and staffs
Mr Tamaki: General speaking, we are satisfied with the documents procedures. As Kizuna is newly established rental factory, sometimes I feel time is taken for some procedures. The staffs of Sales Department and Customer Service Department always smile and are professional when serving the clients. I only would like to improve one point. Though it might be the same as the other companies, we especially need to care about insect and the dust-proof to keep the Japanese quality. We'd like the area around the front and back entrance and shutter to be tightly sealed.
KZN: Please tell me what you expect for your business in Vietnam
Mr Tamaki: First of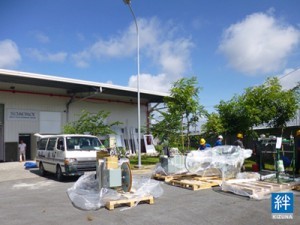 all, we plan to manufacture the products according to the current orders from clients as schedule but after a period time of good operation when we don't have more dealings with Japanese companies, we considered expand our dealings with Western companies. Besides, now we are only selling products to domestic market but we expect to export to Asian countries in the future.
KZN: Do you have any interesting episodes or difficulties after you started operation in Vietnam?
Mr Tamaki: We visited Vietnam for the first time in May 2013. The word I heard from our partner shows everything. "Everyday is incident."
KZN: Could you give any messages and advises for the companies under consideration of investing in Vietnam?
Mr Tamaki: Please come and visit Vietnam one time. I'm sure that you can feel how energetic and active country with many young people. Generally it's said that Vietnam is pro-Japan country. You can know that Vietnam is the country which has strong trust on Japanese products such as motorcycle, car, electric appliances, food and beverages etc. and Japanese. It's also true that there're many things we cannot handle in here as smoothly as in Japan.
The Most difficult issue for our company is the difficulty in purchasing the raw materials (for our case, film, ink etc.). We have to import materials from China, Korea and Thailand and this leads to an obstacle for the transportation and the cost. Regarding the transportation, there's still problem of transportation due to undeveloped consolidation cargo system in here. Besides, we are so surprised with the amount of paperworks we have to prepare and the laws change many times.
Thank you for your cooperation, Mr.Tamaki.
We strongly wish their great success on business in Vietnam and continue our support for Technopack Vietnam.