News
[Interview 2] TK Meash Japan: "We are so satisfied the services at Kizuna"
The actual voice from the tenants is very useful and valuable infromation for the companies under consideration of investing in Vietnam Kizuna will focus on the tenants of Kizuna and introduce their actual voice through interviews.
For our 2nd interview, we will introduce "TK Mesh Japan" who leased E1 factory as the 2nd tenant. TK Mesh Japan (Head Office in Aichi prefecture in Japan, Representative:Mr.Mishima) established TK Mesh Japan as a local enterprise in Vietnam in June 2013. They installed machineries in August and started operation from September in 2013. I asked Mr.Mishima about their story to establish a local enterprise and start operation in Vietnam.
KZN: Please tell me about your business in Vietnam.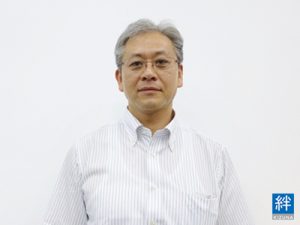 Mr.Mishima: In Japan, we are engaged in the manufacture and sale of poultry cage (welded wire mesh) for business use. Only 3 Manufacturers are making a cage for poultry in Japan. Mishima is the only one company whichi is a pure-play company focused on making poultry cage. Main businesss in the Vietnam is the development of the demand in the Southeast Asia with the suply of the products to Japan as a main business.
We are good at spot welding the wire which has been coated by the molten zinc plating of thick film. Under Japan's poultry environment, we are manufacturing the product to withstand the use of an average of 15 years. We wish the clients who need durability to consider of using our products positively under the circumstances of Vietnam without good metal plating companies.
KZN: Is it the first time for you to invest in overseas? Why did you choose Vietnam?
Mr.Mishima: It's the first time for us to invest in overseas in addition to the Import and export procedures. The reason why we decided to invest in Vietnam is because of the entry of the Chinese products into Japanese market due to the appreciation of the yen and it is oligopolization of the end user due to the aging of the population.
Through the foreign training program, we already had some people who already finished our training program in Japan. As one of them was a reliable person as a factory manager and we could expect the supply of the staffs from the trainee organization in Vietnam Side in the future, we decided to choose Vietnam, not the other countries.
KZN: How long did it take for you to make decision since you started the first consideration including the number of times of inspection visit?
Mr.Mishima: It took less than six months to decide the investing location. I wasn't going to spend 1 or 2 years for preparation in an era when we can have an once-in-a-lifetime experience many times.
Actually I only visited one factory for inspection. I got information of Industrial parks in the seminar in Japan.
KZN: Why did you choose Kizuna?
Mr.Mishima: I feel there's a spiritual guidance from many people until I can find Kizuna rental serviced factory. Most attractive points to choose Kizuna was the surrounded wall around the factory area from the beginning. I thought that Kizuna is the reliable place as the developer invested in the security facilities for the tenants to protect from the property loss before something really happens.
KZN: Please tell me your impression about Kizuna's service and staffs.
Mr.Mishima: Though it's not the problem of Kizuna side, I feel astonished to see the number of paper works. Regarding the attitude of Kizuna staffs, I feel we're well cared all the time.Though this issue might not be included in the KIZUNA's scope of works, I have difficulties to find new customers in Vietnam as I visit Vietnam only once a month and have only a few opportunities to take contact with the local customers. I feel appreciated if KIZUNA has initial support service such as searching the potential customers, sorting the potential customers list and making appointment etc…until I can approach new customers though I know it's difficult favor.
KZN: Please tell me what you expect for your business in Vietnam.
Mr.Mishima: Of course, not only for Japanese Customers, but also I'd like Many customers including Vietnamese customers to use our products.
KZN: Do you have any interesting episodes or difficulties after you started operation in Vietnam?
Mr.Mishima: I've ever asked quotation for the repair works to protect against the rain and wind. After discussing with the local company to tell our demands and inform some changes several times, I couldn't take contact with them suddenly. They seem not to want to work with us any more as they need to discuss so many times with us.
I don't think it's a change which makes them feel like stopping to work with us. I wonder they cannot stand with the complicated matters to handle or accept to change the things which were suggested once in another way.
After quotation, I think their resistance is especially stronger if we try to change some points. It also might be related with the complicated documentation in their side in case we make some changes.
KZN: Could you give any messages and advises for the companies under consideration of investing in Vietnam?
Mr.Mishima: As it's the first time for us to invest in overseas and it's quite short time for us since we started operation in Vietnam, we cannot make a good advice to you. I realized that the knowledge which I got in my country was quite a few. Though many unexpected things happen normally, we are supported by many people in Vietnam.
We feel very luckly to be surrounded by many people who support us a lot. I strongly hope many SMEs like us who are under consideration of investing in Vietnam have a good encounter with good people in the future.
Thank you for your cooperation, Mr.Mishima.
We strongly wish their great success on business in Vietnam and continue our support for TK Mesh Japan.