News
Interesting experiences of USSH Students at Kizuna Serviced Factory
Recently, on July 6, 2017, Kizuna JV Corporation was welcomed students from Ho Chi Minh City University of Social Sciences and Humanities (USSH) – Faculty of Japanese Studies visiting Kizuna Serviced Factory and some Japanese enterprises operating in the area.
Although this is the first time that students of USSH – Faculty of Japanese Studies went to the western region to visit industrial parks and Japanese enterprises, the visit to Kizuna brought many deep impressions to lecturers and students.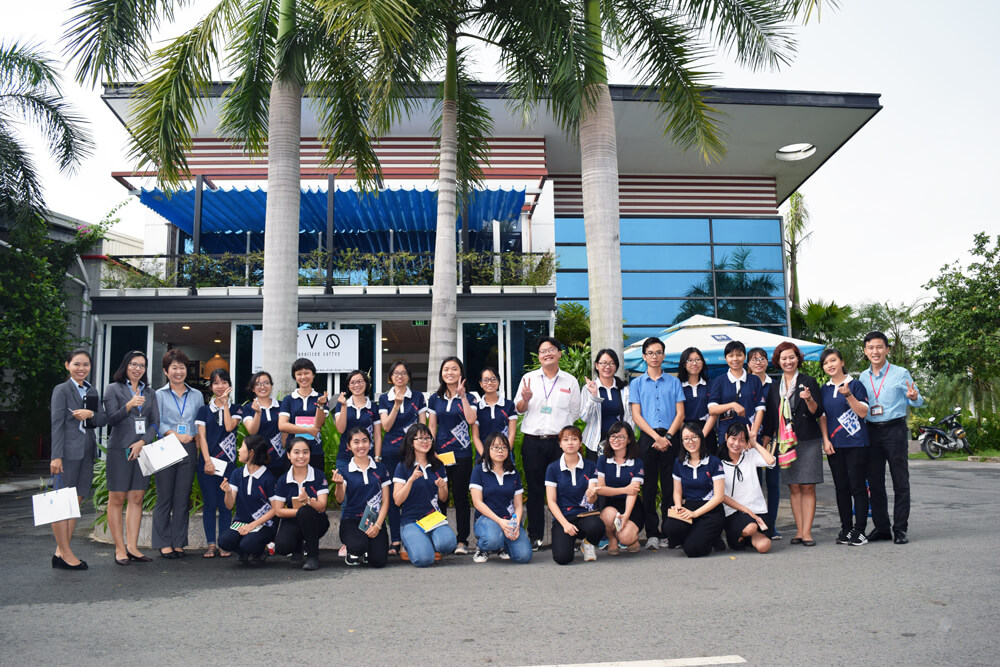 After the greeting from Mr. Tran Duy Vu – Deputy General Director of Kizuna JV Corporation, Ms. Shirakawa – Sales Director introduced about Kizuna, its factory model and enterprise support services right from its establishment and during operations. The students had enthusiastic and exciting discussions with Ms. Bich Thao – Deputy Customer Service Director and an alumni of USSH – Faculty of Japanese Studies, and Ms. Han – Customer Service Executive and an alumni of USSH – Faculty of Korean Studies. Through discussions, the students somewhat understood the working environment, recruitment demands at Japanese companies, differences between Vietnamese and Japanese working cultures as well as useful information helping them with their subsequent career orientation.
On-site visit to Japanese enterprises
On-site visits to plants and production environment are an integral part of practice sessions. Therefore, Kizuna worked with Japanese investors in the area to hold a visit to 3 Japanese enterprises operating in Kizuna 1 and 2.
To start the trip, the group visited Active Vietnam Factory Co., Ltd. which majors in manufacturing spare parts, metal-ware for motorbikes. With the enthusiastic introduction by Mr. Hiroyoshi Kawaguchi, CEO, students directly saw production processes, products directly made at the factory.
When visiting Aoki Vietnam Co., Ltd. – a Japanese garment company with initial investment of VND 35 billion, the students had the chance to learn the operating way of Japanese companies under the direction of Mr. Endo Yuji – Production Manager. They understood 5S better and knew how meticulous Japanese people are, and how strict the metal detection process is to make safe products for consumers.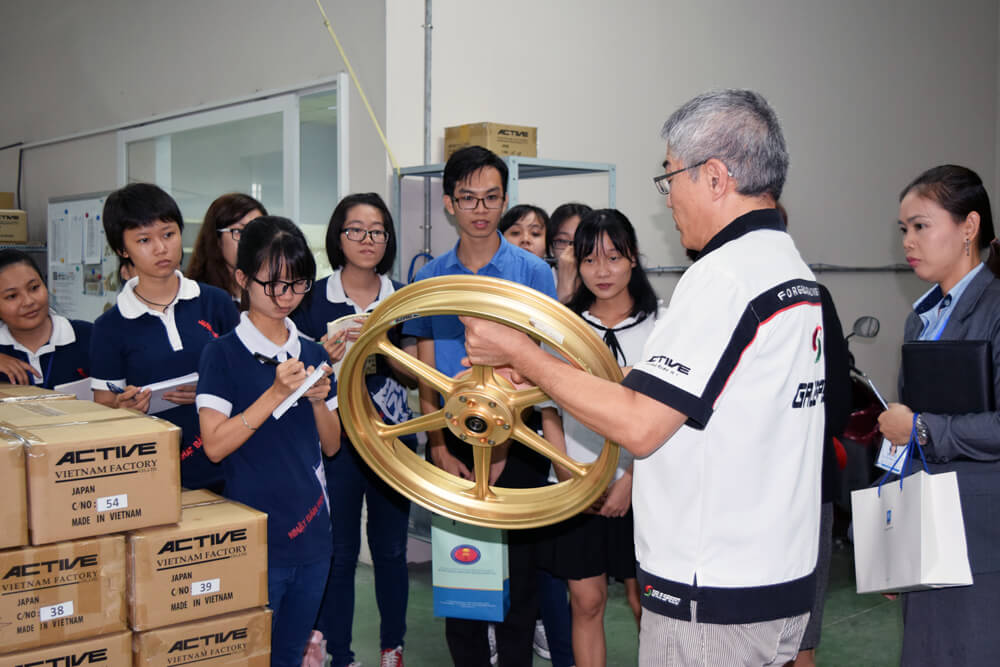 In the visit to the printing ink factory of Ricoh Vietnam Co., Ltd. – Long An Branch, the students were very surprised about tidiness and systematics of everything here although it has been put into operation for 3 months. Ricoh-branded photocopiers, printers, and inks are very popular to Vietnamese consumers as Ricoh is a big name with the top revenue in the world. Therefore, it was a good news when Ricoh chose Kizuna as its investment location. Mr. Araki Hiromitsu – Production Manager shared sincerely with students that, to have market reputation, Japanese people focus on quality to create the best ink for consumers.
At the end of the visit, the students were very happy with bright smiles on their faces when receiving special "beverage" as gifts from Kizuna JV Corporation, Doraemon Tofu, a product of BJD Co., Ltd., Long An Branch with the production factory at Kizuna Serviced Factory 2.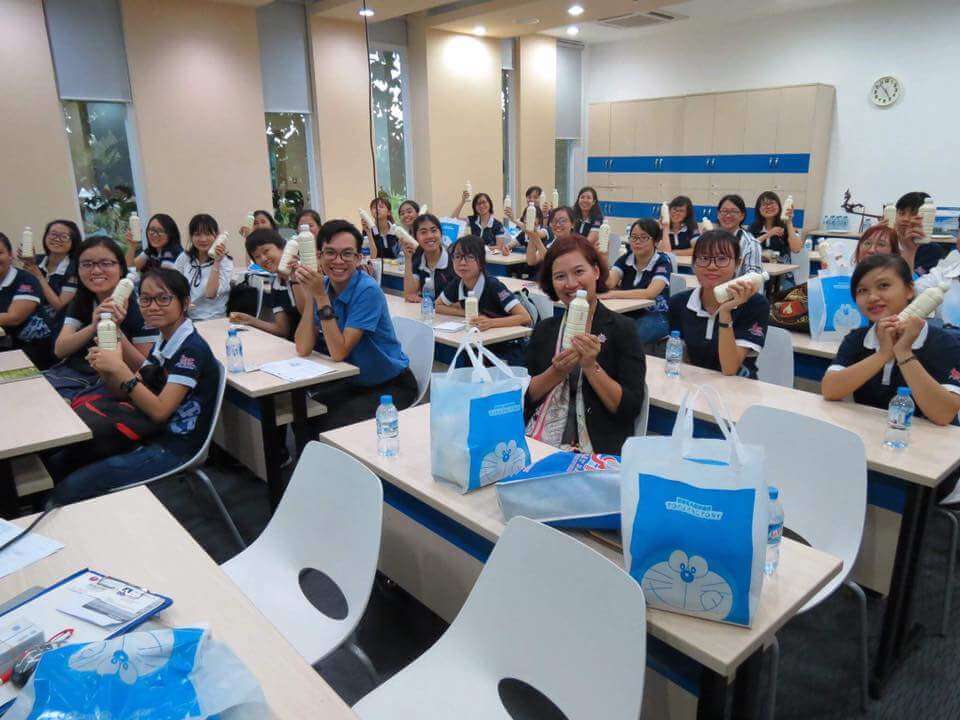 What were the feelings of students and lecturers after the visit?
On a student's facebook page, he/she shared: "Actually, the visit was useful and interesting beyond my expectation. The company was welcomed us very solemnly and instructed us enthusiastically. I was so impressed with friendliness and enthusiasm of Japanese managers for the first short meeting. This made me touched and sad when I had to say goodbye to them. I promised to myself that I would work enthusiastically, happily, and friendly regardless of my position."
Ms. Nguyen Thu Huong, Vice Dean of Japanese Studies expressed her appreciation to Kizuna JV Corporation and Japanese enterprises, and hoped that USSH could work with them to hold many meaningful activities for students as well as enterprises in the future.
Internship opportunity at Japanese enterprises in the Kizuna area
The cooperation between Kizuna and USSP is not only shown in this visit, but also brings many internship opportunities to students at Kizuna and Japanese enterprises in the area such as Aoki Vietnam Co., Ltd., Tabuchi Vietnam Co., Ltd. and BJD Co. Ltd. – Long An Branch.
This internship is promised to provide students with actual experiences and opportunity to face the professional working environment. Thereby, they will better understand requirements from employers, learn and practice how to work and behave properly so they can be confident in their future work. In addition, if the students have good performance for internship and can show their capability, after graduation, they may get back to the internship place and work officially there without taking much time to find jobs like other students.
Kizuna hopes to continue to be the bridge between enterprises and students from various universities and faculties so it can bring more opportunities to students to understand actual working environment before graduation and help investors in the area find valuable candidates for their enterprises as well.
By Marketing Department – Kizuna JV Corporation