News
Highlights of The Cafe Show Vietnam 2017
The Vietnam International Cafe Show 2017 was taking place from March 2-4 at the Saigon Exhibition & Convention Center and attracted more than 100 enterprises. The event is part of the Cafe Show series, typically is the "Seoul Cafe International Exhibition" – the event takes place in 15th consecutive years in Korea and is certified as the No.1 Coffee Exhibition in Asia. This exhibition created the opportunity to cooperate among many leading enterprises in the field of coffee, tea, drinks, cakes, raw materials from many countries in the world.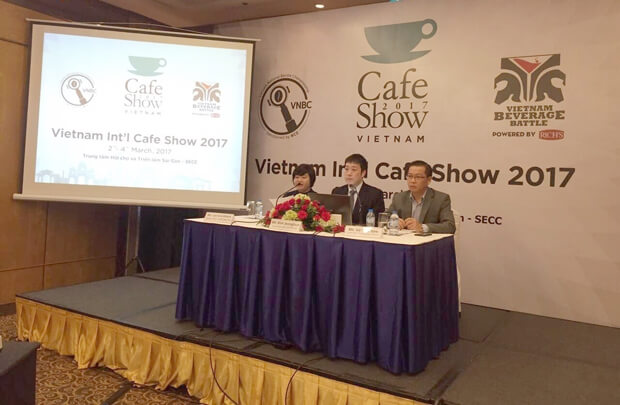 Perfetto coffee brand
Cafe Show Vietnam 2017 also has the presence of Perfect Trading Total International Co., Ltd, an investor at Kizuna Rental Serviced Factory, with the coffee brand Perfetto.
Vietnam is the second largest coffee exporter in the world and is the fourth in Asia in terms of total coffee consumption in 2015 (Euromonitor, 2016). In addition, Vietnamese have a distinctive coffee culture, a cup of coffee in the morning is a habit to kick off the day of most people.
Understanding these advantages, Perfetto Vietnam was founded as a manufacturer and distributor of high quality coffee to provide the best coffee flavor to consumers with "perfect coffee experience". According to Perfectto Vietnam (2017), Perfetto coffee has a full range of products with top flavor and unique fragrance, which is suitable for every family, office, coffee shop, restaurant, luxury hotels and resorts.
Featured event at the Vietnam International Cafe Show 2017
Many special events were also held during the exhibition. At the 'Coffee Training Station', visitors were instructed to mix drinks from low to high level, while at 'Sweet Class', they could learn more about recipes for desserts, cakes and drinks. Additionally, 'Cherry's Choice' is the place to showcase outstanding products of the year from many brands.
Especially, the Vietnam Beverage Battle (VBB) contest, which was the highlight of the event, was held aimed at finding excellent skill mixers and new drink recipes. This is a new competition, as the audience is acting as a judge, evaluating a part of the score for the competition of the contestants. The winners received a $ 5,000 prize and a Korean tour, attending the Seoul Int'l Cafe Show 2017.
Cafe Show Vietnam 2017 ended in success and left a good impression on many visitors. Through the event, businesses and visitors had the opportunity to exchange knowledge about coffee in particular and drinks in general, contributing to the development of the Vietnam coffee industry.
By Marketing Department-Kizuna JV Corporation
Source: Café Show Vietnam 2017, http://www.cafeshow.com.vn/
Perfectto Vietnam 2017, http://www.perfetto.com.vn/