News
Grand Opening Ceremony of Secoin Western Saigon JSC in ECO Factory
On June 29, 2017, Secoin Western Saigon Joint-stock Company was established in ECO Factory, Le Minh Xuan IP, HCMC and officially held their grand opening on July 1, 2017. This is an important milestone on the development path of Secoin group. With 28 years of construction and development since their establishment in 1989, Secoin has become a leading Vietnamese company in the field of building non-burnt building materials and industrial wood products with 9 factories located in Hanoi, Hung Yen, Da Nang, Quang Ninh, Ho Chi Minh City and Binh Duong Province. Secoin is one of the world's largest manufacturer of ceramic tiles and their products are currently available in 54 countries across six continents. With the domestic market, Secoin branded products are present in almost all key projects in the country. Secoin Western Saigon JSC with 2 factories specialized in manufacturing highly aesthetic products such as Handmade Encaustic Cement Tiles and Decorative Ventilation Blocks with the largest scale of operation and workforce (nearly 300 staffs) in Secoin group.
On behalf of Secoin's Board of Directors, Ms. Vo Thi Lien Huong – Chairman of the board and General Director of Secoin Western Saigon JSC expressed her sincere thanks to all members of Secoin family, especially the staff and workers who were working days and nights in Secoin's factories. Also on this occasion, Secoin praised the outstanding individuals who contributed a lot for these 2 factories.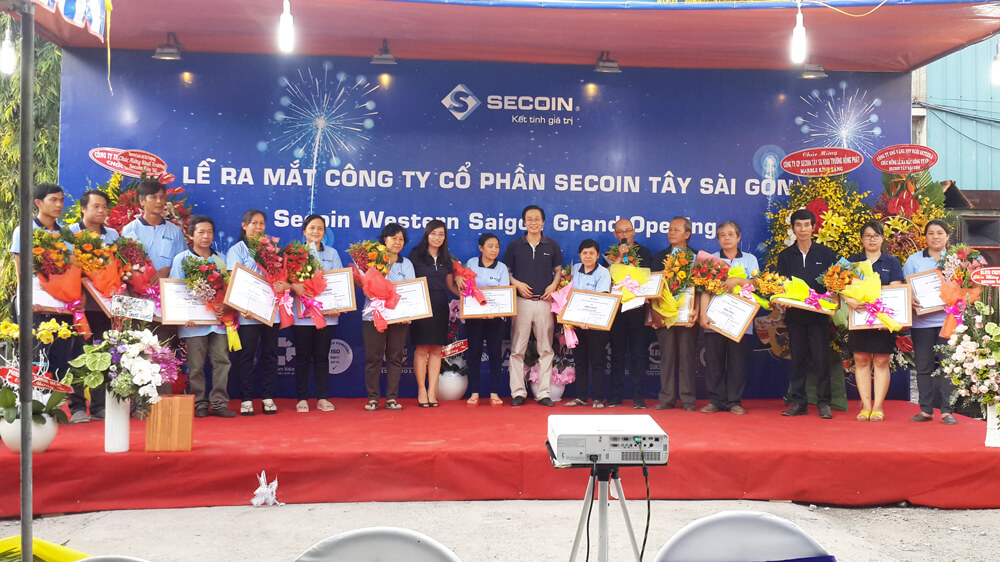 At the ceremony, Ms. Huong also said that: "Secoin is confident that the products made by Secoin Western Saigon JSC will continue Secoin's mission – that is to bring beauty to construction and interior/exterior decoration projects, to bring "made-in-Vietnam" products further in the international market and to contribute to the green globe protection."
Kizuna JV Corporation would like to wish Secoin a great success and develop stronger in the future, expanding the distribution system globally and maintain the leading position in Vietnam in the field of manufacturing non-burnt building materials and environment-friendly products. We pledge to continue our best endeavors to support and create a productive manufacturing environment for you.
By Marketing Department – Kizuna JV Corporation