News
Region-based minimum wage levels rises from January 1, 2018
On December 07th, 2017, the government has issued Decree 141/2017/ND-CP stipulating the area-based minimum salary for employees who have labor contracts, as follows:
– Region I: 3,980,000 VND/ month (increase 230,000 VND compared with the current regulation of 3.750.000 VND/ month).
– Region II: 3,530,000 VND/ month (increase 210,000 VND).
– Region III: 3,090,000 VND/ month (increase 190,000 VND).
– Region IV: 2,760,000 VND/ month (increase 180,000 VND)
Besides, Thu Thua District (Long An Province) will apply the area-based minimum wage in region II from January 1st, 2018 (instead of region III as before)
According to this regulation, the minimum wage for companies in Kizuna Serviced Factory Area (region 2) is 3,530,000 VND/month.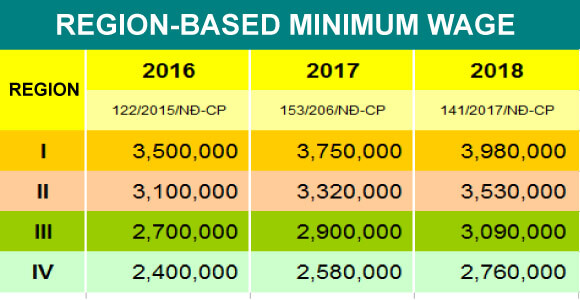 According to MOLISA (Ministry of Labor, Invalids and Social Affairs), the minimum wage increase will cover about 92-96% of the minimum living requirement for workers and their families, depending on the region. And the above adjustment has taken into account the effects on employment, unemployment, production-business conditions of enterprises, the level of impact on production costs of enterprises, etc. According to the forecast, with the minimum salary increase in this area, the cost of enterprises will generally increase by about 0.55% – 0.6%, of which the textile and footwear sector will increase higher, about 1.15% -1.2% since this is a labor-intensive sector.
Source: www.luatvietnam.vn