News
"Doraemon Tofu" Opening Ceremony for new factory in Kizuna Serviced Factory
On June 2, 2017, BJD Production Co., Ltd which is producing "Doraemon tofu" invited their business partners to their brand new factory at Kizuna 2 Rental Serviced Factory and held opening party in HCMC. BJD is invested by Blue Chip Co., Ltd., which has head office in Tokyo and Mr. Miyamoto Yoichi is Blue Chip's legal representative.
In front of new factory (By the blog of Shoninsha – Mr. Yuki)
In November, 2013, they started operation at the factory in Thu Duc District, HCMC. After 2 years operation, they started to consider of relocation as their production space became smaller. After visiting some industrial parks, they decided to choose A7 workshop (1,080m2) at Kizuna 2 Rental Serviced Factory as the new production site. On April 16, 2017, they finally finished interior work inside of the workshop and re-started operation after moving all machineries and staffs.
At the new factory, Mr. Ootsuki – a professional Tofu Manufacturer, introduced the production procedure to the guests, they also very enjoyed the fresh Soya Milk and Tofu there. In the evening, all the guests and other partners including Kizuna was invited to their opening party at New World Hotel in HCMC.
"Doraemon Tofu" is a well-known tasty Japanese Tofu for Japanese residents in Vietnam. Here is the very first story of "Doraemon Tofu" which was shared at their opening ceremony.
Why did they start business in Vietnam?
Mr. Miyamoto Yoichi – General Director of Blue Chip Co., Ltd. which is investing company of BJD Production Co., Ltd., had an opportunity to visit Vietnam 10 years ago. Meeting many Vietnamese including Mr. Phat – who is now General Director of BJD Production Co., Ltd., he was totally fascinated by "Vietnam" which has pro-Japanese atmosphere and has big expectation for the future development. That's the point of origin for starting business in Vietnam.
Why Tofu?
Their investing company in Japan has no relevant to Tofu business. Through Mr. Kishiyama from Hibariya Corporation and Mr. Watanabe from Tokusansha Corporation, he knew the fact that tofu manufacturers are decreasing and there's a possibility to be able to use Old Tofu Manufacturing machineries effectively in Japan. Whenever he flied to Vietnam, he remembered this story and tried many kinds of Tofu sold in Vietnam. After trying, he found that there was no tasty Tofu at all in Vietnam, which made him decide to bring machineries from Japan to start production of Tofu in Vietnam.
With strong supports from friends and partners in Vietnam, they found the very first factory to start production of Tofu in Thu Duc District. They imported machineries from Japan to produce Tofu and BJD Factory became ready for production in November, 2013. The strongest supporter, Mr. Ootsuki Teruyuki – who has 37 years experiences of making Tofu joined the team. Now, it's ready to make Tofu.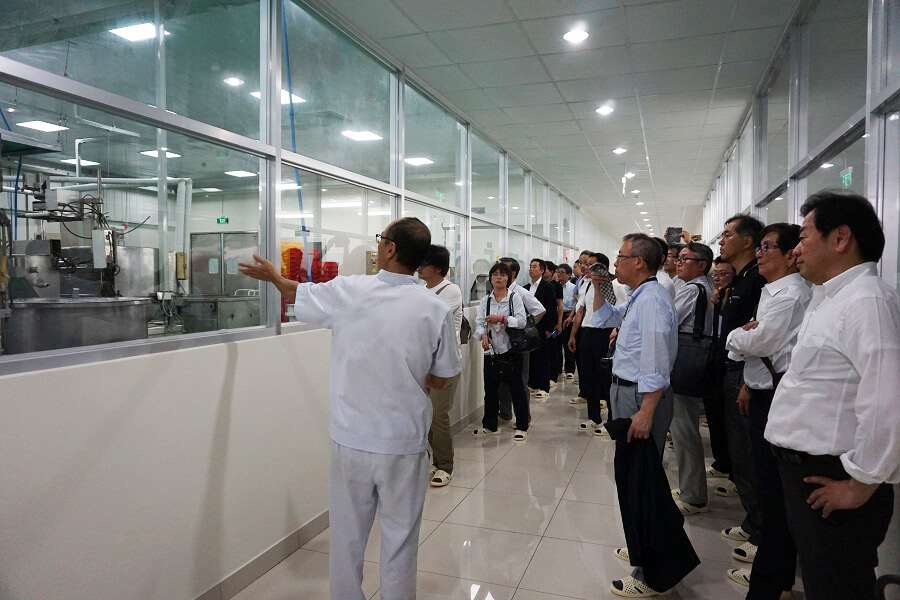 Why Doraemon?
Once again, there's no relevant to Doraemon. Mr. Miyamoto knew that Doraemon is the most popular cartoon character in Vietnam, which Vietnamese children always watch on TV and love so much. With warm support from Mr. Miyamoto Hiroshi – General Director of Tagger Co., Ltd., which is the company who manage the license of Doraemon, he could get the license to make Doraemon Tofu. With the concept of "Reliable, Safe, Healthy and Tasty", customers can enjoy fresh Tofu with soy sauce on the top or eat Tofu with salad. He prepared various kind of products to be able to enjoy not only for Japanese food but also for Vietnamese food by any cooking method.
How Doraemon Tofu Factory was started?
In January 2014, the first AEON shopping mall in Vietnam was open at Tan Phu District, HCMC. They succeeded to attract many people than they expected though it's 40 minutes away from the city center and over 2 million people visited AEON shopping mall per month. Being fated to AEON, BJD could open the first "Doraemon Tofu Factory" shop at the AEON shopping mall. They're selling Tofu, Dorayaki (Doraemon's favorite cake with red bean inside), Soya Milk Ice Cream and Soya Milk Candy. Within 3 years, they succeeded to open 6 shops in HCMC (AEON Tan Phu shop, AEON Binh Duong Shop, Satra Mart shop, AEON Ha Noi shop, Big C shop and AEON Binh Tan shop) and provide healthy food to the guests every day.
Many domestic supermarkets and convenience stores such as Citi Mart, Family Mart, Mini Stop, Big C, etc. sell their Tofu and also many Japanese Restaurants serve their Tofu at their menu. We can hear the grateful comments from many Japanese residents who can enjoy tasty Japanese Tofu even in Vietnam, even local Vietnamese highly evaluate their tofu as a tasty tofu.
At the end of the party, Mr. Miyamoto – General Director of Blue chip Co., Ltd., said "Total number of staffs became almost 100 people now since establishment. We're keep expanding the business to become No.1 Tofu manufacturer".
Kizuna will keep supporting BJD Production Co., Ltd., and cooperate with them to PR this tasty "Doraemon Tofu" to more people. If you've not tried their products, why don't you try tasty Doraemon Tofu and Sweets? It's sure that you will definitely love it.
By Marketing Department – Kizuna JV Corporation
Others Opening Ceremony are available: NPF, Semitec, Itswell