News
Cosmobeauté Vietnam 2017 – The largest beauty trade event in Vietnam
Cosmobeauté Vietnam 2017 – the 10th Edition Vietnam International Exhibition & Conference on Cosmetics, Beauty, Hair and Spa took place from April 18-20, 2017 at the Saigon Exhibition and Convention Center (SECC) in HCMC. It is an annual event and known as the largest beauty trade exhibition in Vietnam.
Cosmobeauté Vietnam 2017 attracted 220 exhibitors and Brand's from over 15 countries, including Japan, Korea, Taiwan, Thailand, Singapore, Spain, Vietnam, etc. This was a perfect place for importers, distributors to source for new beauty brands, also a good opportunity for manufacturers and suppliers who are looking for potential partners in Vietnam. Exhibitors came from all aspects of beauty industry such as cosmetics and perfumery, aesthetics and spa, nail, hair and accessories, packaging and raw materials.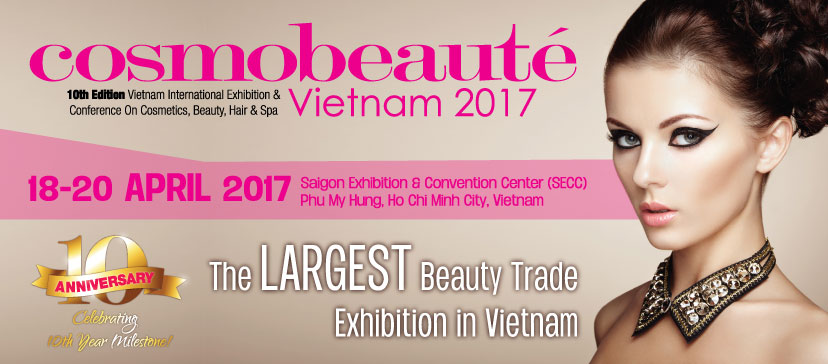 Highlights of the exhibition
First Spanish Pavilion – The first ever showcase of Spain Pavilion brought by STANPA – Spanish Cosmetic, Toiletry and Perfumery Association. A series of beauty products, beauty equipment and salon furniture from Spain was showcased during the 3 days show.
Largest Korean Pavilion – Korean brands brought their best and high quality guaranteed Korean skin care, hair care, nail care, body care, make up products and beauty equipment. Especially, visitors could buy many products on sale on the last day of the event.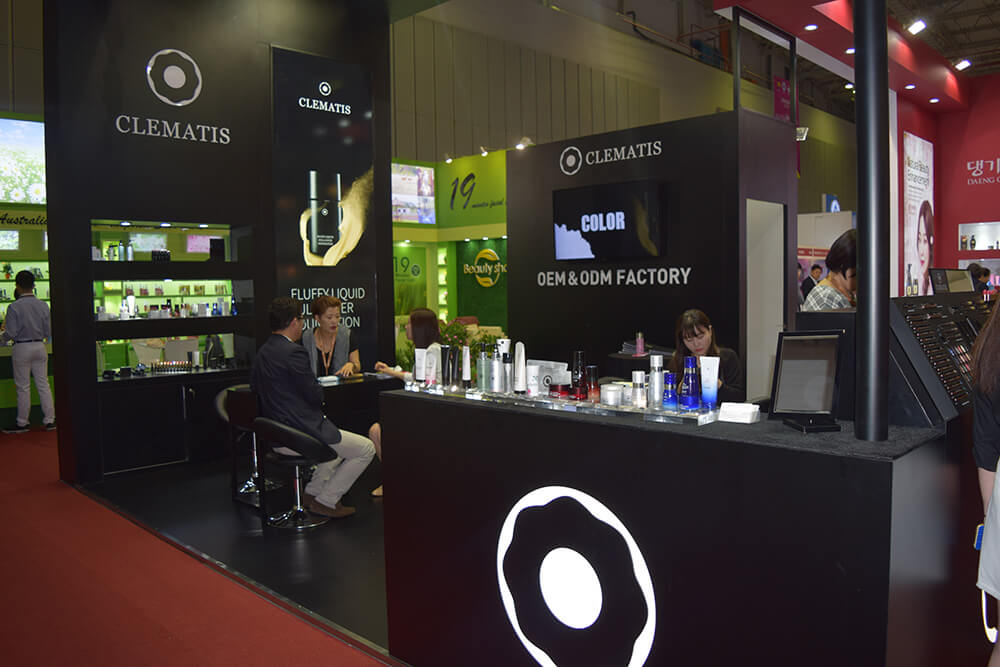 At the exhibition, visitors were presented with impressive stage program & beauty workshops to empower global professionals, beauticians with knowledge and skills to be recognize in the spectrum of beauty, hair, nail, spa, eyelash and make up industry. Discover the topics covered this year inclusive of "Skin Supplement Pill Nowadays", "Marketing To Increase Profits For Spa – Beauty salons", "Creating Postnatal Wellness Rituals In Your Spa" and more exciting topics which covers all aspects of the beauty industry.
Especially, at the Beaute Meeting, the local investors and potential buyers were able to find their new business opportunities through websites by making advance appointment online.
The increase in foreign beauty brands in Vietnam
According to Ms. Dao Thu Huong from the Ministry of Finance, under the Vietnam – Korea FTA, Vietnam committed to cut tariffs on 200 products imported from Korea, including cosmetics. This would pave the way for Korean cosmetics to flock to Vietnam in the time to come. Analysts predicted that from 2017-2018, when the import tariff is cut to 20%, Korean cosmetics would be even more commonly used in Vietnamese beauty industry. Not only products from Korea, but cosmetics from Japan, Thailand and Malaysia would also have opportunities to conquer the Vietnamese market as Vietnam has also signed FTAs with many other countries.
This explains why the number of cosmetic firms attending Cosmobeauté has been increasing steadily over the last ten years. CP Saw, president of Cosmobeauté, said many businesses came to the exhibition to look for clients because they saw great potential in the Vietnamese market.
By Marketing Department – Kizuna JV Corporation
Source: http://www.cosmobeauteasia.com
http://wji.at/Vietnam-News/vietnamese-beauty-industry-is-lucrative-market/