News
An occasion for connecting and trading in the Amcham Supplier Day 2017
On 13/9/2017, the Supplier Day 2017 was held by the American Chamber of Commerce in Vietnam (AmCham Vietnam) at the New World Hotel Saigon – HCMC.
For the purpose of developing the supply chain in Vietnam, the event created more than 160 meetings between 17 manufacturers and 44 suppliers helping them find out suitable partners. Supplier Day 2017 is an occasion for vendors to understand clearly the requirements of the manufacturers, from which to find out the opportunity for business development. This is also a chance for manufactures to have more options on potential suppliers, serving the needs of expanding their production.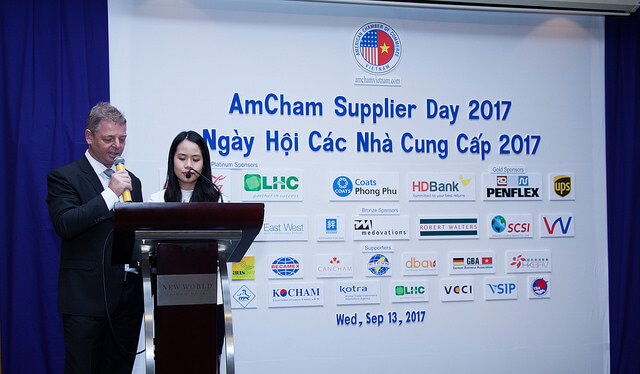 Kizuna is very pleased to be one of the sponsors accompanying the Supplier Day 2017. Whether to be manufacturers or product suppliers, they all need to find out an efficient and friendly production environment first; then, they can feel secured to carry out their production activities. Attending this event, Kizuna undertook another mission which is to help the enterprises in the Kizuna Serviced Factory Area to find out suitable partners. On the one hand, Kizuna also gathered and brought up a list of raw materials that the enterprises in the area want to buy and their contact information; if other suppliers found it appropriate, they could work directly with the enterprises for detailed information. On the other hand, the list of products of such enterprises which are on sales and its brochure with information, images were also displayed to help the enterprises to promote and attract potential customers. Many domestic as well as foreign enterprises had come to Kizuna's information booth to learn more about the opportunity to work with enterprises in the area.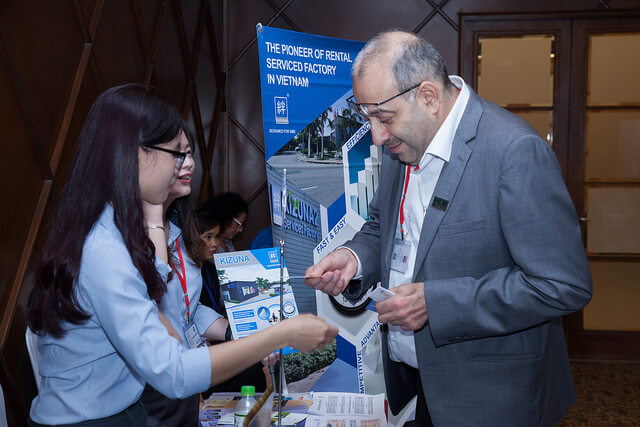 Trade connection events such as the Supplier Day 2017 are extremely attractive and useful for enterprises, especially small and medium enterprises (SMEs), start-ups, companies which are not well-known in the market and are looking for the right business opportunity. In future, Kizuna wants not just to be a coworker, but also to be able to organize useful events like this to help the business community in the Kizuna Serviced Factory Area in particular and the Vietnamese business community in generally to grow together.
By Marketing Department – Kizuna JV Corporation