News
An experience day of Bach Khoa University's students in Kizuna Serviced Factory
On March 16, 2017, the first year students of High quality program and International study program in Industrial management and Business management – Bach Khoa University (BKU) visited Kizuna Serviced Factory. This was the second time Kizuna collaborated with BKU to organize a student tour to introduce the model of factories operating here The total of 50 students were divided into two groups, went together with two teachers to support in the morning and afternoon.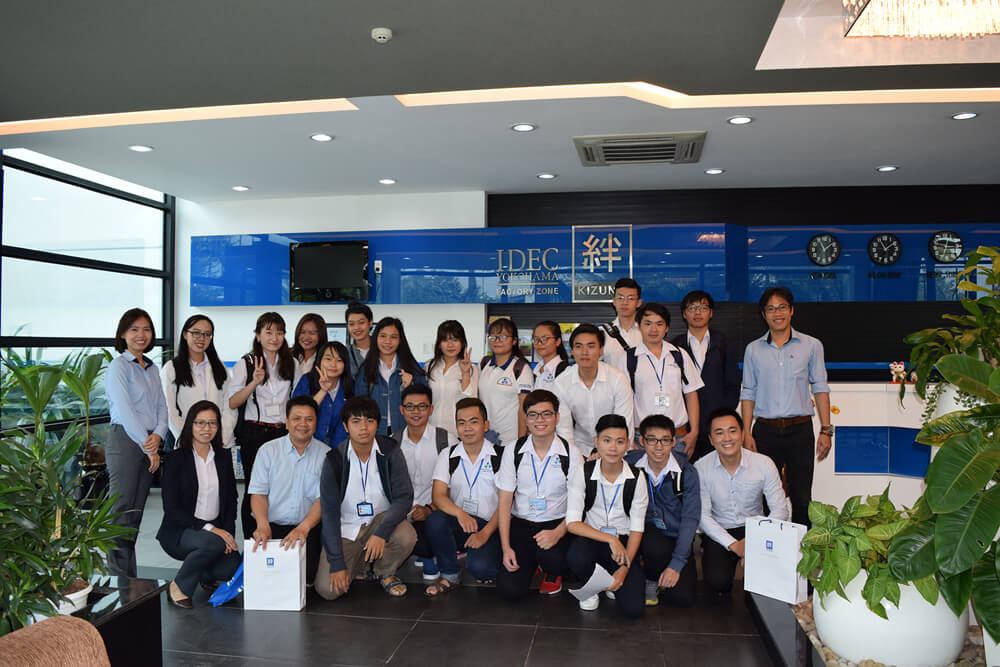 To start with, Mr. Tran Duy Vu – Deputy General Director of Kizuna JV Corporation has a sincerely and witty sharing about his experience through many working years. Always mindful of "doing the right things before doing things right", he advised students to consider carefully when choosing to a career that stick with their life. Next, the introduction of Kizuna was also presented so that students can have a more general overview of the factory as well as production and business activities of enterprises here.
Started operation in 2012, Kizuna, led by Chairman of the Board – Mr. Doan Hong Dung – an Alumni of BKU – has been known by domestic and foreign investors as the pioneer of Rental Serviced Factory in the South of Vietnam. Up to now, all three projects with modern facilities have been almost filled by more than 80 SMEs specializing in assembling, processing and manufacturing a wide variety of products. It is worth mentioning that Kizuna not only leased ready-built factories but also successfully used the service-sharing model for customers such as corporate income tax incentives, legal aid procedures, translation services, IT services, forklift rental, meeting rooms and many other utilities.
To fulfill the mission of "Investing in people and products to increase the difference throughout the operation of the organization, to create effective production environment, bring added value for customers and the members of the organization, contributing to the development of business community in Vietnam", Kizuna has been creating conditions for SMEs to be able to put into operation right from the start of business, saving both time and money while ensuring their work efficiency.
After the presentation, the students had the opportunity to interact directly, ask more questions about Kizuna and they were very satisfied with the answers received.
Visiting factories and real production environments is an integral part of the tour. The morning group had the opportunity to visit Active Vietnam Factory Co., Ltd., which is headquartered at workshop E3 ​​- Kizuna Serviced Factory, a business specializing in processing spare parts for motorcycles. Here, students got the opportunity to listen to Mr. Hiroyoshi Kawaguchi – Managing Director of the workshop, shared about their products, answered questions about the field of precision engineering, production activities and career opportunities.
On the other hand, the afternoon group visited workshop C8-9 – MT Garment Vietnam Co., Ltd – specialize in waterproof clothing for sports such as fishing, ski, etc. The group was led by Mr. Lin Baoxing – Production manager, to hear about the production process as well as see and touch the finished product. They also asked many interesting questions and received the enthusiastic response from Mr. Lin Baoxing.
At the end of the tour, the students of BKU were satisfied with what they got on a very useful experience day. Kizuna is happy to be able to transfer our knowledge and experience to help students connect their knowledge from school and the actual operating environment, thereby gaining an understanding of the discipline and career development for themselves. Kizuna hopes in the future we can create more associated programs like this not only with BKU but also with other universities so that the students have the opportunity to understand more about the actual working environment before graduation.
By Marketing Department – Kizuna JV Corporation