News
1st Tenant of Kizuna 3 – Yumoto Vietnam's Workshop Lease Contract Signing Ceremony
On 23rd January, 2018, Workshop Lease Contract signing ceremony was held between Kizuna JV Corporation and Yumoto Vietnam Co., Ltd. which is the local enterprise in Vietnam invested by Yumoto Electric Inc (Head Office: Osaka, Japan) for G8 Workshop (648m2) of Kizuna 3 Rental Serviced Factory.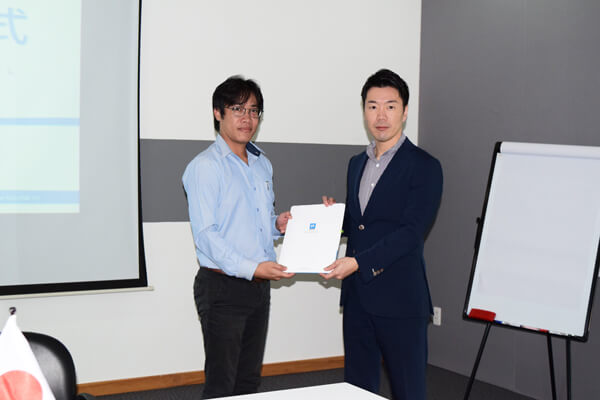 Kizuna 3 Rental Serviced Factory, which is the 3rd Project of Kizuna JV Corporation is under construction and will be ready to handover all workshops in April, 2018. Mr. Tran Duy Vu – Deputy General Director of Kizuna JV Corporation showed deep appreciation for Yumoto Vietnam to choose Kizuna 3 Rental Serviced Factory as the very first tenant of Kizuna 3 regardless of the insufficient infrastructure during construction period.
Parents Company – Yumoto Electric Inc mainly cuts the engineering plastics and metals for manufacturing equipment and industrial robot parts in small lot of various kinds with short delivery time. In Yumoto Vietnam they're planning to process the aluminum and engineering plastic such as MC Nylon, POM etc…
Mr. Yumoto Hideitsu – Senior Managing Director of Yumoto Electric Inc decided to start business in Vietnam to secure the qualified human resources and the amount of supply.
Mr. Yumoto said the reason why he chose Kizuna as the place to start new business in Vietnam was "Smooth and kind support from Kizuna Staff", "Clean Environment inside of Kizuna Area including the workshop" and "24h security system".
Yumoto Vietnam will install the machinery in March to start full operation from April, 2018 with a goal to achieve 100 million yen sales after 3 years of operation.
Kizuna JV Corporation will continue to support Yumoto Vietnam to be able to start operation smoothly and also focus on attracting more Japanese SMEs for expanding the Japanese Community in Kizuna Area.
By Marketing Department – Kizuna JV Corporation