Inspection group from Tver, Russia visited Kizuna 1
On 08th December, 2017, 7 members of inspection group from Tver, Russia visited Kizuna 1 Rental Serviced Factory Area. This inspection group includes 5 Russian companies in many fields of business: ceramic goods, electronic parts, wooden furniture and metal processing and is introduced by Vietnam Chamber of Commerce and Industry (VCCI) in HCMC.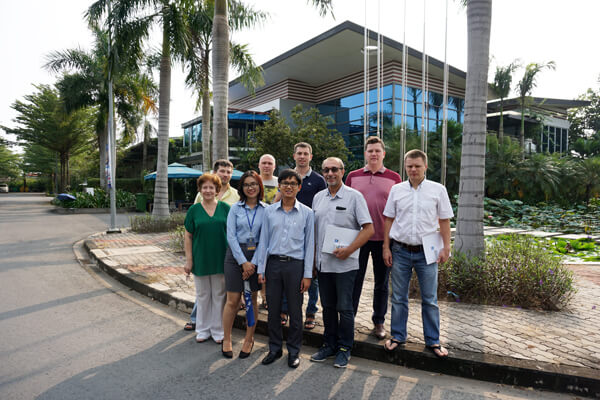 Directors and Executives of 5 Russian manufacturers who have interests in investment in Vietnam participated in this inspection tour to exchange information about Business Environment, search for partners and suppliers and advantage of rental workshop before starting their business in Vietnam.
After short presentation about projects of Kizuna JV Corporation and Q&A at Sakura meeting room of Kizuna 1 Rental Serviced Factory Area, the inspection group had an opportunity to visit the factory of Singaporean investor who processes the machinery parts, Cam International Co., Ltd (D5-Kizuna2). Mr Nguyen Hoang Viet – the Vietnamese factory manager of Cam International Co., Ltd, guided the participants to go around the workshop and introduced about their company and products and shared that Vietnam is the best investment place for machinery processing business because of lower labor price and many technical expert that can help them to save a lot of cost. After active information exchanging with actual tenant and seeing the actual operation, participants could deepen their understanding about investment in Vietnam. Inspection tour was ended after short factory tour to Kizuna 3.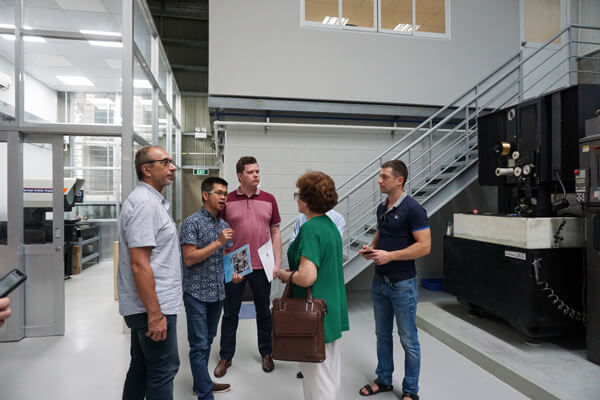 It was the first time for Kizuna to welcome Inspection group from Russia this time. In spite of the size and nationality of the inspection group, Kizuna JV Corporation are willing and looking forward to actively welcoming inspection groups like this time to exchange and update the useful information.
By Marketing Department – Kizuna JV Corporation